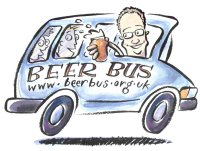 Beer Bus
The Beer Bus is operated by Southern Hampshire CAMRA in co-operation with http://www.beerbus.org.uk/. It aims to provide access to rural pubs that cannot be reached by public transport.
Please see http://www.beerbus.org.uk/ for full details.
Future Beer Buses
Beer buses are / are being planned for the following dates and pubs:
Date
Pub 1
Pub 2
Pub 3
2015
17/07/2015
Cracklerock Brewery (private tour)
Rising Sun, Swanmore
Wheatsheaf, Shedfield
21/08/2015
TBC
TBC
TBC
18/09/2015
TBC
TBC
TBC
16/10/2015
TBC
TBC
TBC
20/11/2015
TBC
TBC
TBC
The details listed on this page are for indication only, and may change at any time without notice. This webpage may not necessarily be up to date.
Past beer buses
Past beer buses have been to the following pubs:
2004
Date
Pub 1
Pub 2
Pub 3
03/02/2004
Three Tuns, Bransgore
Barn, New Milton
Hare & Hounds, Sway
07/02/2004
Red Lion, Milford-on-sea
Musketeer, Pennington
East End Arms, East End
19/03/2004
Tichborne Arms, Tichborne
Flower Pots, Cheriton
Milbury's, Beauworth
16/04/2004
Red Shoot, Linwood
Alice Lisle, Rockford
Inn on the Furlong, Ringwood
21/05/2004
Three Horseshoes, Bighton
Cricketers, Easton
Bell, St Cross, Winchester
16/07/2004
Hampshire Bowman, Dundridge
Bunch of Grapes, Bishop's Waltham
Wheatsheaf, Shedfield
20/08/2004
John O'Gaunt, Horsebridge
Wheatsheaf, Braishfield
Newport Inn, Braishfield
17/09/2004
Hobbler, Battramsley
Oak, Bank
Royal Oak, Fritham
15/10/2004
Hinton Arms, Hinton Ampner
Milbury's, Beauworth
Woodman, Lower Upham
12/11/2004
Hampshire Bowman, Dundridge
Bunch of Grapes, Bishop's Waltham
Wheatsheaf, Shedfield
17/12/2004
Flower Pots, Cheriton
Milbury's, Beauworth
Black Boy, Winchester
2005
Date
Pub 1
Pub 2
Pub 3
21/01/2005
Cartwheel, Whitsbury
Forester's Arms, Frogham
Royal Oak, North Gorley
25/03/2005
Easter Special Beer Bus, visiting the following 4 pubs and making it back to Southampton in time for last orders:


Red Lion, Milford-on-Sea
Musketeer, Pennington
East End Arms, East End
Turfcutter's, East Boldre

18/04/2005
Fleur de Lys, Pilley
Hare & Hounds, Sway
Oak, Bank
13/05/2005
Cleveland Bay, Chandler's Ford
Mill Arms, Dunbridge
Newport Inn, Braishfield
15/07/2005
Shoe, Plaitford
Lamb, Nomansland
Cuckoo, Hamptworth
19/08/2005
Milbury's, Beauworth
Hampshire Bowman, Dundridge
Wheatsheaf, Shedfield
16/09/2005
Three Horseshoes, Bighton
Tichborne Arms, Tichborne
Flower Pots, Cheriton
14/10/2005
Musketeer, Pennington
East End Arms, East End
Turfcutter's, East Boldre
11/11/2005
Three Tuns, Bransgore
Hare & Hounds, Sway
Oak, Bank
2006
Date
Pub 1
Pub 2
Pub 3
17/02/2006
Inn on the Furlong, Ringwood
Red Shoot, Linwood
Royal Oak, Fritham
28/04/2006
Tichborne Arms, Tichborne
Milbury's, Beauworth
Flower Pots, Cheriton
19/05/2006
White Horse, Droxford
Green's, Wickham
Wheatsheaf, Shedfield
16/06/2006
Musketeer, Pennington
Fleur de Lys, Pilley
Turfcutter's, East Boldre
21/07/2006
Shoe, Plaitford
Lamb, Nomansland
Cuckoo, Hamptworth
18/08/2006
Three Tuns, Bransgore
Oak, Bank
Royal Oak, Fritham
15/09/2006
Mill Arms, Dunbridge
Wheatsheaf, Braishfield
Newport Inn, Braishfield
20/10/2006
Three Horseshoes, Bighton
Tichborne Arms, Tichborne
Flower Pots, Cheriton
17/11/2006
Fisherman's Rest, Titchfield
Bunch of Grapes, Bishop's Waltham
Hampshire Bowman, Dundridge
2007
Date
Pub 1
Pub 2
Pub 3
19/01/2007
Crofton, Hill Head
(Portsmouth CAMRA Pub of the Year 2006)
Golden Bowler, Stubbington
Sir Joseph Paxton, Titchfield Common
16/02/2007
Bush, Ovington
Tichborne Arms, Tichborne
Flower Pots, Cheriton
16/03/2007
Royal Oak, North Gorley
Foresters, Frogham
Royal Oak, Fritham
20/04/2007
Red Lion, Milford-on-sea
Musketeer, Pennington
Turfcutter's, East Boldre
18/05/2007
John O'Gaunt, Horsebridge
Wheatsheaf, Braishfield
Newport Inn, Braishfield
22/06/2007
Three Tuns, Bransgore
Forester's Arms, Brockenhurst
New Forest Inn, Emery Down
20/07/2007
Bull, Downton
Lamb, Nomansland
Cuckoo, Hamptworth
17/08/2007
Crofton, Hill Head
Green's, Wickham
Wheatsheaf, Shedfield
21/09/2007
Hinton Arms, Hinton Ampner
Milbury's, Beauworth
Hampshire Bowman, Dundridge
19/10/2007
Cricketers, Easton
Tichborne Arms, Tichborne
Black Boy, Winchester
16/11/2007
Compass Inn, Winsor
Empress of Blandings, Copythorne
New Forest Inn, Emery Down
2008
Date
Pub 1
Pub 2
Pub 3
18/01/2008
Red Lion, Milford-on-Sea
Fleur de Lys, Pilley
Turfcutter's, East Boldre
15/02/2008
Three Horseshoes, Bighton
Tichborne Arms, Tichborne
Flower Pots, Cheriton
21/03/2008
This "special" Beer Bus was by invitation only. It was a FREE reward trip for those who have made the Beer Bus possible by regularly coming on it over the last couple of years. We departed Southampton Central Station at 10:30am, had lunch in a pub at the far side of Dorset and visited three more pubs on the way home (where we were dropped off at a pub!). As a bonus, those coming on the trip received a FREE Beer Bus polo shirt. The places which we visited were:

Bottle Inn, Marshwood, Dorset
Shave Cross Inn, Shave Cross, Dorset
Sailor's Return, East Chaldon, Dorset
Crown & Anchor, Wimborne, Dorset

18/04/2008
Three Tuns, Bransgore
Oak, Bank
New Forest Inn, Emery Down
23/05/2008
Bell Inn, St Cross, Winchester
Rack & Manger, Crawley
Black Boy, Winchester
20/06/2008
Hare & Hounds, Sway
Forester's Arms, Brockenhurst
Royal Oak, Fritham
18/07/2008
Compass Inn, Winsor
Lamb, Nomansland
Cuckoo, Hamptworth
15/08/2008
Crofton, Hill Head
Wickham Wine Bar, Wickham
Wheatsheaf, Shedfield
19/09/2008
Red Lion, Milford-on-Sea
Red Lion, Boldre
Turfcutter's, East Boldre
17/10/2008
Cricketers, Easton
Hinton Arms, Hinton Ampner
Flower Pots, Cheriton
21/11/2008
John O'Gaunt, Horsebridge
Mill Arms, Dunbridge
Wheatsheaf, Braishfield
13/12/2008
Beer Train to Brighton
We took the train to Brighton, and lunched in the Battle of Trafalgar. We then visited the Evening Star and Lord Nelson, before starting our journey home. On the way back, we stopped off to visit the Buckingham Arms in Shoreham-by-Sea.
2009
Date
Pub 1
Pub 2
Pub 3
16/01/2009
Bugle, Twyford
Bunch of Grapes, Bishop's Waltham
Hampshire Bowman, Dundridge
20/02/2009
Trusty Servant, Minstead
High Corner Inn, Linwood
Royal Oak, Fritham
20/03/2009
Tichfield Mill, Tichfield
Wickham Wine Bar, Wickham
Wheatsheaf, Shedfield
10/04/2009
Good Friday Beer Bus
We visited Ballard's Brewery in Sussex and then went for a pub lunch stop in Elsted Inn, Elsted before working our way home via a number of excellent pubs.
24/04/2009
Ship, Bishop's Sutton
Tichborne Arms, Tichborne
Flower Pots, Cheriton
15/05/2009
Red Lion, Milford-on-Sea
Red Lion, Boldre
Turfcutter's, East Boldre
19/06/2009
Brushmaker's, Upham
Bunch of Grapes, Bishop's Waltham
Hampshire Bowman, Dundridge
17/07/2009
Empress of Blandings, Copythorne
Lamb, Nomansland
Cuckoo, Hamptworth
21/08/2009
Hare & Hounds, Sway
Oak, Bank
New Forest Inn, Emery Down
18/09/2009
Wheatsheaf, Tichfield
Horse & Jockey, Curbridge
Wheatsheaf, Shedfield
16/10/2009
Ship, Bishop's Sutton
Cricketers, Easton
Black Boy, Winchester
20/11/2009
Red Lion, Milford-on-Sea
Red Lion, Boldre
Turfcutter's, East Boldre
05/12/2009
Beer Train to Bath
We took the train to Bath and visited many superb pubs. We enjoyed lunch at the Garrick's Head. We originally planned to stop off in Salisbury on the way home, but stayed on in Bath for an extra couple of hours instead.
2010
Date
Pub 1
Pub 2
Pub 3
15/01/2010
Black Horse, West Tytherley
Star, East Tytherley
Wheatsheaf, Braishfield
19/02/2010
Phoenix, Twyford
Bugle, Twyford
Hampshire Bowman, Dundridge
19/03/2010
Otter, Otterbourne
Hinton Arms, Hinton Ampner
Flowerpots, Cheriton
16/04/2010
Hare & Hounds, Sway
Snakecatcher, Brockenhurst
Royal Oak, Fritham
21/05/2010
Crofton, Hill Head
Wheatsheaf, Titchfield
Wheatsheaf, Shedfield
18/06/2010
John O'Gaunt, Horsebridge
Newport, Braishfield
Mortimer Arms Hotel, Ower
16/07/2010
Trusty Servant, Minstead
Lamb, Nomansland
Cuckoo, Hamptworth
20/08/2010
Brushmaker's, Upham
Bunch of Grapes, Bishop's Waltham
Hampshire Bowman, Dundridge
17/09/2010
Baker's Arms, Droxford
Wickham Wine Bar, Wickham
Wheatsheaf, Shedfield
15/10/2010
Unfortunately, the Beer Bus did not run this month
19/11/2010
Ship, Bishop's Sutton
Tichbourne Arms, Tichbourne
Flowerpots, Cheriton
2011
Date
Pub 1
Pub 2
Pub 3
15/01/2011
Unfortunately, the Beer Bus did not run this month
18/02/2011
Unfortunately, the Beer Bus did not run this month
18/03/2011
Three Horseshoes, Bighton
Cricketers, Easton
Black Boy, Winchester
08/04/2011

Waterloo Arms, Lyndhurst
Oak Inn, Bank
New Forest Inn, Emery Down
20/05/2011
Phoenix, Twyford
Woodman, Lower Upham
Hampshire Bowman, Dundridge
17/06/2011
Red Lion, Milford-on-Sea
Red Lion, Boldre
Turfcutter's, East Boldre
15/07/2011
Gamekeeper, Woodlands
Lamb, Nomansland
Cuckoo, Hamptworth
19/08/2011
Hare & Hounds, Sway
Rose & Crown, Brockenhurst
Royal Oak, Fritham
16/09/2011
Baker's Arms, Droxford
Wickham Wine Bar, Wickham
Wheatsheaf, Shedfield
21/10/2011
Otter, Otterbourne
Hinton Arms, Hinton Ampner
Flowerpots, Cheriton
18/11/2011
Parish Lantern, Whiteparish
Star, East Tytherley
Black Horse, West Tytherley
2012
Date
Pub 1
Pub 2
Pub 3
20/01/2012
Compass Inn, Winsor
Empress of Blandings, Copythorne
Cuckoo, Hamptworth
17/02/2012
Brickmakers, Swanmore
Rising Sun, Swanmore
Wheatsheaf, Shedfield
17/03/2012
There was no March 2012 Beer Bus due to Winchester Real Ale and Cider Festival 2012
20/04/2012
John O'Gaunt, Horsebridge
Black Horse, West Tytherley
Parish Lantern, Whiteparish
18/05/2012
Hinton Arms, Hinton Ampner
Tichborne Arms, Tichborne
Flower Pots, Cheriton
22/06/2012
Musketeer, Pennington
Hare and Hounds, Sway
Rose and Crown, Brockenhurst
20/07/2012
Bugle, Twyford
Woodman, Lower Upham
Hampshire Bowman, Dundridge
17/08/2012
Golden Lion, Southwick
Wickham Wine Bar, Wickham
Wheatsheaf, Shedfield
21/09/2012
Railway Hotel, Ringwood
Red Shoot, Linwood
Royal Oak, Fritham
19/10/2012
Rockingham, Canada
Parish Lantern, Whiteparish
Black Horse, West Tytherley
16/11/2012
Bun Penny, Lee-on-Solent
Crofton, Hill Head
Wheatsheaf, Titchfield
14/12/2012
Black Horse, West Tytherley
Cuckoo, Hamptworth
Royal Oak, Fritham
2013
Date
Pub 1
Pub 2
Pub 3
25/01/2013
Revised date
due to snow
Phoenix, Twyford
Woodman, Lower Upham
Wheatsheaf, Shedfield
15/02/2013
Running Horse, Alresford
Tichboune Arms, Tichfield
Flowerpots, Cheriton
15/03/2013
Compass, Winsor
Parish Lantern, Whiteparish
Cukcoo, Hampworth
19/04/2013
Rising Sun, Swanmore
Brickmakers, Swanmore
Hampshire Bowman, Dundridge
17/05/2013
John O Gaunt, Horsebridge
Tally Ho, Broughton
Black Horse, West Tytherley
21/06/2013
Oak, Bank
Lamb, Nomansland
Royal Oak, Fritham
19/07/2013
Chestnut Horse, Easton
Hinton Arms, Hinton Ampner
Flowerpots Inn, Cheriton
16/08/2013
Borough Arms, Lymington
Rose and Crown, Brokenhurst
Forest Inn, Ashurst
20/09/2013
Rose & Thistle, Rockbourne
The Bull, Downton
Cukcoo, Hampworth
18/10/2013
Golden Lion, Southwick
Wickham Wine Bar, Wickham
Wheatsheaf, Shedfield
15/11/2013
Dog & Crook, Braishfield
Bear & Ragged Staff, Michelmersh
Tally Ho, Broughton
2014
Date
Pub 1
Pub 2
Pub 3
17/01/2014
Northbrook Arms, East Stratton
Trout Inn, Itchen Abbas
Flowerpots Inn, Cheriton
21/02/2014
Rising Sun, Swanmore
Brickmakers, Swanmore
Hampshire Bowman, Dundridge
14/03/2014
Compass, Winsor
Parish Lantern, Whiteparish
Cuckoo, Hamptworth
18/04/2014
Special Good Friday Beer Bus
See the South Hants CAMRA Diary Page for details of this special Beer Bus.
16/05/2014
John O'Gaunt, Horsebridge
Tally Ho, Broughton
Black Horse, West Tytherley
20/06/2014
Trusty Servant, Minstead
Lamb, Nomansland
Royal Oak, Fritham
18/07/2014
Phoenix, Twyford
Woodman, Lower Upham
Hampshire Bowman, Dundridge
15/08/2014
Red Lion, Milford-on-sea
Wheel Inn, Bowling Green
Turfcutter's, East Boldre
19/09/2014
Golden Lion, Southwick
Rising Sun, Swanmore
Wheatsheaf, Shedfield
17/10/2014
English Partridge, Bighton
Ship Inn, Bishop's Sutton
Flower Pots Inn, Cheriton
21/11/2014
Wheatsheaf, Braishfield
Bear and Ragged Staff, Michelmersh
Black Horse, West Tytherley
2015
Date
Pub 1
Pub 2
Pub 3
16/01/2015
Three Tuns, Bransgore
Railway Hotel, Ringwood
Royal Oak, Fritham
20/02/2015
Rising Sun, Swanmore
Brickmakers, Swanmore
Hampshire Bowman, Dundridge
20/03/2015
There was no Beer Bus this month, due to Winchester Real Ale and Cider Festival being on the same date
17/04/2015
Hinton Arms, Cheriton
Tichbourne Arms, Tichbourne
Flowerpots Inn, Cheriton
15/05/2015
Hatchet Inn, Sherfield English
Parish Lantern, Whiteparish
Black Horse, West Tytherley
19/06/2015
Special Brewery Trip to the Vibrant Forest Brewery Bar, Bowling Green, Nr. Lymington