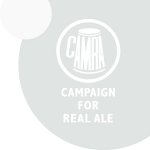 Southampton Beer
Festival 2002

20th to 22nd June

at Southampton Guildhall

(5 minutes walk from Southampton Central Railway Station)


Find out what it was like last year by looking at the
Southampton Beer Festival 2001 Photos
---
[Opening Hours] [Ticket Sales] [About the festival] [How to get there] [Working at the festival] [Help us advertise] [What beers will there be?] [Your questions answered]
---
Festival Opening Hours: [Top of page]
Thursday 20th
June 2002
Friday 21st
June 2002
Saturday 22nd
June 2002
11.30 to 4.00 (free entrance)
11.30 to 4.30 (£4.00*)
Entertainment: Riverside Jazz Band
7.00pm to 11.00pm (£2.00*)
Preview Session
6.00 to 11.00 (£5.00*)
Entertainment: The Bob Pearce Trio (Blues)
6.30 to 11.00 (£4.00*)
Entertainment: Bog Rolling Stones
* = includes a free commemorative pint glass.
A deposit of £1.50 for a glass will be required for the Friday lunchtime session (when entry is free).
---
Ticket Sales: [Top of page]
Tickets for the Beer Festival are available from many outlets and by post. Further information is available from Ian Black on (023) 8077 8906 or by email tickets@shantscamra.org.uk .
Tickets should be available on the door, but advance ticket purchase is advised to guarantee entry
Ticket Outlets

Southampton Guildhall Box Office, Civic Centre (Library/Arts Gallery Entrance), Southampton - 023 8063 2601
Southampton Tourist Information Office, 9 Civic Centre Road - 023 8022 1106
Bevois Castle, 63 Onslow Road, Bevois Valley - 023 8033 0350
Park Inn, 37 Carlisle Road, Shirley - 023 8078 7835
Bitter Virtue Off Licence, 70 Cambridge Road, Portswood - 023 8055 4881
Waterloo Arms, 101 Waterloo Road, Freemantle - 023 8022 0022
South Western Arms, Adelaide Road, St Denys - 023 8032 4542
The Dolphin, Osbourne Road South, St Denys - 023 8039 9369
Stones (formerly Hogshead), 18-20 High Street, Eastleigh - 023 8065 2554

Post

Please send details of the tickets which you would like with a self-addressed, stamped envelope and a cheque made payable to "Hampshire Beer Festival (Southampton)" to: Beer Festival Tickets, 11 Newlands Avenue, Shirley, Southampton SO15 5EP
---
About The Festival: [Top of page]
This year will be the sixth Southampton Beer Festival. The beer festival is organised and run by unpaid volunteers who are members of the Southern Hampshire Branch of CAMRA (The Campaign for Real Ale).
The following are a few highlights of the beer festival:
The "Champion Beer of Hampshire 2002" will be judged on the Thursday night of the festival.
There will be a range of over 85 real ales.
There will be a range of 15 ciders and perries.
The bottled beer bar will have an extensive range of British and european beers. The bottled beer is supplied to us by Bitter Virtue, Southampton's Beer Shop.
All the beers on sale will be cooled to cellar temeratures.
There will be a family room next to the main festival hall.
We have live music at three of the five sessions.
We encourage our staff to try the beers (although not too many!) in order that they are knowledgeable on the beers that they are serving.
There will be food on sale at the Guildhall's canteen.
Crisps and soft drinks will be available at the bars.
Seats and tables will be provided
We look forward to welcoming you to the beer festival...
---
How to get to Southampton Beer Festival: [Top of page]
The following map shows how to find Southampton Beer Festival from Southampton Central Station.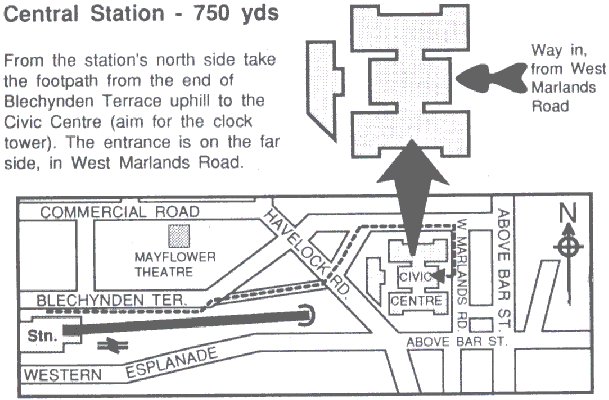 More detailed maps of the area are available from http://www.streetmap.co.uk/. Train times are available from Network Rail (formerly Railtrack)
---
Fancy working at the Beer Festival? [Top of page]
Southampton Beer Festival is organised and run by volunteers. As the phrase says, many hands make light work. If you are interested in working then please download a staffing form (PDF) or contact Rachel on (07747) 011366 or by email staffing@shantscamra.org.uk .
---
Can you help us advertise the Beer Festival? [Top of page]
Please download a copy of the Beer Festival Poster (PDF), print it out and put it on your office notice board! Many thanks in advance.
---
What beers will there be at the festival? [Top of page]
We have a policy of not releasing the beer list for the festival. There are many reasons for this, but the main one is that we are unable to guarantee that all beers will arrive and won't be able to keep the website up to date.
The following is a list of breweries from which we have ordered beers. This list acts as a guide only. The festival programme (given to you free upon entry) will contain a full list of all the beers which we have ordered, with information about each (including a short description).
Anglo Dutch
Barge & Barrel
Beartown
Beckett's
Brakspear
Bullmastiff
Cannon Royal
Carlow
Cheriton
Clark's
Cropton
Daleside
Dark Star
Dwan
Enville

Felinfoel
Gale's
Glastonbury
Goff's
Hambleton
Hampshire
Hop Back
Itchen Valley
Kelham Island
Malton
Moor
Nursery
Oakleaf
Olde Swan
Oxford

Packhorse
Palmer
Portchester
Rebellion
Ringwood
Rudgate
Salamander
Scarecrow
St Peter's
Tetley
Triple fff
Ventnor
West Yorkshire
York
---
Your questions answered [Top of page]
We do read the comments that customers write on the feedback forms and take them into account when organising the following year's festival. Many of the subjects below attract equal amounts of praise and criticism. Here we answer some of the more common questions or requests.
Hall layout
For the busier sessions we do have to strike a balance between maximising the number of tables and chairs and allowing free movement around the hall. We do get complaints that there are too many seats at the busy sessions. We would like to use smaller tables but we would have to pay a lot to hire them. The beer stillage has to be where it is because there are large areas of the hall that we cannot use because it is a sprung dance floor.
Entertainment
It is impossible to keep all of the customers happy all of the time. We usually have equal numbers of praise and complaints whatever the music. We do have two sessions without music for those who prefer it that way.
Food
The food is run by an outside company that has the franchise for all events at the Guildhall. CAMRA has no control over the price of the food. We do feed back customer comments from previous festivals.
Temperature in the Guildhall
We are restricted to holding the event in June due to the availability of the Guildhall. The Guildhall is an old building with no air conditioning. Ventilation fans are at maximum throughout the event.
Signposting
The outside of the Guildhall is a listed building. This means we are unable to display banners, etc., outside the entrance. We do put directions to the entrance on the tickets.
Prices
We would obviously like to reduce the prices of the beer and the entrance fee. The festival does not make a big profit as the costs of staging the event are large. The money raised goes towards CAMRA's campaigns to maintain and improve the availability and quality of real ale.
Half pint glasses
We would like to offer a choice of half or pint glasses to customers. Unfortunately the glasses suppliers have a minimum order number that means it is not possible to have a small number of glasses of a different size or style. We have alternative half pint glasses available for hire this year.
Beer availability
Beers marked "not ready" have not reached saleable condition. We will try to ensure beers do not run out before opening on Saturday. Beers marked "on later" will be available for a limited time during the session to ensure there is some left for later sessions. We cannot afford to have a large amount of beer left at the end of the festival as this would affect the viability of future festivals. There were more than 20 different beers on sale when the festival closed in 2001.
Admission
Last year the Saturday evening was only open to those who had purchased tickets in advance. This was to ensure that there was enough beer to meet the demands of those customers who had purchased tickets. We have stated in our advertising this year "advance ticket purchase is advised to guarantee entry". If everyone bought tickets in advance we would be able to increase the beer order.