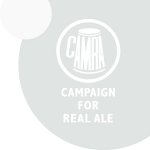 Southampton Beer
Festival 2003

5th to 7th June

at Southampton Guildhall

(5 minutes walk from Southampton Central Railway Station)

TICKETS SOLD OUT!


Find out what it was like last year by looking at the
Southampton Beer Festival 2002 Photos
---
[Opening Hours] [Ticket Sales] [About the festival] [How to get there] [Working at the festival] [Help us advertise] [What beers will there be?] [Your questions answered]
---
Festival Opening Hours: [Top of page]
Thursday 5th
June 2003
Friday 6th
June 2003
Saturday 7th
June 2003
11.30 to 4.00 (free entrance)
11.30 to 4.30 (£4.00*)
Entertainment: Riverside Jazz Band
7.00pm to 11.00pm (£2.00*)
Preview Session
6.00 to 11.00 (£5.00*)
Entertainment: Heelstone (Celtic Folk)
6.30 to 11.00 (£4.00*)
Entertainment: Bog Rolling Stones + Starclub
* = includes a free commemorative pint glass.
A deposit of £2.00 for a glass will be required for the Friday lunchtime session (when entry is free).
---
Ticket Sales: [Top of page]
Advance tickets for the Beer Festival are now SOLD OUT!
Please do not phone and ask for any.
There are no advance tickets left in any outlets anywhere.
If you arrive on or just before opening time, we may have some returned tickets that we can sell on the door, but there are no guarantees and there will be few if any.
Thanks to everyone who has bought advance tickets - see you at the festival!
If you missed out this year, sorry about that... try not leaving it until the last minute next year. Tickets were on sale for eight weeks before the festival.
---
About The Festival: [Top of page]
This year will be the seventh Southampton Beer Festival. The beer festival is organised and run by unpaid volunteers who are members of the Southern Hampshire Branch of CAMRA (The Campaign for Real Ale).
The following are a few highlights of the beer festival:
The "Champion Beer of Hampshire 2003" will be judged on the Thursday night of the festival.
There will be a range of approximately 85 real ales.
There will be a range of approximately 15 ciders and perries.
The bottled beer bar will have an extensive range of British and european beers. The bottled beer is supplied to us by Bitter Virtue, Southampton's Beer Shop.
All the beers on sale will be cooled to cellar temeratures.
There will be a family room off the main festival hall. The family room is a non-smoking area.
We have live music at three of the five sessions.
We encourage our staff to try the beers (although not too many!) in order that they are knowledgeable on the beers that they are serving.
There will be food on sale at the Guildhall's canteen.
Crisps and soft drinks will be available at the bars.
Seats and tables will be provided
We look forward to welcoming you to the beer festival...
---
How to get to Southampton Beer Festival: [Top of page]
The following map shows how to find Southampton Beer Festival from Southampton Central Station.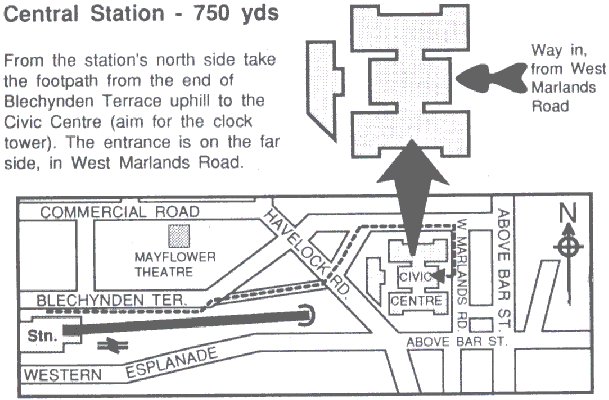 More detailed maps of the area are available from http://www.streetmap.co.uk/. Train times are available from Network Rail (formerly Railtrack).
---
Fancy working at the Beer Festival? [Top of page]
Southampton Beer Festival is organised and run by volunteers. As the phrase says, many hands make light work. If you are interested in working then please contact Rachel on (023) 8078 9199 or by email staffing@shantscamra.org.uk . You can also download a staffing form (PDF format, 204kB).
---
Can you help us advertise the Beer Festival? [Top of page]
As this year's festival is a sell-out it's probably best if we don't put out any more advertising! Thanks to everyone who displayed posters, stocked fliers, spread the word or otherwise publicised this year's festival - it worked!
---
What beers will there be at the festival? [Top of page]
We have a policy of not releasing the beer list for the festival in advance. There are many reasons for this, but the main one is that we are unable to guarantee that all beers will arrive and won't be able to keep the website up to date. Our policy was vindicated last year when one of our main wholesale suppliers let us down very badly and neither delivered what we ordered, nor delivered it on time.
What we can tell you is that there will be old and new breweries represented, big and small, and a huge variety of tastes and styles, numbering about 90 beers in all: the largest number of beers ever seen at this festival!
This year, the theme will be the Beers of Ringwood Brewery, as this is their 25th Anniversary.
The festival programme (given to you free upon entry) will contain a full list of all the beers which we have ordered, with information about each (including a short description).
---
Your questions answered [Top of page]
We do read the comments that customers write on the feedback forms and take them into account when organising the following year's festival. Many of the subjects below attract equal amounts of praise and criticism. Here we answer some of the more common questions or requests.
Hall layout
For the busier sessions we do have to strike a balance between maximising the number of tables and chairs and allowing free movement around the hall. We do get complaints that there are too many seats at the busy sessions. We would like to use smaller tables but we would have to pay a lot to hire them. The beer stillage has to be where it is because there are large areas of the hall that we cannot use because it is a sprung dance floor.
Entertainment
It is impossible to keep all of the customers happy all of the time. We usually have equal numbers of praise and complaints whatever the music. We do have two sessions without music for those who prefer it that way.
Food
The food is run by an outside company that has the franchise for all events at the Guildhall. CAMRA has no control over the price of the food. We do feed back customer comments from previous festivals.
Temperature in the Guildhall
We are restricted to holding the event in June due to the availability of the Guildhall. The Guildhall is an old building with no air conditioning. Ventilation fans are at maximum throughout the event.
Signposting
The outside of the Guildhall is a listed building. This means we are unable to display banners, etc., outside the entrance. We do put directions to the entrance on the tickets.
Prices
We would obviously like to reduce the prices of the beer and the entrance fee. The festival does not make a big profit as the costs of staging the event are large. The money raised goes towards CAMRA's campaigns to maintain and improve the availability and quality of real ale.
Half pint glasses
We have a limited number of half pint glasses available this year as a result of changing to supplier who is prepared to supply small numbers of different styles. We will monitor take up this year in order to determine the numbers to be ordered next year.
Beer availability
We will try to ensure that no beer runs out before opening on Saturday. Beers marked "not ready" have not reached saleable condition. All beers that are ready on Thursday evening will be put on sale. Some beers will not be ready by Thursday as we do not gain access to the Guildhall until Wednesday morning. It would cost a lot more to gain access earlier. Beers marked "on later" will be available for a limited time during the session to ensure there is some left for later sessions. We cannot afford to have a large amount of beer left at the end of the festival as this would affect the viability of future festivals. There were 13 different beers on sale when the festival closed in 2002.
Admission
For the last two years the admission on Saturday evening was only possible for those who had purchased tickets in advance. This was to ensure that there was enough beer to meet the demands of those customers who had purchased tickets. It is possible that other sessions may sell out in advance so we advise all potential customers to purchase tickets in advance. We have stated in our advertising that "advance ticket purchase is advised to guarantee entry". If everyone bought tickets in advance we would be able to increase the beer order.
Why couldn't I get a ticket?
We put tickets on sale eight weeks before the festival started. Over two thousand advance tickets were sold and others got their tickets before you. All our advertising for the last couple of years has included the phrase "Advance ticket purchase is advised to guarantee entry". It is obviously common sense to buy a ticket for an event before purchasing travel tickets to it. We are sorry that not all our potential customers will be able to attend this year's festival. The size of the festival is at its capacity limit - both in terms of fire limit and beer capacity (please also see 'beer availability', above). We will, of course, be looking to see how we can expand the Beer Festival next year. A large percentage of the ticket sales were in the last couple of days before the festival opened - if tickets were purchased further in advance we would have more time to plan a possible increase in the beer order. We have a responsibilty to those customers who have bought tickets in advance to ensure that we still have a good range of quality real ales available when we close.