Hop Press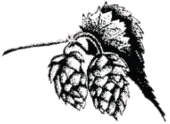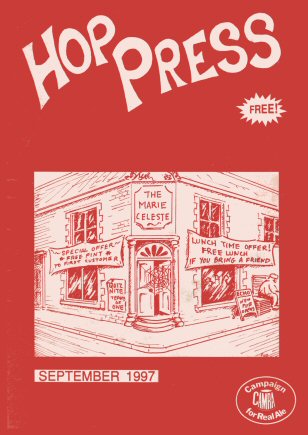 Issue 44 – September 1997
A rough OCR of the original leaving out adverts & some sections such as the Crossword
Go to Previous Hop Press Browse for another Hop Press
Go to Next Hop Press
Contents

EDITORIAL Hop Press index
The new Winchester Wetherspoon's pub opened a few weeks ago (see Pub News). A comfortable, large, expensively appointed conversion; plenty of beer choice, food all day, no-smoking areas, "female friendliness" etc. etc. In short, a nice place for a relaxing break.
On a recent visit, in the early evening a few days after opening, there were perhaps a hundred or more contented customers. At lunchtime just a few days later, about one o'clock, in a well-known city-centre real ale pub, I was one of just two customers.
In Eastleigh High Street, the new Hogshead offers similar size and facilities and seems to be equally well patronised at lunchtime and early evening. In the same week as the lonely Winchester visit I was again one out of two at lunchtime in a comfortable Eastleigh pub and, next day at seven-thirty in the evening, the sole visitor to another pub on Eastleigh's outskirts.
In Southampton on some recent lunchtimes I was alone in a Bevois Valley pub, one out of three at one in Shirley and in what at first looked like a crowd of five at another in Northam until I realised that two were tradesmen doing repairs to the pub.
As Pub News elaborates, Winchester has at least another two major pub chain openings to come and Southampton has a proliferation of new licence applications throughout the central area. It is quite clear that something has got to give. The available customer base and their spending power is not an infinite resource to be mined at will. If the other two Winchester openings take the same sort of trade as the Wetherspoons then three or four hundred customers have to be taken out of the city's other forty or so pubs. In Southampton the numbers will run into thousands. A wave of closures approaching the carnage of the sixties may be inevitable.
Ironically, many of the thousands of pubs lost in the sixties were tiny terrace house Victorian beerhouses, pubs that now might just be able to be viable with a small customer base seeking a shot of nostalgia, rather than some of the bigger but more mundane houses that survived.
What survival strategy should the owning brewery or the licensee of one of these deserted locals adopt? Anyone claiming to know the definitive answer to this question can be dismissed at once as a charleton; one can only speculate on a few ideas. The first of which must be a negative one: to avoid trying to copy the new "superpubs" – they have more money and will be able to outbid any such poker play.
It is a cliché to say that to be a survivor a pub must offer "something different," the hard trick is persuading customers to accept your difference as being simultaneously interesting, worthwhile and critically, fashionable. It is quite impossible to predict what induces the drinking public, especially the younger portion, to suddenly take up a particular pub as being the only place to be seen. The landlord can only accept it with suitable humility and make the most of it while it lasts, for the one thing certain is that at some stage fashion will demand that the custom moves on and the trading tide will ebb.
CAMRA, the Campaign for Real Ale, would like to think that offering a good range of cask beers in tip-top condition would be enough to ensure enlightened drinkers beating a path to the pub's door. Not so any more, if indeed ever. Good quality real ale, although a sine qua non for apub to call itself a pub is not, in itself, a factor in establishing the magic quality of "in-ness." (Should that perhaps be "innness?").
Whereas, in nature, pack behaviour evolved as a good survival technique – only the outermost fish of the tight-packed school are in danger – diversity, I am sure, is an essential for the maximum survival of the pub species. The many brewers who are grouping their houses into style types tied to narrow strata of clientele and then refurbishing them to be indistinguishable within their appointed styles are almost definitely, in the long run, wasting their money.
In the same vein, is it wise for every corner pub to have Sky TV (especially after the outrageous, near 70%, rental hike on September 1st)? If every pub has it, attracting a handful of customers each, then none can make enough extra profit to pay the rental: everyone loses. If only a proprtion have it and these attract enough custom to cover the rent, the rest save the loss-making outlay on rent: everyone gains!
Some imaginative lateral thinking is going to be needed if disaster is to be avoided. The situation in Ireland possibly points a way – thousands of small and marginal bars there operate in conjunction with other businesses. Many of our threatened pubs are physically quite large, there must be scope for their owners to negotiate entrepreneurial deals. Why not partnerships with pizza shops, take-away food outlets, fish and chip shops and so on? In village pubs there have already been a few experiments combining with general shops and Post Offices, much more could be made of this. We already have the cyber-café, when might we see the cyber-pub? Organisations and groups will need to be wooed. Instead of the parish hall, the local war-garners, whist club or mineral collecting society could be much more comfortable in the pub.
Not only would this sort of idea be much more feasible but the ambiance of many present pubs would greatly improve if one of the most damaging trends of the last few years is reversed. The conversion of two, three and four bar pubs to a single bar format has been a great mistake. A multi-bar pub not only has its own in-built diversity but it also opens up avenues for other uses that would be impossible in a single room. How, without closing the pub, could a one-bar licensee hold someone's wedding reception, or for that matter their wake? The future is gloomy and clouded but it is coming fast. Landlords are going to have to be very fast on their feet if they are to avoid the inevitable cull. Although a new big chain pub is in most instances a comfortable, convenient asset in the town centre, if it leads to the loss of a swathe of good locals then it may turn out to be the-pub-too-far.
SWAN SONGS Hop Press index
Recently I had a copy of Marston's annual company report, and then, a few days later, read an article in the brewers' trade paper, the Brewers' Guardian. It is not an understatement to say that these produced a deep despondency.
The article was a survey of opinions on the continuing debate over the pros and cons of the swan neck and tight sparkler method of dispense. Regular Hop Press readers will know that we have dealt with this subject on a number of occasions and that we oppose them vehemently. Not for any misty-eyed, go back to the old days, rationale but for the totally practical reason that they radically change the flavour and character of any beer unfortunate enough to be served through them.
By forcing the beer at high pressure through a set of tiny holes the stream of beer entraps lots of tiny air bubbles. This produces three bad effects: Firstly, much of the beer's dissolved carbon dioxide comes out into the bubbles (which become the creamy head) leaving the beer in the glass flatter. Secondly and similarly much of the volatile hop aroma comes out into the bubbles leaving the beer less hoppy (although increasing the hop aroma of the head and thus giving an enhanced expectation of a nice hoppy drink until the first swallow reveals the disappointment). Thirdly, many of the bubbles are carried down into the body of the beer producing the blandly smooth "mouthfeel" of the new nitro-keg beers. These results are not our opinions, they are facts accepted by all brewers, the critical thing is whether a brewer considers them to be good or bad for his beer. This is why my items of light reading mentioned earlier produced such gloom.
The Brewers' Guardian article quoted widely from Mr Stephen Oliver, Marston's Brewing and Brands Director (I personally think he should be retitled Brewing and Brand Director since he seems to consider Pedigree, the so-called flagship beer, the only real ale worth bothering with). Mr Oliver admits concern at the inroads that nitro-keg beers are making into the ale market and his answer, allegedly after consultation with Paul Bayley, Marston's long serving head brewer, is to try to make Pedigree look and feel like a nitro-keg beer!
To this end Marstons have been running a pilot scheme in some forty of their pubs with a dispense system that makes this once fine beer seem like an imitation keg. In place of the simple pump-clip the handpump has its lower half surrounded with a gaudy brass casting that looks like a keg font. The swan neck has a fixed sparkler, not removable even by those licensees who appreciate the real subtlety of Pedigree, and as a last, dismal straw there is a built in chiller to take the beer down to about 52°F (11C).
The trial, which was due to end by September, is aimed at attracting younger drinkers, those who believe that all beer should look like a Boddington commercial. What a pantomime for one of our formerly greatest independent brewers to get into! Panic at the first sight of the enemy, desertion in the face of fire – how can a senior executive possibly conceive that the strategy to combat a new market phenomena is to disown all of your own product's best features to try to sell it on the coat tails of the newcomer.
Mr Oliver believes that what he is doing is "...building a bridge back into cask ale for a generation brought up on smooth-brewed ale." To do this, he says, they could have just made Pedigree into a nitro-keg but "That would have destroyed the brand." Well this plan destroys the brand anyway – when his keg drinking target market convert to his milky, cold, tight-headed Pedigree does he have another plan to then convert them on to a properly served Pedigree? Of course not. Does he have another cask ale in mind, properly served, that they can graduate to? Of course not. If this goes ahead it is the end of one of the world's best beers. Draught Bass went down the tubes a decade ago, its great rival is about to follow.
Marston's Managing Director, David Gordon, says in his annual report that "We are determined that Marstons will be in the forefront of understanding its customers and giving them what they really want." Well what we want, really, really want is the ability to choose! We think it should be the customer that chooses how his or her pint is served. I have been a Pedigree drinker for thirty-seven years and no power on earth will persuade me to buy a pint thrashed through a tight sparkler, why should I be stigmatised as an unwanted customer?
For historical reasons, Marstons figure highly in the Hampshire pub scene, the three barrel logo was always a welcoming sight, I hope it will remain so. An event last month may hold the key.
Two breweries at August's "Great British Beer Festival" in Olympia exhibited new handpump designs that completely solved the problem. Batemans and Everards were using pumps that had double outlets, one a swan neck with a fixed sparkler and the other a simple flat spout. A one movement changeover tap lets the server give the customer exactly the style of beer requested.
An Everards spokesman said: "We've always found that the majority of our [East Midlands] customers prefer beer with a tight, creamy head ... expanding into Cambridgeshire and Hertfordshire some customers prefer a looser head and because we always seek to react positively to the needs of all of our customers, not just the majority, we have been considering ways to accommodate this." Marstons are you listening?
The solution demonstrated by Batemans was made by Angram, the pump manufacturers who make most of the fixed sparklers. The double outlets can be fitted easily, the handpump itself is not affected. With such an obviously logical idea cannot the industry get its act together for the customer's benefit?
To drinkers in a large swathe of the country, mostly the south, this should be a major concern. It would be very convenient for the producers of national television advertising campaigns if every beer drinker in Britain could be persuaded to crave a pint with a dream topping head and a cold milk body but if we let this happen then a vast variety of beer tastes will be lost, forever.
MICRO MOVEMENTS Hop Press index
It may surprise some readers to realise that CAMRA has a very efficient intelligence service which lets us monitor the local pub and brewery scene in our south Hampshire area.
We were, therefore, aware from an early date that a new brewery was taking shape in Alresford and we were delighted when, in June, our branch was invited to attend a preview of the first brew.
The Itchen Valley Brewery is based in the small industrial estate on the south-western outskirts of Alresford. It has been installed in what was originally a woodworking and furniture factory.
The brewery is run by partners Simon Brown and Alison Carter and the brewer is Ian McLeonards. They have assembled an impressively large operation – a "twenty barrel plant." Brewing is essentially a cooking process, making a brew is not too unlike preparing a saucepan of porridge! The amount of beer a brewery is capable of making each day is determined by the size of its saucepans, traditionally measured in numbers of thirty-six gallon barrels.
Most new micro-breweries start at a five or ten barrel size so Itchen Valley have certainly started big–by judicious buying of surplus vessels from other established breweries. The installation and commissioning the plant was
Initially just a single brew is being produced. The name "Godfathers" was prompted by Simon recently becoming one, although the menacing silhouette of a mafia figure used on the brewery publicity makes one wonder how he intends to conduct this moral guardianship. The beer is a 3.8% abv "session bitter," golden in colour with a light sweetish, fruity flavour and a fruity aroma. It is only lightly hopped.
Godfathers started to appear in local pubs in July
Gaining a brewery in our branch area is quite an event but no sooner had Itchen Valley started up than we acquired another, this time in the historic brewing centre, Romsey.
The Hampshire Brewery, which started in 1992 in Andover, is well known in the county for beers such as King Alfred Bitter and Hampshire Hog Bitter. Needing more space and with most of their outlets to the south of Andover they decided that they should move. Brewing started at its new home on Romsey's Greatbridge Road industrial estate on September 1st, ending the sixteen year break in brewing in the town. At the moment the beer range remains the same but thought is being given to a possible celebratory "moving in" brew.
The Itchen Valley Brewery can be contacted on 01962 735111 and the Hampshire Brewery on 01794 830000.
A FREE MARKET Hop Press index
In the last edition of Hop Press we looked at the difficulties of defining the term "Free House" and noted that a number of former free houses in our area have been purchased by regional independent brewers. This trend shows no sign of abating.
Locally, the Devizes brewer, Wadworth has been leading the field. The capital for this substantial increase in the company's estate may well stem from its deal with Whitbread which gave the national brewer the exclusive rights to the name and the distribution of 6X.
In recent years Wadworth have purchased two New Forest pubs, the Foresters at Frogham and the Red Shoot at Linwood. As reported previously, they also bought the Star Hotel chain which included, in our area, the Brigadier Gerard at Horton Heath, the Master Builder in West End, the Humble Plumb in Bitterne and the Star Hotel in the High Street in central Southampton. Now comes news of two more additions to their estate: the Gamekeeper at Woodlands (near Ashurst) and the well-known, up-market pub the Bush at Ovington.
Wadworth's empire building is not confined to Hampshire. They have also purchased the famous Falkland Arms at Great Tew, Oxfordshire – a lovely thatched country inn described in the Good Beer Guide as gem" and the Farmer's Arms at Apperley near Gloucester. This latter pub included a small brewery that has now been reopened. It is unlikely that the beers produced will be available widely in the Wadworth estate as it only has a two and a half barrel capacity!
Whereas drinkers at the Farmer's Arms will get some new beers to try, customers at the other former free houses are likely to be faced with beers from the Wadworth range with, perhaps, a guest beer – in many cases Tanglefoot from Hall and Woodhouse. In some cases this will be an improvement on the beer range that was on offer before the pub changed hands. However, whilst they remained free houses they at least had the potential to offer the customers more choice in the future and to provide more outlets to the increasing number of micro breweries who are finding it ever harder to find an open market for their beers.
Gales have also joined the trend, although on a much smaller scale. A few years ago they took over the Alice Lisle at Rockford Green in the Forest and, just outside our area, the White Horse (aka The Pub with No Name) at Priors Dean. More recently they have purchased the White Buck at Burley.
At the White Horse Gales have at least kept a range of guest ales in addition to their own products. This was presumably because the pub's world-wide fame centred around its large range of ales including the house "No-name" beers which were actually Ringwood Fortyniner and Old Thumper.
The other regional brewer that has been active in the local property market is Marstons. Just to the north of our area they recently sold a tied house, the Leckford Hutt and purchased a nearby, established free house, the Dever Arms. The Dever Arms attracted drinkers from miles around to sample the good range of reasonably priced beers on offer, in addition to a very well regarded menu. Initial reports since Marstons took control have not been favourable, reports are that the trade has decreased. Although the location of a pub is very important, it appears that Marstons have succeeded in getting rid of the main reasons why the pub became successful in the first place. It will be very interesting to see what happens at the Leckford Hutt, now that it is that rare object, a newly created free house.
Such a move brings back memories of another Marstons managerial masterstroke that occurred in the early part of the decade. The brewers had at that time a largely tenanted estate. It was decided to convert six of the most popular pubs in our area from tenancies to managed houses. While there are good and bad licensees in the ranks of both managers and tenants, pubs run by the latter often have the advantage of more stability and more personal commitment which helps the licensee to improve the service to customers. Again Marstons appeared not to realise the important part that the licensees had played in making these six pubs so popular in the first place. This was pointed out to the company by CAMRA, the licensees and the customers of the pubs, but to no avail.
It did not take long before the chickens came home to roost. One of the pubs, the Phoenix at Twyford returned to tenancy under the family that had run it previously within a couple of years. Another of the pubs, the Fountain at Waltham Chase, was so successful that Marstons have since sold it and it is now a free house known as the Chase Inn. The King Alfred in Winchester also reverted back to a tenancy
Marstons have also recently sold some Southampton pubs. In a deal with Trent Inns the Vine in Portswood and the Bevois Town have been transferred. The Doncaster based company tends to sell only beers from the big brewers in their pubs. Another Marston's pub, the Platform Tavern, was believed to be part of the deal as well but it now seems to be being run by the same management as the Portswood music pub, the Brook.
We have lost a significant part of our initially small number of free houses to regional brewers in the last few years. The hundreds of pubs being sold off by the national brewers has not restored the balance since these have also been taken up, mostly in bulk deals, by the regional brewers.
The one positive factor is that it is still, on the whole, better for these breweries to have purchased any of these pubs than for them to have been either bought or retained by one of the national brewers or bought by the pub chains, who are mostly nicely in bed with the nationals for beer supply agreements.
CAMRA wholeheartedly supports the tied system, without it there would be no regional brewers at all (consider how many breweries there are in Ireland, where the tie is outlawed!). But we also must have a flourishing free market sector. Whatever the reasons, the number of really free houses in our area is significantly less than it could have been and it is not in the interests of drinkers to lose any more.
EDITOR'S POSTBAG Hop Press index
Several articles in the last Hop Press have resulted in letters:

Sir,
I was interested to read the article in May's edition headed "Strong Feelings," it brought back many happy memories of my brewing days at Strongs.
It reminded me of the first day your writer, Stephen Treglown, joined us at Romsey. He was quite right that "Strong Country Bitter" was a new name for draught beer in Whitbread, but we had used it before in the days of Strongs for a keg beer brand. The beer was born in the brewing room with the four brewing staff each putting in a recipe around a basic theme. The final beer chosen was mine and so I am particularly sad to see the name disappear, although the beer at the end was totally different to the beer originally brewed.
Kind Regards,
Ian Skipper,
Trade Quality Brewer,
Wadworth,
Devizes.

Ian also asked me to pass on his regards to Stephen Treglowan as he had lost touch, I would like to but I have not got an address either so if any reader knows Stephen please pass on this message, and my thanks for his article – Ed.
Sir,
I refer to the article "Free but not so Easy" in May's Hop Press. I am a manager for Salisbury based Gibbs Mew plc and I manage the Dolphin, a Free House [sic] in St Denys.
I was disappointed to read that Rob Whatley considers it a "sinister new trend" for regional brewers to buy free houses. Although I believe there are many excellent genuine free houses, as a manager I must disagree with the statement because:
• Regional brewers invest millions in improving public houses. Many free traders do not have the capital to make improvements. Capital also ensures better cellars and equipment, thus better ale.
• Choice is normally greater as the manager worries less about high stock levels and cutting back on stock to ensure positive cash flow.
• Managers and staff are normally trained by their breweries in cellar management.
• Most regional breweries offer a good selection of changing guest ales in their managed houses, sourced from all over the country.
• Ale is often cheaper as the breweries purchase centrally and receive large discounts. The breweries' own ales are also cheaper as they promote the sale of their own products.
• In my opinion, managed houses bring a great deal of professionalism into the licensed trade and improve standards throughout the industry. Many free traders buy pubs on retirement or redundancy and have little or no experience in the trade. For example on a British Institute of Innkeeping training course last year I noticed one woman who had never used a calculator and a retired man who wanted a pub to "wind down in life."
• Managed houses cannot always guarantee better service than a free trader, however most staff in managed houses are trained in customer care and service and in product knowledge.
I hope these points make Mr. Whatley realise the benefits of the regional brewer buying out free traders and tenants and investing in managed houses. I also hope he ceases to stereotype the image of the free house. I believe that a "free house" should be any pub that offers a good and wide selection of fine ales in a traditional atmosphere and therefore I defend my title of The Dolphin Free House.
Yours sincerely,
Scott Hilary

I am not sure that Scott will be able to persuade Rob to change his views as another article from him in this issue, revisiting the subject, seems to demonstrate!
CAMRA's "corporate" view is that the term free house should only be used for pubs with no tie to either a brewer or a pub chain, we wouldlike to see this incorporated into legislation, perhaps as part of the fair trading laws.
Maybe other correspondents would like to express a view? – Ed.
PUB NEWS Hop Press index
We start this edition of Pub News with the latest instalments of Southampton's new pub saga. Starting by Stag Gates, in Lodge Road, a planning application has been submitted to convert part of the Solent Health Club into a pub. Over in London Road, Wetherspoons have obtained a licence to open their second pub in the city at 12/18. These are the premises currently occupied by the Wyntons furniture store. The pub will open early next year.
This is almost opposite the proposed German style bar (mentioned in an earlier Hop Press) which will be located in and under the shops that were previously occupied by Hamiltons Electronics. The bar on the ground level will be called the Euro Café Bar and underneath will be Bruinn's Bier Keller. Close by, in Carlton Crescent, there was an application earlier this year for a licence to be granted to number 33, Avondale House. No further details on this one yet.
Moving towards the centre of the city, an application has been granted to open another Whitbread Hogshead, in the former Clarks shoe shop, not far from the Square Balloon. There is also a planning application for a change of use from retail to food and drink use at 113-117 Above Bar. This appears to be the premises currently occupied by Miss Selfridge. (Whatever happened to the requirement for all buildings to display their street numbers?)
Finally, at the Bargate, there is a licence application for 2-4a High Street. This appears to be the current location of Burtons. A subsequent application for has been submitted for temporary seating on the pavement outside these premises, something that Southampton has, historically, been very loath to grant..
Now for a few new outlets that have already opened. The Cork and Bottle is situated in the Ferry House by the entrance to Ocean Village. The beers on offer when we visited were Bass, Worthington, Boddingtons, 6X and Shepherd Neame's Summer Ale, all served through a swan neck and tight sparkler. The decor is similar to that of the Rat and Parrot, with the addition of many nautical pictures. This is the second pub in a new chain started by a group that includes former Morlands employees. The first opened in Birmingham and there are plans for a further four pubs. Deep Water Quay has opened on the ground floor of Canute's Pavilion but there is no real ale available. Another new venue where there is so far no real ale is the giant Leisureworld complex. Some bars are still under construction so there remains an opportunity for the owners to offer customers a proper choice.
Pub openings are not confined to Southampton. Eastleigh's new Hogshead is now open in the High Street. We assume that Whitbread has a top-level naming committee but when confrOnted with Eastleigh their imagination failed them and they fell back on just the name of the chain. The beer range has been quite interesting with a fair number of beers from small independents. Prices are a bit steep (£2 barrier often broken) but at least one does not need to carry earplugs to be able to use the pub.
In Chandler's Ford there is an application to open Jones Wine Bar in the Fryern Arcade. Further north, on Winchester Road, Hanrahans (formerly The Mount) is now the King Rufus, with Bill and Bev Charrington as the new licensees. The name refers to the local legend that the body of King Rufus passed through Chandler's Ford on its way to Winchester from the New Forest. While this may be legend, there was a genuine royal visit in 1934 when the King and Queen of Siam stopped for tea at the Mount Hotel. The pub is now owned by Whitbread and is the sixth of a new chain called "Kiln and Kettles." It is heavily food oriented and is somewhat like a more up-market Brewer's Fayre. 6X, Boddingtons and Flowers WA (not Original, interestingly) are the permanent hand-pumped brews and there is a gravity dispensed guest (HSB on opening week). A pleasing point is that "house rules" ensure that no beers are served by the neck and that no alcopops are stocked.
To the east, the Rising Sun in Colden Common, is now easier to find. It is one of the first pubs in the country to have its own official road signs – brown tourist sign that are more usually seen indicating the way to such venues as Mar-well Zoo or Bealieu Motor Museum. A recent change in the law now enables pubs to be advertised in this way. There are discussions under way with the Winchester planners over extending the bar of "The Riser" for a games area.
A nearby pub that is also off the beaten track is the Robin Hood at Durley. The new tenants here are Euan and Tina Bartlett, who have worked at the pub for some time. A new plaque has appeared on a Bishop's Waltham pub, not to advertise the bill-of-fare but to commemorate a past visitor. The Crown Inn was used to house Admiral Pierre-Charles Silvestre de Villeneuve, in 1805. The French admiral was captain of the runners-up at the Battle of Trafalgar. Some 200 French sailors were held captive around Bishop's Waltham after the battle. Most were eventually allowed to return home but a few stayed and integrated into the local community.
A French influence will be in evidence at the ivy-clad Fox and Hounds in Crawley. The new manager is Jerome Debris who wants to introduce a bistro atmosphere with a mixture of French and English cooking. A pub offering a more traditional English menu has won a prize for its food in a competition sponsored by the British Beer Club of European MPs. The Hinton Arms (formerly the Jolly Farmer) at Hinton Ampner is owned by Richard Powell, who bought the pub last year from Salisbury's now ex-brewers, Gibbs Mew. A current Gibbs Mew pub, likely to undergo changes, is the Running Horse at Littleton. This is despite 200 locals signing a petition against the planned changes which aim to turn it from a community local into a food based pub. Licensees Richard and Jane Perrett look set to move on after falling out with the brewery over the proposals.
Another licensee moving on is Peter Stockton from the King Alfred in Winchester. The extrovert publican, who stood for the city as the Monster Raving Loony Party candidate in the General Election, is planning to open a rock bar in Amsterdam. Before moving to Winchester he had been involved with a number of clubs and music bars in London including the famous Stringfellows night club.
The first of Winchester's new pubs has opened. The Wetherspoons pub in Jewry Street is called the Old Goal House (entirely appropriately since the building was erected as the city goal at the start of the 19th century to replace an old 16th century lockup). The interior is the expected comfortable Wetherspoon formula but the operations have some unusual features. All praise to the Company for using nothing but oversize glasses, other outlets take note, the tide is turning. Not so good is the aberrant (for Wetherspoons) pricing policies – all the guest ales, from 3.8% abv to 5.3% abv are a uniform £1.80, despite leaflets in the pub stating: "our guest beers are priced accord ing to their abvs ... the stronger the beer the more the tax." There is also no "loss leader" beer in the 95p or £1 range, as most of their other pubs have. Maybe they consider Winchester too up-market for such a come-on. However, not on sale at any price, are any alcopops, as these drinks have been dropped from all the Wetherspoon outlets.
The next opening will be the Firkin pub, possibly to be named the Fugue and Firkin, in Upper High Street. There has been some delay, Allied had expected to be open by August now there is no date set but the builders are toiling away on the site so it should not be many weeks.
A third new pub will be in The Square, in premises previously occupied by the Phase Eight ladies' fashion shop. In a previous edition of Hop Press we predicted that there would soon be a local outlet from the Slug and Lettuce chain, this is it, so our enthusiasm is suitably underwhelming.
The new "superpubs" have transformed our High Streets in little more than a year. It is interesting to contemplate how many may disappear as quickly at some point in the future. It is unlikely that they will all last to celebrate their centenary as one local pub is this year. The Rockingham Arms, in West Wellow, is celebrating 100 years since it sold its first pint. It was originally built as a chapel but was never used for worship.
A long standing pub that sold its last pint many months ago is still in the news the Red Lion at West Dean, which straddles the Hampshire/Wiltshire border. The current owners, Mr and Mrs Morgan, asked for planning permission to covert the pub to a house. Permission was granted by the Wiltshire planning authorities but was refused by Test Valley as it went against their District Plan. Despite this refusal it seems unlikely that the Red Lion will reopen. The pub has had a troubled history for a number of years and a previous threat of closure was only narrowly avoided. Although the last licensee of the pub said that falling trade had made the pub uneconomic, the somewhat random nature of the pub's opening hours had made a trip to West Dean for a drink something of a lottery.
One Test Valley pub with a more promising future is the Duke's Head, at Greatbridge just north of Romsey, where the new owners are Jenny and Peter Jones. In the centre of Romsey a "brand new concept in wine bars" has opened. The former Latimer's Wine Bar is now Judges Clubhouse Bar, its name derived from one of its backers, Hampshire and England batsman Robin Smith, whose nickname is "The Judge." Beer, including real ale, is available, we are told: "by bottle, glass or jug" As might be expected, there will be a sporting theme. A separate room contains a big-screen TV.
We noted earlier Hanrahans becoming a King Rufus. There are also changes at the established King Rufus in Eling where Ian and Zoe are the new management team and the beer range is improving, losing the previous Scottish Courage emphasis. Across the road, the Village Bells is for sale at an asking price of £110,000. The Holbury, a former Whitbread pub now owned by the Chapman Group Ltd., has won permission to build a new restaurant. Another Waterside pub where changes are planned is the Falcon at Fawley. The function room of the run-down pub is to be demolished, being beyond economic repair. Refurbishment will then be funded by the sale of land next to the pub for housing. More building work will be taking place at Fritharn as permission has been granted for the extension of living accommodation at the Royal Oak. A new hall will also be erected next to the pub.
Returning to an earlier theme, the Forest Heath Hotel at Sway now has a French Bistro "La Palette." In Lymington the name change game seems to have moved into a parallel universe. The Pied Piper is now the Funky Frog, but even this has been surpassed at the Angel, where the Tap Bar has been renamed the Blue Pig. Another Lymington pub, the Captain's Inn (ex Crown and Anchor), may be replaced by three flats. Former licensees John and Tina Aslett are very unhappy with their treatment by Trowbridge brewers Ushers, having spent a lot of their own money on improvements they were then asked to vacate the pub.
Another pub closure that may be brought forward is the Speckled Trout at New Milton. Latest proposals are for the land to be used as a site for a new Health Centre, with "associated health and retail units." Permission had previously been granted to build housing on the site so the long-term future of the pub was already limited. There will not be a replacement pub, an application to convert the 19th century Old Barn into a pub and restaurant have been rejected.
Back in Southampton both the Spa and Wig and Pen in the city centre have sold their last pints and will soon be demolished, along with the Dog and Duck, as work continues on the on the giant West Quay development. The Griffin in Anglesea Road, Shirley, is closed for extensive refurbishment.
Another Southampton opening is the Green House in Carlton Place. Run by the same group as nearby Simon's Wine Bar and Mustang Sally's, there is no real ale. We mentioned in the last Pub News that the Bay Tree has become the Graduate. One economical feature of the decor is that, in a progression from the standard decoration of ranks of old books, this pub has wallpaper depictions of old books at picture rail height! A recent advertisement for the pub said: "real ales...along with traditional brews." Another name change is the former Muswells, for a short time the Sports Café, is now Vertigo.
Finally we bid farewell to two of the longest serving licensees in the city. Leah and Alan Hill have left the Guide Dog in Bevois Valley after 13 years. The Wadworth pub had featured in many editions of the Good Beer Guide. The licensees of another regular Guide entry are also on the move. John and Mo Melville, and their son Douglas, have left the New Inn, having been tenants for more than 12 years. The pub has hosted many CAMRA functions and pioneered the sale of quality foreign bottled beers. New licensees are Mick Jones and Linda Thompson.
EFFY'S ROUND, a personal view Hop Press index
The Grade II listed Red Lion at West Dean, which straddles the Hampshire/Wiltshire border, has been shut since the end of 1995. Being uniquely subject to two Local Authorities has not helped it when a planning application for change of use to a private dwelling were filed early in 1997.
CAMRA (and many others) objected against this change of use as, firstly, the Red Lion was the only pub in the village, a severe loss of amenity to the local community and secondly, the applicant a Mr Morgan had bought the Red Lion as a pub in November 1995 but then did not try to run it as such. We believe it could still be a profitable venture, with the right proprietor. A confusing sub-plot was that the villagers were perhaps most upset at part of the application that would fence off land that they consider common.
The two councils involved, Salisbury District, which covers the dining room area and Test Valley, which covers the main bar, have different planning policies. Test Valley, according to its local plan, has a positive policy to maintain local amenities such as a village's last pub. Salisbury has no such policy.
It had seemed that the councils were working together and a joint viability study was being considered, when Salisbury suddenly decided that enough time had been taken in assessing the application and by the tightest of margins, approved it. This left Test Valley in a quandary, looking at their legal position after Salisbury's abrupt decision. On September 1st, after studying a consultant's report, Test Valley stood by their planning policy and refused the application.
It is understandable that Salisbury District made the decision they did, as they have no specific policy to save pubs, and thus no grounds for a refusal that would be stron' enough to resist an appeal. The fence being more important to some villagers than the pub would not help much at an appeal either! The Red Lion's future is now in the hands of Mr Morgan, perhaps the least popular person in West Dean. He could appeal against Test Valley's decision, live in the pub and not convert the Hampshire half or sell. Only selling gives any chance of the pub reopening.
Rural pubs like the Red Lion are very much under threat, to be viable they need not only good, enterprising owners but also to look at B&B, incorporating shops and Post Offices and other ways to add income. Planners and Licensing Magistrates must be sympathetic to such ventures. What does not help is that at the moment, pubs are cheaper to buy than houses in rural areas. Even after conversion expenses a gain can be made.
If the Red Lion never reopens West Dean must be classed as dying, it already has neither a shop, a Post Office or a school.
As I write, the Andover Arms in Kings' Somborne also a listed building, has closed (on September 4th). It also has a change of use application, likely to be granted as it is not the sole pub. The other pub, the Crown, can only benefit.
Hop Press issue number 44 – September 1997
Editor: Pat O'Neill
1 Surbiton Road
Eastleigh
Hants.
SO50 4HY
01703 642246
hop-press@shantscamra.org.uk
© CAMRA Ltd. 1997