Hop Press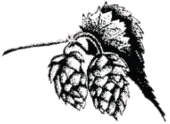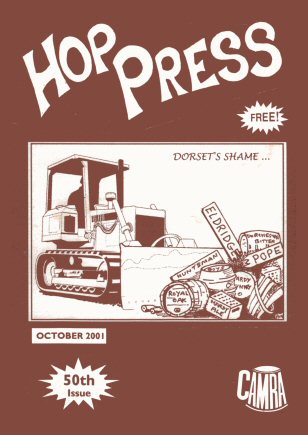 Issue 50 – October 2001
Welcome to the third on-line edition of Hop Press.
Go to Previous Hop Press Browse for another Hop Press
Go to Next Hop Press
Contents
EDITORIAL
Hop Press index
One of the burdens of being the Editor is that one receives copious advertising 'press releases' from breweries anxious to get a mention of some local pub development but not anxious enough to take out a paid advertisement. Usually these go straight into the bin but a recent one did provoke some interest for its sheer mendacious audacity.
The offending document in question emanated from a PR company working for Greene King and refers (although if they had not said we could never have known from the descriptions) to the Junction in St. Denys, a pub we have enthused over for a quarter century.
In their first paragraph, although rightly stating that when built in 1850 it was know as the Wareham Arms, they fail to make the connection that the railway and its junction were not built until 1866 (when the name changed) instead a fanciful tale is inserted with the name arriving in 1912 at the behest of railwaymen "wanting a real ale pub." How many pubs did not have real ale in 1912...? The next sentence then beggars belief: "...bar billiards replace the pool table..." For regulars of a pub that over decades has had bar billiard cup winning teams and players to be told that their new Greene King licensee has installed bar billiards in place of a never existing pool table must cause some incomprehension. Mention of the 'regulars' leads to another paragraph which names several of 40-50 years standing and, of course, quotes them as having IPA as their favourite ale and calculates the enormous number of pints of it they have drunk - thousands of pints of IPA over 50 years and not a single pint of Marston's Bitter or Pedigree! Remarkable.
This is a pretty petty whinge I know but it is actually intended to make a more general, serious point. Our pubs now are run from afar, like the branches of global corporations. For the 70 plus years that Marstons owned the Junction, the local depot manager would have known it in every detail, would not have needed to ask a PR company in Bedfordshire to pen a load of invention but instead would have mentioned the lovely preserved state of the architecture they spent so much on, the real community spirit that the pub engenders and its historical place in that community. Our locals are ceasing to be treasured, comfortable meeting places, extensions of domestic life, to become one-size-fits-all branches of Globalfizz Incorporated.
More weighty matters. The sales of beer continue to decline, in an unrelenting way. In the past year total sales of beer (lagers, kegs as well as real ales) have decreased by a massive 3.7% . This continues a trend that started a decade ago. The loss to the brewers however is little since the decrease has been taken up with massive increases in the sales of wine and in particular, alcopops - and most of these are from companies owned ultimately by the big brewers. Once again, of course, it is the smaller brewers of real ales that suffer most as they do not have the diversification to give them a cushion against these trends. In conjunction with CAMRA many of these small and medium sized companies have invested money in the 'Ask if it's Cask' advertising campaign, a generic poster and media campaign supporting real ale as the tasty and distinctive product that it is.
Now for some more evilness in our own home territory. If your local is an Eldridge Pope house give some thought to permanently boycotting it; if you are thirsty and happen to be by an EP house, walk on by. This is the only way that we, as consumers, can show our utter disgust at the decision of Pope's trade director, John Yonwin, to discontinue sales of all the Eldridge Pope beers in favour of the less than delightful products of Tetleys and Scottish-Courage. This astonishing act of humiliation even has the blessing of the Chairman Christopher Pope, who, with snivelling pusillanimity said that although sentimentally attached to EP beers he would not interfere with his director's decision - some leadership example!
We must stress that we have no quarrel with the EP licensees, they received the news in a curt letter from Mr Yonwin and are in most cases as dismayed as ourselves. Their only hope is that the EP company will go rapidly downhill and wind up, thus releasing the pubs onto the market for a more enlightened owner to rebuild again! Boycott could be the first step on this road.
Now for the tangle that is Bass-WhitbreadInterbrew etc. What is going to come out of this great mash tun of companies and is it likely to be of any benefit to the pub goer? Obviously the answer to the second part is almost certainly 'no' but the first question is more tricky. Having bought all of Whitbread's brewing interests the addition of Bass Brewers would have given Franco-Belgian Interbrew over 40% of the UK market - something that the Department of Trade and Industry thought could not be tolerated.
Stephen Byers ordered Interbrew to resell all of Bass but the High Court sided (partially) with Interbrew and overturned this order. Now Mr Byers successor, Patricia Hewitt, appears to be homing in on a compromise agreement whereby part of the Bass empire will be floated off as Carlsberg Brewing Company and most likely taken by either Heineken or the South African Brewing Company. This will still leave Draught Bass being brewed for but not by Interbrew at Burton.
Incidentally, in passing, do those readers who are regular Bass or Pedigree drinkers believe that both of these classic Burton beers have changed out of all recognition, and in the same way, in the last year or so? To my mind, having tried both several times recently they seem to have lost all of the sulphurous 'Burton nose' that made them unique. Alas.
Having its flagship ale brand brewed by another company does not faze Interbrew, a spokeswoman said: "European brewers are already used to having beers brewed under licence, so we're quite comfortable with the arrangement." The deal could help Draught Bass as it will be the one national brand that Interbrew retains from Bass and could promote. After all CEO Hugo Powell says it is his favourite beer.
OAKLEAF BREWERY Hop Press index
Rob Whatley
Many of the new breweries that have been established over the last few years have been located on industrial estates. Most of the remainder have been shoehorned into pubs. The Oakleaf Brewing Company, in Gosport, manages to fall into both classes.
The main brewery is in the Clarence Wharf Industrial Estate and there is also a smaller plant, located at the Clarence Tavern, just across the road. The brewing kit in the Clarence Tavern was originally installed in Southampton, at the Hedgehog and Hogshead near the University in Bassett. (Which has now reverted to its former name, The Stile.) Much of the brewing equipment in the larger plant in the industrial unit came from the former Planets Brewery which had been operating in the Woking leisure Centre.
When you enter the larger unit your immediate impression is that you are following in the footsteps of Lawrence Llewelyn-Bowen as the wood-encased fermenting vessels have been painted blue, orange, red and purple. For no obvious reason, this was how they arrived from the previous owners. Another feature of the equipment is the presence of a prominent steam boiler, the steam is used to sterilise the casks.
The man in charge of producing the beer is Ed Anderson who had previously brewed at the Fuzz and Firkin, Southsea until the untimely take-over by Bass stopped all of the Firkin breweries in their tracks. Ed moved on to the Winchester Ale Houses Old Chapel Brewery, Gosport. After some restructuring part of the operation became the Oakleaf Company. Both the plants are used to produce the whole range of the brewery's beers, with the deciding factor being how much of a particular beer is required at the time. Unusually the water used for brewing is not "Burtonised," Ed finds that the local tap water is fine for brewing the styles of beer he likes. The yeast comes from the Hop Back Brewery.
Ed's father-in-law, Dave Pickersgill, is his business partner and works at the brewery alongside another two members of staff. At present the majority of the beer is delivered direct to customers by the brewery, though an increasing proportion is being sold through wholesalers. A wide range of beers is produced including Oakleaf Bitter, a 3.8% light session beer, Hole Hearted a 4.7% bitter brewed with 100% Cascade hops and the dark, strong, Stokers' Stout at 5% abv. Unusually, there is no one beer that sells a great deal more than the others.
In addition to the brewery Ed and Dave also run two of the former Winchester Brewery Company pubs. Ed and his wife Gail run the Hole in the Wall, Southsea, whilst Dave and Lynn Pickersgill run the Winchester Arms, Buckland. The fine Oakleaf beers can, of course, be sampled at these two pubs.
NEW FOREST HISTORY OF A SUCCESS Hop Press index
Rob Whatley
We are lucky to have many breweries in Hampshire that regularly win prizes for their beers. But only one has ever won the top prize, CAMRA's Champion Beer of Britain. That accolade went to Ringwood Brewery's Old Thumper in 1988. The judging took place in Leeds, at the Great British Beer Festival. When current Managing Director David Welsh spoke to a Leeds radio station about the award they were rather miffed that a southern beer had come out on top against Yorkshire brews. David was able to point out however that the all Ringwood beers owe at least part of their flavour to Yorkshire as the yeast originated at Hull Brewery.
The yeast was brought south by the founder of Ringwood Brewery, Peter Austin. Peter had worked at the Hull Brewery for 30 years before retiring in 1976. He is often referred to as 'the father of British microbrewing', as he has been involved in building some 40 breweries (since his 'retirement'...) He started with the short-lived Penrhos Brewery, at Kington on the Hereforshire-Welsh border and was largely financed by Monty Python's Terry Jones. He has since gone on to build breweries across the UK, in France and further afield in Nigeria, China and Siberia!
The licence to brew the first beer in Ringwood since 1923 was granted on 1 February 1978 and the first beer was sold in April 1978. The Brewery was first established in a former bakery in New Street, with a brew length of 7 ½ barrels, which was later increased to 15 barrels. The first beer brewed was Ringwood Best Bitter, which is still the brewery's best selling beer. This was soon followed by Fortyniner, named from its 1049 original gravity. 1980 saw the launch of Old Thumper, which was named in a competition asking local drinkers for suggestions. The beer is now brewed under licence around the world, including a brewery based at Orlando airport. Although the beer only accounts for a relatively small proportion of the brewery's output it is probably the beer for which it is best known, certainly outside the local trading area - only a few weeks ago it met with great acclaim from the French at a festival in Limoges.
These beers were all established at the original brewery before the move to the current brewery, in Christchurch Road, took place in 1986. Part of the site consists of 18th century buildings which at one time housed Tunks' Brewery, which ceased brewing in the 19th century. The brew length was increased to 60 barrels at the new brewery. Getting married or divorced and moving house are supposed to be the most stressful events in life but those who remember the move reckon that moving a brewery should be up there among the leaders. Trying to ensure that the beers taste the same in the new brewery was one of the biggest challenges but it was overcome with the same skill and professionalism that is the hallmark of Ringwood Brewery. By 1994 the existing brewing kit was straining under the pressure of the increasing demand for Ringwood beers, so over the following five years a new two-storey brewhouse was installed, again doubling the capacity.
There are three other beers in the current Ringwood portfolio. True Glory was first brewed in 1995 as a special brew for the celebrations of the 50th anniversary of VE day. It proved so popular that it was re-launched in the March of the following year as a permanent addition to the range. During the winter months cockles can be warmed with XXXX Porter, which first appeared in the early eighties. The newest addition is Boondoggle, a light beer for the summer months. It started out as a beer brewed especially for Whitbread's Hogshead chain but it is now freely available. The name is an American phrase for a job that is easy and undemanding enough to make it a pleasure.
In addition to brewing fine beers, Ringwood Brewery also owns pubs. The best known of the small estate is the only one in Ringwood, the Inn on the Furlong. The pub was reopened in the mid-eighties and dates from the 17th century. It has been known as the Queen's Head between 1746 and 1826 but before its reopening had been a private home. Before acquiring of the Inn on the Furlong the management of the Ringwood Brewery had opened the Frog and Frigate in Canute Road, Southampton as a brew pub and a year later the Mash Tun in Winchester, also as a brew pub These two forays into the brew pub market only lasted a few years, although brewing was continued at the Frog and Frigate for a few years after Ringwood ceased their involvement.
In addition to the Inn on the Furlong the estate comprises the Porterhouse, Westbourne, Bournemouth, which was purchased in the 1980's, the Boot, one of Weymouth's oldest inns (1998), the Drovers Inn at Gussage All Saints, Dorset (2000), and the most recent addition, the Angel Inn, Poole. The brewery is looking to expand its tied estate but is looking for steady expansion rather than the rapid growth that has led to the downfall of a number of new breweries. The need to expand the tied estate has become more pressing as a result of the uncertainty over the future of the big players in the UK brewing and pub owning industries.
When the tenanted pubs of the big brewers were first allowed to have a guest beer the Ringwood sales force did a great job in getting Ringwood beers into the pubs of the New Forest and much of the South. Whitbread owned a large proportion of these pubs and the uncertainty over their future ownership means considerable anxiety for Ringwood Brewery. There are some 400 pubs selling Ringwood beer each week and the brewery has 600 live accounts taking nearly ¾ million gallons of beer brewed each year. These impressive figures make Ringwood one of the country's biggest new breweries. Although we have lost many household names, Ringwood looks assured.
Ash Mather
Let us consider public transport. In particular let us consider public transport in the context of visiting pubs.
If you leave the car at home, you are not constrained by the drink-drive laws. This does not mean that, having arrived at a pub by bus, you are obliged to drink yourself into oblivion, but it does mean that constraints somewhat reduced and are mostly financial and logistical.
Result: Relaxation, peace of mind, imbibing unto satiety.
If you use public transport you will reduce pollution and help to persuade bus and train operators, as well as the local authorities who give financial support to evening and rural services, that the service should continue in operation and, admittedly something of a long shot, even be enhanced.
Results: lifelines retained to rural communities, village pubs saved from closure, clean air, warm feeling inside.
You might also enjoy it. You might find that not driving, planning journeys, and having to walk between station or bus stop and destination, are actually pleasurable; new vistas may open unto you, yea even in Southampton.
Further ado can be done without: let's take a trip through the New Forest.
Ticket Options
'Getaway' (£5.25) can be bought from the driver of any Solent Blue Line, Stagecoach or Wilts & Dorset bus, and is valid for unlimited travel on all services of all three operators on the day of purchase.
'Explorer' (£5.25) can be bought from the offices of First Southampton, First Provincial, Solent Blue Line, Stagecoach and Wilts & Dorset, and is a scratch-card valid for unlimited travel on all services of all five operators on the date exposed by scratching.
'Sunday Rider' (£5.25), as its name suggests, may be used only on Sundays. It can be bought from any bus driver on a Sunday and used on most bus services in Hampshire, Surrey, West Sussex, and parts of Dorset, Wiltshire and Berkshire.
Of course you can also just buy an ordinary ticket on the bus!
Maps
The journey described lies wholly within the bounds of the Ordnance Survey's 1:25,000 map of The New Forest.
Timetables
Any one of the following will provide detailed timetable and route information about the journey described, and many others.
Wilts & Dorset: Dorset and South West Hampshire timetable (free);
Solent Blue Line timetable: (30p);
Hampshire County Council: New Forest area travel guide (free).
These are variously available from bus enquiry offices, tourist information centres, and Southampton and Winchester railway stations.
Except where stated the journey outlined is operated by Wilts & Dorset and runs seven days a week.
We start at Southampton. Board the 11.25 service X35 (X34 on Sundays) in Castle Way. The bus is bound for Bournemouth but we alight a little way beyond Lyndhurst at Bank Turn, i.e. the road that leads to The Oak, at about 11.52. Walk the two hundred yards to the pub (literary excursus: note the blue plaque commemorating Virginia Woolf's sojourn at the house on the left), and enter. What a lovely place! Aren't you glad you came ? This is the only pub for miles that sells Holden's Special Bitter, so treat yourself to one (thank you, I'll have the same). At least two other beers are on sale, and I also recommend the food.
We can have an hour and a half's relaxation and then aim to get back to the bus stop by 13.45, there to board the X35 (Solent Blue Line X34 on Sundays), due at 13.52 and still bound for Bournemouth. Having alighted at the Queen's Head at Burley at 14.05 we are free to explore for a further two hours. There are two pubs, the Queen's Head, serving Bass and Ringwood beers, and, in the centre of the village, The Burley Inn, a Wadworth pub dispensing a seasonal beer from that brewer alongside its 6X and IPA. When we have had the obligatory look around the craft and souvenir shops we can then visit the home of New Forest Cider - walk along Pound Lane (up the hill by the Burley Inn) to the Forest Tea House (about half a mile), and turn left (it's sign- posted). Try the Kingston Black...
Laden with souvenirs we return to the bus stop at the Queen's Head by 16.00 to board an X35 (X34 on Sundays) bound for Bournemouth. We arrive at Ringwood and discover that the central bus stops are but twenty paces from the Ringwood Brewery's Inn on the Furlong. You are now at leisure (try some of Ringwood's other pubs), but don't miss the last bus.
Buses return from Ringwood to Southampton as follows:
16.48 X33 (Saturday only): arrives Southampton (via motorway) 17.25
17.50 X33 (not Sunday): arrives Southampton (via motorway) 18.25
18.17 X35 (not Sunday) arrives Southampton (via Lyndhurst) 19.15
18.17 X34 (Sunday only) arrives Southampton (via Lyndhurst) 19.15
18.50 X33 (not Sunday): arrives Southampton (via motorway) 19.25 (Solent Blue Line)
20.17 X34 (Sunday only) arrives Southampton (via motorway) 21.15 (Solent Blue Line)
Please contact the Hop Press editor if you want more details of other expeditions or have your own suggestions.
This contribution from Mr Healey tells a depressing but unfortunately not surprising story:
I attended the recent Beerex at the Guildhall in Portsmouth with a few mates, as we do every year. I have to say that we always enjoy this get together, particularly the smaller breweries' beers, sampled with the company of good-natured people, with good entertainment and good organisation! What more can be said, a credit to CAMRA's dedicated members and to the independent brewers.
After the event we usually visit a few local pubs, sometimes sitting outside to enjoy the ambience of the occasion. At one such establishment we were asked, by a small group of local students, what brought we more mature 'artists' to Pompey for the day. We carefully explained in detail the delights of the CAMRA Beerex, the various real cask ales we had sampled, their varied flavours etc. etc.
The response took us aback somewhat when our young friends replied: "well the breweries certainly know how to con people don't they - brewing week beers, with differing flavours and then charging £2 a pint. You have to consume vast quantities, guzzling gallons of the stuff, costing you 20 quid or more before you can get p****d! If you get a couple or three bottles of strong lager or Hooch you can get out of your head in minutes, and it only costs 5 or 6 quid."
Well we had no answer to that - what about the social occasion, the ambience, the chat with good friends, the reminiscent stories, the lovely feel of a good, old English pub? Not worth a light presumably, once you are 'brain dead.'
Alan Healey
Otterbourne
Rob Whatley
In the last edition of Pub News we reported that the Dolphin Hotel in Romsey had been purchased by local department store group Smith Bradbeer, but that it was to remain as a pub. Unfortunately we now have to report that this reprieve was short lived. Planning permission has been sought to expand Bradbeer's adjacent store and to use the Dolphin for additional retail space. The adjoining La Piazza restaurant will become part of a 100 seat restaurant. A bar/cafe will remain as part of the new development but the name of the Dolphin will disappear. Less dramatic changes have occurred at the town's Star Inn. Licensees Dawn and Philip Whalen, who took over the pub close to the old brewery site last year, have converted the former two bar pub into a single bar establishment and have removed the juke box and the pool table.
The refurbishment bug has also visited Winchester where the Old Monk has undergone a major facelift. There was a good selection of real ales available when we visited just after the reopening in May. Two of the city's best known pubs have submitted planning applications for structural changes. A single storey rear extension has been requested at the Wykeham Arms, while at the Bell in St Cross plans to demolish outbuildings and insert a set of double doors on to the garden have been submitted. In the High Street, the India Arms has become the Old Coach House.
Just outside Winchester, at Itchen Abbas, the Trout has come under new ownership. The lease has been taken by the owners of the Ship at Owslebury and the pub is being run by Emma Howe who is now a partner in the joint enterprise. The beers are from the Greene King stable. A new chef is in place and hopes to build up a quality food trade.
The aftermath of the floods earlier in the year can be seen in the application to fill the cellar of the Dolphin at Hursley with concrete. Another pub that was particularly badly hit by the winter floods, the White Swan at Mansbridge, reopened earlier in the year after substantial refurbishment. Ironically fire fighters had to be called recently to extinguish a fire that had broken out on an area of grass behind the pub. Nearby, the Cricketers in Chestnut Avenue, Eastleigh, reopened in May after undergoing numerous decorative alterations. Staying in Eastleigh, Porter Blacks, in the High Street, has become Bar 101, but no real ales are in evidence. Round the corner in Leigh Road the Good Companions, owned by Scottish-Courage, is available for lease. This solid, 1950's pub deserves to be run as a good 'local' by a sympathetic entrepreneur. Back in the High Street, the Hogshead was all lined up for new lease holders to take over on Monday, September 24th but no one came... So much for the Laurel Pub Company's judgement.
Two other pubs that have been refurbished in the last few months are the Prince Consort at Netley Abbey and the Rising Sun at Colden Common.
We mentioned in the last edition of Pub News that the Victoria at Allbrook could be demolished and replaced by housing. After much local opposition (to the housing, not to the demolition of the pub!) The plans were withdrawn by the developers, though they are likely to return with revised plans. The pub closed its doors on September 28th and is currently boarded up whilst its fate is decided. It is unlikely to ever sell a pint again. Allbrook Farmhouse, a grade II listed building and Eastleigh's oldest that stands opposite the Victoria, was at one time to become a replacement for the Victoria. At the time of the proposals Dorset Brewers Eldridge Pope owned both the Victoria and Allbrook Farmhouse. Those plans have long since been abandoned and the latest suggestion for the building is that it could be opened as a community museum, with a special emphasis on the work of 17th century artist Mary Beale, who at one time resided at the farmhouse. However the cost of restoration could run into seven figures so it seems very unlikely!
Talk of lost pubs reminds us of the many lost watering holes in the New Milton and Barton-on-Sea areas in recent years. There were fears that yet another would go when it was announced that the landlady of the Rydal in New Milton, Gladys Walker was to retire. She decided to relinquish her position behind the pumps in June for health reasons, having earlier in the year celebrated 50 years at the Rydal. The vacancy was filled by Tom and Vicky Miles, who had been at the Fox and Hounds in Lyndhurst for the previous eight years. The pub is now open all day and with a wider selection of real ales.
But another Forest pub has been lost. The Lymington Tavern, in the centre of Lymington, has been closed for some time and is to become an extension of the doctors' surgery next door. Fortunately the Kings Arms, which is almost opposite in St Thomas Street, will be remaining open, though with new tenants. Current licensees Steve and Sandy Poigndestre are set to leave to run a bed and breakfast establishment in Somerset. The Forest Heath at Sway already has new licensees, in the guise of Peter and Virginia Poigndestre, who were previously at the Ventana in Barton-on-Sea. We mentioned in the last edition of Pub News that an application to extend the Mortimer's Arms at Ower had been refused. A revised scheme, with fewer additional bedrooms than the original application, was submitted and has been agreed to by New Forest planners
Another pub that has been closed for some time is the Flying Boat at Calshot. Planning permission had been sought to build 12 flats on the site. Local planners turned the application down but the developers have appealed. Recently fire damaged part of the pub but no repair work is to be carried out until the result of the appeal is known.
A pub that has been demolished is the Alma in Alma Road, Southampton, which had been closed for some time. Two other city pubs that have not served a pint for many months are the Marsh in Canute Road and the Royal Albert in Albert Road South. They are for sale, and are listed as being suitable for residential conversion, subject to planning permission being obtained. They same fate may also befall Drummonds in Woolston. One former pub that is to become residential units is the one time Davis Hotel and Turpins in Terminus Terrace. Its most recent guise was that of Celebrations. It was before that known as Celebration Plaza when it was re-launched under the ownership of Mike Osman and Matthew Le Tissier. Pub News, at the time said "Let us hope it will not join the long list of short-lived ventures opened by footballers."
A number of city pubs have changed their names over the past few months. The Goose and Granite in Above Bar is now the Tavern in the Town. The nearby former Petrovski's in West Marlands Road, which is probably best remember by older readers as the Wagon, is now the Greene Cellar. Simon's Wine Bar in Vernon Walk turned into the Orange Rooms, while Copperfields in Palmerston Road is now Bar 150. Butlers in London Road may not be changing its name, but when it reopens after refurbishment it will be a pizza bar.
Another pub that has changed its name is the O'Malley's in Bevois Valley which has become Legends. The pub now offers a good selection of real ales and has regular live music. The nearby New Inn has reopened after a refurbishment that has seen it become much more light and airy than before and the introduction of "stressed" tables and chairs. These are just two of the pubs that have gained additional trade as a result of the opening of the new football stadium. Nearer the stadium, the Oddfellows Arms in St Mary Street had a new "Saints Bar" opened by 1960's gangland figure "Mad" Frankie Fraser. Unfortunately no real ale is available in this pub, nor in any of the other pubs in the street. Let's hope there is better news on this front when the Victoria in Northam Road reopens as the King Alfred. The well known gay bar is to become a sports bar but is aiming to attract a healthy local clientele on non-match days. Another pub that is being used by football fans is the Grog and Sausage by Hanover Buildings. It is now owned by London brewers Youngs and is renamed the Hampshire Ram, a reference to the brewery's famous horned mascot, which features in much of Young's advertising.
With twice as many thirsty fans to keep refreshed (or drown their sorrows) as was the case with the Dell, there is certainly a lot more beer being consumed on match days. It will be interesting to see how the trade in the city pubs alters as fans settle into their new match day routines, and how the pubs respond to attract this new clientele. While many city centre pubs have benefited from the opening of the new stadium, those pubs situated near the Dell have lost their match day trade. Not all though have gone to the apparent extremes of the Star and Garter in Waterloo Road. A recent planning application for the pub was a request to, "Block up the entrance door." Fortunately there was more than one door and the pub is still open.
FIFTY NOT OUT Hop Press index
This is the fiftieth numbered edition of Hop Press although there have certainly been some more printed - some early editions were not numbered and at least two in the eighties went out with the same number [normal editorial incompetence...].
Approaching a thousand pages of articles and editorials in this branch's newsletter alone, with the hundred plus other such publications around the country, CAMRA has written more than fifty million campaigning words - what have we achieved?
Well, real ale is still around and in more pubs than when Hop Press first appeared; there are more varieties, thanks to the rise of the micro-breweries and there are even new styles of beer unknown a generation ago. But, and it is a huge but, our pubs have been ravaged, our medium size independent breweries cut down in swathes and the market share of real ale has tumbled. Not a record to be too sanguine about! And we are not.
Not quite a voice in the wilderness - with more than 60,000 members, the highest we have ever had in our thirty year history, we are the only voice the beer drinker has, we are in essence the drinkers' union. As such we will never give in to vested interests, to brewery pressure or to complacency. In this struggle though, we need help; in particular the help of licensees and breweries who feel as committed as we do to the real ale cause - we need your advertising!
Hop Press prints some 3000 copies and all of these are distributed via pubs in Southern Hampshire, free of charge. Printing costs many hundreds of pounds and it is only the advertising content that enables us to partially cover our costs (even so, each issue is about £100-150 under funded), so a big 'thank you' to all of our regular advertisers, you keep us in business. And a plea for more, please contact the Editor if you would like to know about advertising in Hop Press (023 8064 2246). Rates start from as little as £25 and we can help with artwork generation. Remember, we have probably the most targeted audience that any advertiser could wish for - every copy of every issue goes into the hands of a beer drinker and pub goer.
As Editor, apart from trying to keep Hop Press financially afloat by gleaning the advertising, I am also constantly hoping for new authors to send in articles, letters etc. 500-1000 words, related to beer or pubs and of a general interest would be very, very welcome!
Whilst engaged in these supplications here is a third one: If there are pubs that currently do not get a regular distribution of Hop Press please lets us know and we will add you to our lists - we deliver to over 200 pubs in our branch area but to some extent the list is historical, there must be others we could add.
With all this help we can confidently go for the century. Cheers!
A WEEK IN PROVENCE (WELL, NEARBY) Hop Press index
A couple of months ago the 'phone rang and it was a long-time CAMRA member who had emigrated to the sunny climes of Limousin (Limoges) in France. "...could I just bring a selection of real ales over to the south of France to run a small festival..." Well, why not? No problem.
All I had to do was select my choice of favourite beers and get them there, all else would be arranged and paid for, paper work done, the festival would be just an adjunct to a major music event. So, no problem.
Consequently, Monday night September 3rd, saw me just managing to get over the ramp of the Pride of Le Havre with a half ton of beer in the family hatchback. I had the maps and even an address, so 400 miles later on Tuesday I turned into a field full of horses in deepest, rural France. Just horses, but no problem...
Within hours a deeply rural Frenchman appeared "Un festival? Peut-être. Le organisateur? Je ne sais pas." At dusk he appeared - a few hitches, the staging was late, the fencing was late, the toilets were late. "And the bar?" "Ah, there is no actual bar, you'll have to build one..." Well that's really not too much of a problem.
Wednesday dawned mistily but with a promise of heat (real ale? warning bells...) and as the mists lifted a few other things became clear. The music festival, a sort of Glastonbury without the mud, loomed as an impending disaster - there seemed to have been no checks on whether any tickets had been sold, or if market research had established that Saturday's star attraction, Lonnie Donegan, was that well-known in France. Yet tens of thousands of francs were being used up in the fields around me as a vast stage arose, lorry loads of portaloos arrived and 100 kegs of Stella appeared for the main bars. And, it was all weirdly un-French, the expatriate English were everywhere. This should have suggested a problem...
But, as a CAMRA member, the beer came first - a few 'borrowed' breeze blocks, and planks made a stillage, a bricolage store provided yards of garden sunscreen and that just left the cooling. Expatriate publican, John Tye, saved the day, ransacking his mother-in-law's house for towels. Copious buckets of water and the fresh breezes of the Limousin hills did the rest. A good day's work, and so to bed. Yet beds were something else that were not in evidence. 'Accommodation' was the stone floor of the riding centre at the edge of the site and I soon discovered that my ancient air bed had a slow leak. Now that was a problem!
Thursday, another lovely day, up early (remember the air bed's problems) to water the beer. Being 1000 feet up and after a clear night (what pleasure, in France, to have darkness, the Milky Way still exists!) the casks were cooled to perfection. Much of the day (other than the half-hourly buckets) was spent with the dictionary composing the signage for les bières vivantes. Expatriate interest was rising fast - it had been a long time, if ever, since many had seen Youngs, Taylors, Gales, Ringwood and Hopback beers waiting to be served; to be served by...? You're ahead of me - no bar staff. Serving? That was my problem!
£3 a pint (well, 25 francs for a plastic half-litre with a good head) didn't seem to faze anyone - perhaps a silent comment on the mark-ups common in French bars.- and Thursday night was a wild success, amongst the helpers. Shame that no one came to the music festival. The evening's end brought out another memorable aspect of the week, there seemed to be no 'time,' only tiredness (remember the air bed...) made me close at about three but even then sleep was deferred because we had now attracted a group of multinational, Buddhist-like, vegetarian girls who thought that the middle of the night was ideal for choruses of chants with pan pipes. Very melodic, but at four am, really a problem.
Friday, big day, star performer is Jacques Higelin (who's he? A French chanteur, super star by all accounts, attracts thousands) I imagine thousands - how would they get here up the tiny C and D roads? Where would they park... Not to worry, about 200 come (but Jacques is very good, they missed a treat). Meanwhile, back at la vrai bière anglaise all is well. My French counting is coming on apace, no problems with things like soixante-quinze. And, later, no problem with sleeping, John has lent me a tent and bed. The beers are wonderful and, though the shift - noon 'till four (am) is a bit long, I've no problems. But our organiser is getting one vast financial problem.
Saturday dawns after a lovely sleep, back to the constant, hypnotic, beer watering. Again, open at noon and some beers are getting low. The dark beers, - Entire Stout and Festival Mild - are the first to go and, by early evening, the English bar is in profit! The rain starts. Seventy years young, Lonnie performs (splendidly) to 100 wet fans from a rain swept stage. The English retire to my (outside, also rain swept) bar and we finish the beers - still absolutely excellent. Sans problèmes...
Sunday, the last few pints are drained into English jugs and bottles to accompany déjeuner back at a number of households with wistful memories of what they forsook; and I have nine very empty firkins to rush back with for Monday's boat. And,, most importantly, I have a sterling cheque which I fervently hope will not become a problem.
Sunday night, a proper meal, the first for a week, bed before one, then up and away, seven hours to Le Havre. Just time for the obligatory exchange of 1000 francs in the super-marché for some liquid assets; thence to the splendid Brasserie des Halles pub-brewery for a farewell beer and up the ramp to home. Tuesday, first thing to the bank and by Friday it's clear. A funny week, mixture of nightmare, scout camp and holiday. Would I do it all again? Of course, it would be no problem!
Hop Press issue number 50 – October 2001
Editor: Pat O'Neill
1 Surbiton Road
Eastleigh
Hants.
SO50 4HY
023 8064 2246
hop-press@shantscamra.org.uk
© CAMRA Ltd. 2001