Hop Press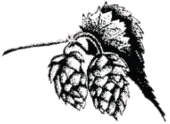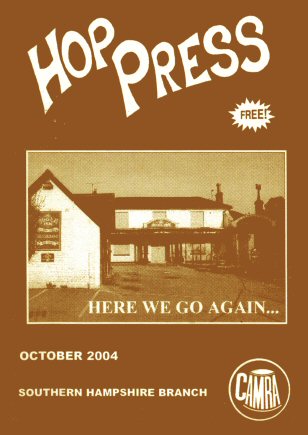 Issue 57 – October 2004
Go to Previous Hop Press Browse for another Hop Press
Go to Next Hop Press
Contents
Here we go again – another popular pub closed overnight, boarded up and now the subject of a grubby moneymaking scheme to replace a public amenity with private housing. And again the perpetrators are our old 'friends' Eldridge Pope in league with development company The Inntown Pub and Property Company of Ringwood.
This time the pub is (sadly, was) a popular village inn, the Bugle in Twyford.. The pub was peremptorily shut at the end of July, without any prior notice to customers, immediately boarded over and fenced off – to join the sad and growing ranks that have included the Victoria only a couple of miles down the road for several years now.
In October last year, Eldridge Pope negotiated a deal to sell eighteen pubs to Inntown for between three and four million. This was part of an attempt by the ineptly managed company to restructure itself in the hope of stemming huge losses, which in the last half year were approaching the million mark. The attempt will almost certainly fail, the pathetic outfit looks to be doomed. The final death knell is probably the news that Michael Cannon, who has an asset-stripping reputation, having bought, dismantled and sold (profitably) the Devenish and Morells breweries, has acquired a large holding and is negotiating to take over
The Inntown Property (the inclusion of 'Pub' in their title seems pretty inappropriate, given their record!) Company are totally reticent and do not seem to be given to anything but adopting a very low profile, also seem to have some management failings for within days of the Bugle's closure they submitted a planning application to Winchester Council for demolition and construction of houses only to have it rejected without consideration because it was not filled out correctly! To date a properly filled out form has not been resubmitted.
Within modest living memory Twyford had four pubs — the Bugle, the Dolphin, the Phœnix and the Volunteer in Queen Street. The three main road pubs all had differing characters. The Dolphin and Phœnix were both Marstons (later to be sold to Greene King), with the Dolphin the village 'lino and floorboard pub' and the Phœnix as the 'carpeted inn.' The Bugle not only had a totally different beer range, from Eldridge Pope, but also had a subtly different clientele with a higher proportion of out of village visitors. No more, unless the village can rally enough support.
Incensed by the avarice of Inntown, villagers have formed an action group to fight back. After a crowded meeting a few weeks ago the group was set up with Mr Rod Graham as chairman. I would hope that all Hop Press readers will log on to their web site: www.savethebugle.co.uk [Link removed as it no longer works -- Ed] and register their support. The web site has details for writing objection letters to the Winchester planners, there cannot be too many of these. We have lost many planning battles, not least with that other Bugle at Hamble — such is the extraordinary power of money to influence minds, but this must be where the wagons circle and make a stand. The Bugle was profitable by any business standards and just because Hampshire's absurdly distorted private property values mean it can be parlayed into many extra hundreds of thousands for private gain, it must be resisted. Public interest, amenity, heritage should not be just words, they must be made to mean something again, not least to our local, elected legislators. Once a pub is gone it can never be recreated.
After the fiasco with the Shearers' Arms just a couple of miles away — within days of the owners getting their appeal granted to 'convert the pub into a house in which to live out their retirement' it was on the market for well over double its business valuation — the Winchester planners have to realise that they are being manipulated. For the sake of your electors and your self-respect, it is time to stand up to slick, greedy operators hell-bent on pillage.
I cannot leave the subject of Twyford pubs without mentioning a personal gripe that annoys me every time I drive through the village. The Dolphin, that was closed a number of years ago and turned into some, no doubt very desirable, homes, still carries a painted sign on the corner of Hazeley Road with a left pointing arrow suggesting the delights of an inn just a few yards up the road. How many thirsty strangers have been directed, fruitlessly, onto a wild goose chase to the waterworks and beyond can only be imagined. Not a very friendly welcome on Twyford's part. Surely the Parish Council can set in train the simple act of either removing the sign, or, if it is perhaps rightly, considered historic, suitably amending it to show that it is not contemporary.
Although this issue again started with the almost obligatory reference to gloomy planning matters there are some more cheering sections inside. Most of the first half is news of new local breweries, including yet another in our own branch area at Upper Swanmore.
On another brighter note, this issue is timed to coincide with our annual Eastleigh Beer Festival at the Nightingale Centre in Nightingale Avenue. This will be on Friday, October 22nd and Saturday, October 23rd. The two lunchtime sessions are free entry and the evening sessions (both 6.30 - 11.00) are £4 entry. There is more information on our 2004 EBF page.
Tickets are available from:
Bitter Virtue Off Licence, 70 Cambridge Road, Portswood 023 8055 4881
Bob and Lynn's Newsagents, Bishopstoke Road, Eastleigh 023 8061 3006
Eastleigh Town Centre Office, Wells Place (Swan Centre), Eastleigh 023 8062 9977
South Western Arms, Adelaide Road, St Denys 023 8032 4542
Stones, 18-20 High Street, Eastleigh 023 8065 2554
Waterloo Arms, 101 Waterloo Road, Freemantle 023 8022 0022
Rob Whatley
The village of Downton in Wiltshire has become synonymous with the brewing of fine beer in recent years. This is as a result of the move of the Hop Back Brewery from the Wyndham Arms in Salisbury to the Downton Business Centre in 1992. During 2004 drinkers may have noticed the name of Downton appearing more prominently on pump clips, denoting the Downton Brewery Company.
The shareholders and directors of the new company are Alison Freezer, who is the company secretary and Martin Howard, who previously worked in IT, latterly in the railway industry. The first brew was in December 2003 and was produced by Martin Strawbridge. Martin previously worked at Fuller's Brewery as a chemist but always wanted to move into brewing. He trained as a brewer at Hop Back.
The beer is brewed on a brand new plant with a 20 barrel brew length, this is leased from Hop Back and is located in a separate building some 200 yards away on the same Batten Road Industrial Estate. The first beer was Chimera Gold, a 4.3% abv bitter, brewed using organic First Gold hops and organic Optic malt from the nearby Warminster Maltings. Although the beer was brewed using organic materials the brewery has not yet obtained the necessary clearance to enable it to label the beer as "organic". They are still weighing up the pros and cons of such a move as it does involve considerable work and expense.
The three other regular brews are the 4.7% Wheat beer, which has changed recipe slightly after customer feedback suggested that a higher hop content was required, a 4.5% Red beer and the powerful 6.8% IPA. Only 15 barrels of the IPA can be brewed at a time due to the amount of malt that has to be used to produce a beer of that strength. All these brews are prefaced with Chimera as the brand name, which helps to avoid confusion with beers of similar names that are produced by other breweries. The beers have already picked up a number of awards. The IPA won silver at the "Beauty of English Hops" competition in June, whilst the Wheat beer got bronze in the speciality class at the recent Peterborough Beer Festival, which is the second largest in the country.
The company has progressed well during its first few months. The brewery's size means that it can take advantage of the progressive beer duty for smaller brewers. While some breweries might use this benefit to compete with bigger breweries in terms of price, Downton concentrate on buying the best ingredients to produce top quality beers, often using organic malt and hops. Most of the beer is sold through neighbours, Hop Back, in their own pubs and on to wholesalers.
In addition to the regular range of beers, 20 barrels of a monthly special are also produced. Beers to look out for in the coming months are a 4.4% Wheat Porter, Oktober, a pale beer brewed according to the German "Reinheitsgebot" beer purity laws, Raspberry Wheat and finally for the Christmas season a 5.5% beer, Dark Delight. It is also hoped to start bottling some of the Chimera range soon..
Rob Whatley
The closure of Brakspear's Henley-onThames brewery in October 2002 was a blow to lovers of good beer throughout the land. The poor imitations that came from Burtonwood Brewery in Cheshire did nothing to lift the gloom. Recently however Brakspear's beers have started to be brewed again in a new brewhouse at Witney, Oxfordshire and have been met with approval by most of those who have tried them. The beers are being brewed in an extension to the existing Wychwood Brewery, which is owned by Refresh UK, who themselves bought the ownership of the Brakspear brands.
This though, is not the first beer to be brewed in a new Oxfordshire brewery that has been met with acclaim and which has had its origins in the ill-fated Henley-on-Thames brewery. Chris Hearn was at one time a brewer at Brakspear before moving into the sales side of the business. He subsequently moved on to sell the wares of Bateman's, Morrells and finally Archers breweries. After some 26 years in the brewing industry, in August 2002 he decided to stop selling other people's beer and instead to brew some of his own.
For Chris and his wife Vanessa, the first task was to find a site to house this new enterprise. They found a barn that was being used to store farm trailers and machinery on an estate in the small village of Dunsden Green, Oxfordshire, near Reading. Surveyors were brought in to inspect the premises and they said that it looked as if it was about to fall down. Metal struts were erected inside the building and a lot of work was carried out to the floor. Ironically the building that now houses the smart new brewery still has a slight feel of a fairground "crazy house" to it due to the angles at which the metal struts meet the walls and floor. There were also problems to be overcome with the drainage and a lengthy pipe had to be installed to connect to the sewer.
The brewery was designed by a company called BDS, who have been involved in the setting up of many new breweries in recent years. Almost all the vessels used in the brewery are brand new and were built in Milton Keynes. The stainless steel vessels were first covered in a spray-on insulating foam and then covered with a wooden cladding for extra insulation and for cosmetic considerations.
Helping to produce the beer from this brewing equipment is another, also with connections to Brakspear. Steve Brown was one of the brewers at Henley-on-Thames right up until the day it closed. Fortunately he was able to continue to brew beer in Oxfordshire when he linked up with his former colleague Chris Hearn.
The malt, which arrives at the brewery ready crushed, comes from Warminster and Multons of Stowmarket. Whole hops are used in the copper, which is powered by Calor Gas. The copper is boiled for varying lengths of time depending on the beer that is being brewed. The longer the boil, the more the hops add to the bitterness flavour rather than the hoppy aroma. From the copper the liquid is moved to the hop back, where it is filtered though a bed of fresh hops to add extra aroma. The hops used are Fuggles, Styrian Goldings and East Kent Goldings. A small amount of invert sugar is added in the copper, this was also a practice adopted with Brakspear beers.
The beer is then moved on to one of the four 15 barrel fermenters. The size of the brewery was designed to make best use of the progressive beer duty relief that was introduced by Chancellor Gordon Brown in the 2001 Budget, and which has aided in the establishment of many new breweries since. There are a pair of two and a half barrel vessels in the brewery that are used either to ferment shorter brews or to store beer for filling carry outs. Beer destined for pubs goes straight into casks, which ideally are kept for at least a week before being released 'into the trade.' Such has been the demand for the Loddon brews however, that sometimes the beer has to be sent out slightly earlier.
The first beer brewed, in July 2003, was Ferryman's Gold, a 4.4% abv bitter that contains a good measure of Styrian Golding hops that give it a hoppy aroma and light taste. When visiting pubs to sell the new beer a demand for a mild was uncovered. The result of this discovery was Kite Mild. There were some complaints that early brews were too hoppy so the beer is now based on the stronger, but slightly less hoppy 4.2% Hullabaloo. The standard session bitter the 3.5% Hoppit.
Loddon sell a lot of their beer to the Wetherspoon chain, who wanted the brewery to produce a stronger beer. The result was the 4.8% abv Bamboozle. Wholesalers are also good customers for the brewery but they like to have new beers to offer their customers. Loddon decided to brew six seasonal beers, which did stretch the imagination of Chris and Steve. The outcome of the deliberations included, amongst others: Chocs Away, brewed for Easter with additions of a small amount of cocoa powder, B'gorrah!, a red Irish ale and Hornet's Nest, brewed with added honey. They have also tried a stout (Finn's Irish Stout) and a wheat beer (Flight of Fancy) both of which were very well received at this year's Southampton Beer Festival.
As well as having to be creative with the recipes for new beers a good deal of imagination had to be used in naming the brewery. The original plan was to call it the Red Kite Brewery after the birds that have been successfully reintroduced into the area in recent years. Unfortunately the aforementioned Refresh have the rights to a beer named Red Kite and said that they would not allow the name to be used for the brewery. This meant a quick rethink. The River Loddon (the same one that flows through Sherfield on Loddon in North Hampshire) flows only a couple of miles away from the brewery and Chris's parental home in Henley is called Loddon House. And so Loddon Brewery seemed a natural choice and it is a name that is well worth looking out for on the hand pumps of any pub you may visit, as the quality of the beer is up to the high standard that is to be expected from those who were once responsible for brewing Brakspear's splendid ales.
Pete Horn
Stumpy's Brewery, hidden away in Upper Swanmore, is the newest brewery in Hampshire, though the beers themselves are not quite that new. Brian 'Stumpy' Lewis, an electrician by trade, used to work for Hartridges on the Isle of Wight when they ran Burts Brewery. David Yates was the brewer there and Stumpy learnt about brewing from him. Stumpy started brewing beers himself in 2000 using a 10 gallon plant at home, bottling all the beers. From early last year Stumpy started expanding by using spare capacity at Yates IOW brewery (his friend David Yates now having his own brewery) and also at Portchester brewery. What started as a hobby had become more involved and with Stumpy's Beers established, Stumpy decided to pack in his electrical trade and become a full time brewer with his own brewery. His partner in this new venture is his wife Wendy who, thanks to an inheritance, has provided much of the funding. The search for premises started early this year and the site for Stumpy's Brewery was found in April. Stumpy was still brewing at Yates at this time and his last brew there, Dog Daze, was Beer of the Festival at May's Yapton Beer Festival.
The brewery is a small modern converted farm building on Lycroft Farm, Park Lane (you will need to find reference SU588185 on the OS map to find it). Stumpy took possession of it on May 1st and set to with a massive cleanup operation to remove the evidence of its previous use as an egg sorting shed and an MDF furniture maker's workshop. Installation of the 5 barrel brewing plant started on Monday May 10th and the first brew was started the next day before the full installation had been finished. This brew was Old Stumpy, a chestnut coloured 4.5% best bitter and while Old Stumpy had previously been brewed at Yates and Portchester, the first real Stumpy Brewery brew made its debut at Southampton Beer Festival in June and was promptly judged as runner-up for Beer of the Festival.
Stumpy brews three regular beers: Dog Daze 3.8%, Old Stumpy 4.5% and Haven 5%, plus occasional special brews. The beers are brewed using pre-crushed pale and crystal malt with the addition of a bit of wheat and maize, whole Target, Challenger and Northdown hops and two types of dried yeast. The brewery has a fairly compact area for the brewing with most of the finished beer being racked into 9-gallon casks and the rest of it bottled. The office area is a corner of the same room but the end of the unit has been separated off to make a cold store where the brews mature for at least two weeks before being sent out to customers.
Finding outlets for your beer is always going to be a problem for new breweries. The vast majority of our pubs are tied to certain suppliers, even where they claim to be 'Free Houses' and the individual landlord or manager simply is not allowed to buy beer from where he or she likes. Hence outlets are limited to the very few genuine free houses that we have, the few pub chains that have an enlightened guest beer policy and to CAMRA beer festivals. At the time of writing, all three of Stumpy's regular beers plus a special are due to be at St Albans Beer Festival. Stumpy lives in Hill Head and this is reflected in his main regular outlets: Waterfront Quay, Gosport and The Crofton and The Golden Bowler, both in Stubbington. In Hop Press's area Stumpy's beer can make appearances at the Royal Oak, Fritham; The Oak, Bank; the Guide Dog, Southampton and the Hampshire Bowman, Dundridge among others. Further East, the brews reach the Maypole, Yapton and The Evening Star, Brighton.
An unusual feature of Stumpy's Brewery is the use of plastic 9-gallon casks (firkins). Most casks these days tend to be made from aluminium or stainless steel, with just a very small specialist market still using wood. Micro brewery real ale is nearly always supplied in stainless steel firkins (9-gallon casks). These are fine containers, robust and hygienic. But they have one major problem, the cost. At around £80 per cask the container is worth more than the beer and therefore even empty it is a valuable item and vulnerable to theft. Plastic casks are around one quarter of the price so have an obvious outlay advantage when setting up a new brewery. Stumpy already had some of his own casks and he acquired some more from White Star Brewery, but the main stock has been bought new from Cypherco in Hereford. Aside from the cost the other advantages are they are light and easy to clean. The disadvantages are more the cellarman's problem, the casks are more slippery on the stillage so this will need a bit of ingenuity to deal with. Stumpy's solution is sticking sandpaper to the chocks to provide grip. Stooping the cask when the beer nears the end will also become a more delicate task due to the light weight. A change such as this will bring a few gripes, but no doubt everyone will cope well. Currently the plastic casks are only made in the 9-gallon size, Stumpy had to borrow some steel 18 gallon casks (kilderkins) to supply Portsmouth Beer Festival but Cypherco plans to make 5-gallon 'pins' soon. Pins are suited to pubs with low turnover and good quality plastic pins could create a market for proper take-home cask real ale.
Now, why the name 'Stumpy?' Many years ago Brian Lewis had a hobby far removed from brewing — sky diving. Brian was an accomplished skydiver and was a member of the Strongbow Display Team. However, during a 1982 display in Germany there was a mid air tangle with another team member (a 'youngster' says Stumpy) which resulted in a hard landing that damaged Brian's lower left leg. Unfortunately, it never healed properly and continued to give problems over the years. In the end Brian decided to have the troublesome limb amputated in 1998 and since then he has sported an artificial leg along with the new name, Stumpy. The new leg actually left him far more mobile than he had been for many years. This also explains the peg-legged dog who appears on the Stumpy's Brewery Logo.
We wish Stumpy and Wendy and their brewery well and hope they have a long future ahead of them. The bottled beers are available from the brewery, or from Bitter Virtue off licence in Southampton. For the cask versions, try searching in your local free house or, failing that, I have a sneaking suspicion there may be some at the forthcoming Eastleigh Beer Festival.
DRINKING & WALKING Hop Press index
Ray Massey
What I would like to do in this article is to suggest a walk that very conveniently starts and ends at a pub. But which pub? The New Forest must be the best stretch of countryside near Southampton for walking (though describing walks in the Forest is often quite difficult because of its vague topography); and one of the best pubs in the New Forest is The Royal Oak at Fritham. So, The Royal Oak it is.
I have no idea of the walking capabilities of Hop Press readers, so this is a circular walk of less than 5 miles (about 7kms.) on hard gravel forest roads, where you won't get your feet wet, and it is even push/ wheelchair able. Once on the correct road, this walk is incredibly straightforward: you just stay on gravel, and turn left whenever you can (almost!).
Leave the Royal Oak, and turn right along the tarmac road towards Eyeworth Lodge. (All place names are to be found on the OS Explorer OL22 New Forest map, scale 1:25,000.) Immediately ignore a small road going left to a row of houses that mark the end of Fritham, and a track going right, around the side of the pub garden. After about 100 yards turn left along a gravelled forest road by a parking sign, then immediately fork right along the 'cycle route to Frogham' gravel road. This road descends, gently at first, through small trees; then beneath a power cable with very explicit warning signs, presumably for logging vehicles. The woodland gradually becomes mixed with heath land. There are glimpses of the fields of Eyeworth Lodge on the right. Long disused gravel pits border both sides of the road. At the foot of the hill the road swings right then left along the edge of the mature trees of Islands Thorns Inclosure.
Ignore grassy rides on the right, Indeed, ignore all grassy rides & paths; this walk stays completely on gravel. Soon woodland starts on the left as well. In a while the road swings slightly left then right, and crosses Latchmoor Brook on a concrete bridge. As with most walks in the New Forest, the crucial part is finding a dry way to cross the wet bits. Not always possible; but on this walk you will stay dry, foot wise at least. After Latchmoor Brook the road swings left then right then straightens and starts to climb steadily. A fence should soon be visible on the left. After climbing for about 250 yards turn left through a gate in the fence, where the cycle route sign points straight on. You are now in Amberwood Inclosure.
Should you fail to spot the gate, the gravel road continues to climb steeply, eventually leading to more open forest, and finally the open heath of Ashley Cross. Your best plan is to retrace your steps to the missed gate and continue, failing that, return to The Royal Oak, convince yourselves you enjoyed the walk anyway, drown your sorrows, and vow to do better next time.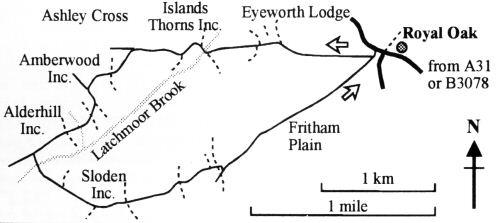 Once in Amberwood Enclosure the gravel road has a grassy centre, but is still clearly different from the unsurfaced grassy rides. The lie of the land is different here: uphill on the right, downhill on the left. Continue on the grassy/gravel road, keeping left where possible and after about half a mile of gentle bends and ups and downs you will move into Alderhill Inclosure without realising it, near where the road crosses a marshy stream in a noticeable valley. The road onwards is straight, but you should turn left when you can, to cross Latchmoor Brook again, on a substantial wooden bridge that should be visible very soon after you make the left turn. This is a good, safe place to watch the waters if swollen by heavy rains.
Very soon after the bridge the road crosses a wide grassy ride with fences on either side, into Sloden Inclosure. After 200 yards ignore a gravel road going left, and continue straight on uphill. Soon you should see open heath on your right. Stay on the gravel road for nearly a mile, gently curving and climbing most of the way. Eventually, at the top, you pass through a gate onto the open expanse of Fritham Plain. The gravel road swings right and immediately joins another gravel road, where you turn left, and continue across the plain. If sunset is close, take time to look behind you: Fritham Plain is a good place for sunsets, over the west of the Forest towards the Avon Valley. After a mile the road rejoins the outward route. The Royal Oak can be seen on the right
Note on maps: I definitely recommend the OS 1:25,000 maps for walking. Most good stationers carry a limited supply, Sussex Stationers seem a pound or so cheaper than others. There is an official OS agent in Freemantle near the Shirley Road / Payne's Road junction and they carry a very good supply (and they are not far from The Waterloo Arms, so you may contemplate your purchase over a pint).
Note on seasons: The walk is best in sunny autumn weather, when the leaves and bracken are at their most colourful. This is later than you think: I suggest late October or early November. This walk, like most, is also good in winter and spring when the lack of leaves means you can see further. Avoid cloudy summer days; the dull green canopy of leaves can get boring.
Note on times: Walk very fast and the walk will take at least 90 minutes, so allow at least 120-150 minutes for stopping, looking and other diversions.
Rob Whatley
We start this edition of Pub News by bidding a fond farewell to Philip Graham and Eve Ritchie-Fallon, who in August left the Musketeer in Pennington. They became licensees of the pub in 1993 when Phil's father retired. They continued his good work, ensuring that the pub was a regular entry in the Good Beer Guide. They will continue to live in the Lymington area. The new licensees are Eric and Carole Light, who were previously at the Salmon Leap in Totton. Their daughter will continue to run that Testwood Lane pub. Eric, who was born in Pennington, plans to keep the Musketeer very much as it was before.
Another well know Forest pub that had a change of ownership last year is planning some changes. We have mentioned in previous editions that an application had been made to extend the Sir Walter Tyrrell at Canterton. Permission has now been granted for fairly substantial alterations that will provide 10 upstairs guest bedrooms and a new kitchen and function room on the ground floor. The planning committee gave the go ahead after deciding that the benefits to the local economy outweighed the potential problems of setting a precedent in allowing a large extension that some think is contrary to the district planning policy.
A New Forest pub that has a change of name to go with a refurbishment that included a new kitchen and bar extension, is the Centurion in Barton-on-Sea. In 1998 the Hall and Woodhouse pub had a half-hearted name change when it was 'renamed' the New Centurion. In a more radical step the pub was reopened as the Housemartin earlier in the summer. Perhaps the name was chosen in the hope that new customers would be attracted by the expectation of a permanent happy hour. [I believe this to be an allusion to popular music but it baffles me… Ed.]
While the Centurion has reopened under its new name, the future of the Hampshire Yeoman in Blackfield looks bleak. The pub has been closed for some months and now a planning application has been submitted to build 37 flats and two town houses on the site. The application has been made by Innspired Inns and a property development company. In Brockenhurst, the future of the Rose and Crown looks secure for the present but a planning application has been submitted to build six houses on land to the rear.
The Rose and Crown is one of the few pubs in Hampshire that are still being run by Eldridge Pope. Most of the rest of the one time Dorset brewery's estate in the county has been sold with a high proportion to be replaced by housing [see this edition's Editorial for the latest Eldridge Pope treachery].
In nearby Winchester the site of a former Whitbread pub, Chimneys, is still uncertain with no planning application yet. Elsewhere in the city however, there is proof that, with the right management, a pub can be reopened with success. The Albion, located by the railway station, had been run down for a number of years and was closed for a time. Now it has been reopened with a fresh look and is selling a good selection of beers to a good number of customers. Now the licensees Janusz and Jane Wisniewski have joined with well-know local broadcaster Peter White to take over the lease of the Mash Tun. Peter will be running the pub with the help of his two sons, daughter and daughter-in-law who have all got a good deal of experience in the pub trade. We wish them all success in the new venture.
Another pub under new management is the Fulflood, where Lee Cooper with partner Jane Barton have come from Kent to take over from Tony Dawes who has moved on to the Black Horse in Hertford after spending three years at this Greene King hostelry. The licensees of two other city pubs from the same group have celebrated success this summer. Iain and Steph Reay from the White Swan in Hyde Street won the 'Outstanding Customer Service Pub of the Year' award at Greene King's national awards ceremony and divisional 'Cask Ale Pub of the Year' was won by Malcolm and Fiona Patterson of the Crown and Anchor in High Street.
A number of pubs in Southampton have undergone refurbishment recently. As well as a new look to the bar area, the Grapes in Oxford Street now offers six accommodation suites. To the west of the city, the Blacksmiths Arms in Shirley has reopened under new ownership and will soon feature a restaurant area. Also under new ownership and newly refurbished is the Anchor in Redbridge. Open again are the premises on the corner of High Street and Bernard Street, most recently trading as 42 The High Street, it has now reopened as the Atlantis Bar/Restaurant. Two pubs in Freemantle have new licensees. The Wellington Arms, after a succession of temporary incumbents, is now being run by a landlord who has moved there from Legends in Bevois Valley (currently closed) plus there is a new licensee at the Park Hotel in Shirley Road, who was previously part of the team that ran the New Inn, also in Bevois Valley.
To the north of the city yet another pub with a feature that seems to be the kiss of death at present, a large car park, is to be converted to accommodation. The Bassett, which was part of the Brewers Fayre chain is to be reborn as a care home for 105 elderly residents. The developers claimed that a survey of residents found 70 per cent in favour of the change. As the pub/restaurant was not a 'local' but a venue to which customers tended to travel some distance to, this is hardly surprising.
Around the same time that this change of use was being proposed there was an application for a new pub in Portswood. As we have reported in previous editions of Hop Press, going back to 1996, there have been long standing plans to convert two vacant units in the Portswood Centre, opposite Safeways, into a pub. As a result of changes of both of the building ownership and potential pub owners this development has been on hold for many years. Now, despite vigorous protests from some local residents, it is planned to open the pub in October. It will have a 'capacity of 372 customers' and be run by the same company that owns Varsity in London Road. It will be one of the 20 strong Smith and Jones chain. [Online stop press - open in October as TheTerminal - Ed.]
Ash Mather
There was much rejoicing when a regular passenger service returned to the Romsey to Eastleigh railway line. Those who for years had fought for the return of trains to Chandler's Ford now have an excellent rail service that facilitates local commuting and leisure, and provides a connection with the main lines at Eastleigh and Southampton. The bonus, for readers of Hop Press, is that the service provides ease of access to some excellent pubs.
Trains run between Romsey and Totton at approximately hourly intervals in either direction, and serve all stations between.Last departures each way are as follows:
Romsey-Totton 2214 (2200 Sunday)
(Romsey-Soton only) 2314 (2302 Sun.)
Totton-Romsey 2325 (2315 Sunday)
A full timetable is in South West Trains leaflet 25, (free) from staffed stations.
An off-peak day return from Romsey to Totton is £2.90 (beware the anomaly that many intermediate fares are higher than the end-to-end rate!) For Network Card holders the discounted fare at weekends and bank holidays is £1.90. For this bargain price the outward and return journeys may be broken any number of times provided that the same section of line is not traversed more than once in either direction. Because of the ease of using the service and the number of pubsen route, what follows is just notes on some of the better pubs within a half mile of stations on the line.
Totton
Anchor, Eling Lane
Open all day; food 12-3, 6-9 daily.
Beers: Gale HSB, Ringwood Best, Shepherd Neame Spitfire.
This handsome and comfortable pub is close to Eling's tide mill and toll bridge.
Keys, 18, Commercial Road
Open all day; food 12-7(4 Sunday).
Beer: Ringwood Best.
A clean and comfortable single-bar pub, part-carpeted and with colourful décor.
Peg & Parrot, 44, Rumbridge Street
Open all day, rolls most times.
Beers: Draught Bass, Greene King Old Speckled Hen, Ringwood Best.
The L-shaped bar is adorned with ships' badges, and the television is popular with horse-racing fans.
Swan, High Street
Open all day; food Monday to Friday 12-2.30, 6.30-8.30.
Beer: Ringwood Best.
A two-bar pub with a secluded, wood panelled lounge.
Redbridge
Anchor Hotel, Test Lane
Open all day; food 12-3, 5-8.30.
Beers: Ringwood Best, Wadworth 6X.
A two-bar pub with a nautical theme.
Ship, 41, Old Redbridge Lane
Open all day; food 12-2.30, 6.30-9.30 (12-9.30 Friday to Sunday).
Beers: Flower's Original, Gale Best, Ringwood Best, one guest beer.
Very handsome, part 17th century building with a nautically flavoured interior divided into many discrete areas. The floors are a mix of flags and tiles. Wood abounds.
Millbrook
Freemantle Hotel, 27, Paynes Road
Open: 11-3, 5-11 (all day Fri. to Sun.); snacks generally available.
Beer: Ringwood Best.
A well-run, comfortable, clean and friendly two-bar pub.
Waterloo Arms, 101, Waterloo Road
Open all day from 12; food 12-3, 7-9.
Beers: Hop Back Summer Lightning, Crop Circle, Best Bitter, Entire Stout and GFB; one Hop Back or Downton guest beer; one other guest beer.
One of Southampton's best-known real ale pubs with a single, L-shaped bar, large, well-furnished, no-smoking conservatory, a garden, and a strong, loyal following.
Wellington Arms, 56, Park Road
Open all day.from 12.
Beers: Greene King Abbot, Old Speckled Hen; Adnam Bitter; Ringwood Best; Shepherd Neame Spitfire; Fuller London Pride; one guest beer.
Handsome, street-corner pub divided into two richly-coloured and well-furnished bars.
Southampton Central
Osborne, 54, Shirley Road
Open all day;
food 12-3, 5-8 (12-8 Sat., 12-7 Sun.).
Beers: Greene King IPA Abbot
A comfortable, single bar, corner local, evidence of a strong interest in football.
Victory, Nelson Gate
Open all day; food all day.
Beers: Badger Best, Tanglefoot, one guest from Badger.
Single bar, one wall of which mimics the interior of a ship's stern. Separate games room.
St Denys
Junction, 21, Priory Road
Open all day from 12; food 12-9 (12-4 Sunday).
Beers: Greene King IPA plus 3 or 4 guests, not all from the Greene King range.
A remarkably (for Southampton) unspoilt street-corner local with two bars, a no-smoking room, and an attractive garden from which to watch the trains pass by.
Dolphin, 30, Osborne Road South
Open all day; from 12 food 12-2.30, 6-8.30 (not Sunday).
Beers: Fuller London Pride, Ringwood 49er, Gale HSB and 5 guests.
Single bar with a separate no-smoking area. Brick and wood abound internally, there is a central fireplace.
Richmond, 108, Portswood Road
Open all day; rolls every day until 6.
Beers: Greene King IPA, Abbot and one guest.
A real pub with two bars, a small garden and a detached function room.
South Western, 38, Adelaide Road
Open: 1430-11 (12-11 Fri and Sat, all day Sunday); no food (yet).
Beers: Ringwood Best; Fuller London Pride; Badger Tanglefoot; Caledonian Deuchar's IPA; up to 6 guests.
A permanent beer festival may be enjoyed here. The pub has a single bar, upstairs room, courtyard and noted juke box.
Swaythling
Fleming Arms
Open all day; food 12-2.30 (3 Sun), 5-8.30
Beers: Gale GB, HSB, Festival
A large and externally handsome pub with a spacious and uncluttered, split-level.
Southampton Airport
There is no pub for over a mile!.
Eastleigh
Stone's, 18, High Street
Open all day; food 12-4 (3.30 Sunday)
Beers: Up to 7 ales from an assortment of (mainly independent) brewers.
Large, boisterous, single bar divided into several seating areas.
Chandler's Ford
Monk's Brook, 19, Hursley Road
Open: all day; food 12-2 (not Sunday).
Beers: Wadworth 6X; Greene King IPA; Fuller London Pride.
Large, busy single-bar pub, formerly the Railway (as evidenced in the windows).
Romsey
Abbey, Church Street
Open: 11-3, 6-11 (12-3, 7-10.30 Sunday); food 12-2, 6.30-9 (12-2 Sunday).
Beers: Courage Best, Directors; Youngs Bitter.
The nearest pub to Romsey Abbey is divided into a bar and dining area, and has a secluded and attractive garden. The floral displays have won prizes, and so should the absence of piped music.
Star, 13, Horsefair
Open: 12-2.30, 5-11; (all day Sat/Sun); food 12-2.30, 5-7.30 Wednesday to Saturday, 12-3 Sunday.
Beers: Wadworth IPA, 6X. JCB, guest.
The former Strong's Brewery tap is a single bar pub whose seating includes armchairs and whose walls display many old photographs of the Romsey area.
Old House at Home 62, Love Lane
Open: 11-2.30 (3 Fri/Sat), 5-11 (12-4, 7-10.30 Sunday); food 12-2, 7-9.
Beers: Gale Butser, Best, HSB.
Romsey's only (part) thatched pub is divided into three discrete and distinct areas and has a handsome, heated patio.
FESTIVAL TIME AGAIN Hop Press index
To repeat some of the Editorial content, the Eastleigh Beer Festival, now in its twenty-second year, opens on Friday, October 22nd at the Nightingale Centre in Nightingale Avenue.
Friday, October 22nd., 12 to 3.30pm
Free entry session (£2 glass deposit)
Friday, October 22nd, 6.30pm to 11pm
Tickets £4, Fair Warning (Rock Covers)
Saturday, October 23rd, 12 to 4pm
Free entry session (£2 glass deposit)
Saturday, October 23rd, 6.30pm to 11pm
Tickets £4, Heelstone (Electric Folk)
Ticket outlets are listed in the Editorial above and on our 2004 EBF pages.
Three other local CAMRA festivals in the weeks following Eastleigh are:
Overton, at the St. Luke's Village Hall.
Friday, Oct 29th 6-11
Saturday, Oct 30th 11-3, 6-11
Details, tickets etc:
www.camra.org.uk/hantsn or
treasurer@camrahantsnorth.org.uk or
01264 393167
Poole, at St Aldhelm's Centre (150yds from Branksome Station)
Fri., Oct 29th 11.30-3 (£1.50), 6-11 (£5)
Sat., Oct 30th 11-4 (£4), 6.30-11 (£5)
Tickets by post from:
36 Fritham Gdns., Bournemouth BH8 0EL
with cheque made payable to 'CAMRA Festival.'
Woking, at the Leisure Centre
Friday, Nov 12th 6-11
Saturday, Nov 13th 11-3.30, 6-11
Tickets and information:
www.wokingbeerfestival.co.uk or
01483 771122
www.camra.org.uk, the main CAMRA website, gives information about the hundreds of festivals we run throughout the country each year.
If you would like to make a forward diary note, next year's Southampton Guildhall Festival is provisionally booked from Thursday, June 16th to Saturday, June 18th, 2005. Mark your diary now.
This year's Festival was our best yet. Even though we had more beer than ever before, for several sessions admissions still had to be limited to ensure that there was a good varied range to last until Saturday closing time.
The 'Beer of the Festival,' was a local one, Oakleaf Hole Hearted, a splendid Best Bitter that has won a number of Festival awards in the past couple of years.
With the Festival coinciding with the sixtieth anniversary of D-day, the obvious choice for our charity collection was the Southampton section of the Normandy Veterans Association. You contributed an absolutely wonderful £745 and this was presented to the Association members at their August meeting. This donation more than doubled their available funds and will help them run more remembrance visits next year to the Normandy beachheads
COMPETITION CROSSWORD Hop Press index
Our second online Competition Crossword. The online editor apologies for not doing a nice interactive form but it would take too much time. Instead it's a straight scan of the paper edition. The Competition Crossword will open as a graphic (76KB) in a new window for you to print out.
Prizes to the first two correct entries drawn.
Closing date 1st December 2004.
The results of the March 2004 Crossword are also a scan of our paper edition - 38KB download opens in a new window. (The May 2004 edition of Hop Press had no crossword.)
---
Hop Press Issue number 57, October 2004
Editor: Pat O'Neill
1 Surbiton Road
Eastleigh
Hants,
SO50 4HY
023 8064 2246
hop-press@shantscamra.org.uk
© CAMRA Ltd, 2004/2005