Hop Press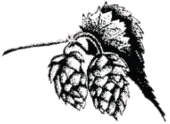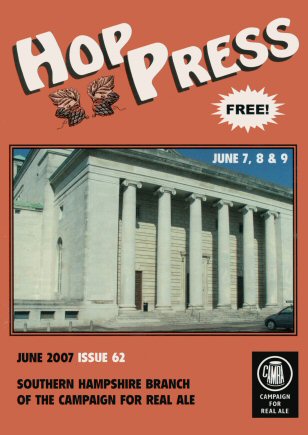 Issue 62 – June 2007
Go to Previous Hop Press Browse for another Hop Press
Go to Next Hop Press
Contents
Welcome to our new look Hop Press; appearance different, philosophy unchanged (note, the on-line edition you see here hasn't changed, it's the print & pdf versions that have). The Southern Hampshire Branch of CAMRA has been producing its newsletter for more than twenty-five years — the exact start date is a bit uncertain, no examples of those early issues were retained. Even the title now probably seems odd to younger readers since the Linotype and hot metal print gave way to the invincible power of electronics, our nationals no longer have the roughly set 'Stop Press' marginalia of breaking news, inserted during the production run.
From a couple of typewritten A4 sheets, casually handed out to a handful of pubs, Hop Press soon settled into the A5 booklet format of twenty to thirty pages it now is, distributed to over 250 pubs throughout the branch area. The expense of producing such a newsletter has to be offset by advertising and this has always been our big problem — as amateur advertising agents none of us has been very effective! This edition attempts to solve the problem, advertising has been handed over to professionals who, as part of the deal, produce the finished copies. We hope you (and ourselves) will like the result; only production and advertising have been off-loaded, articles and editorial matters are still totally the work of CAMRA. We'd welcome your opinions on this new format.
---
Britain's biggest pub owning chain, Punch Taverns, are looking to expand into another area of the licensed trade, drinks wholesaling. In combination with a large US company, Constellation Brands, they have acquired the Matthew Clark beer and drinks distributor. Matthew Clark have over 20,000 customers in the pub, club and hotel sector. As could be expected a statement from Punch's CEO, Giles Thorley, spoke of the 'benefits of scale' but emphasised that the deal was to 'deliver attractive financial returns for shareholders' which does not mean the same as attractive returns to the pub users.
Punch are also in active negotiations with Admiral Taverns which really might bring considerable benefits to pub customers. Admiral have been given first refusal on up to a thousand pubs that Punch is considering selling. Admiral has a very enlightened policy on beer supply into their estate, allowing licensees quite a free hand in their choice of brands.
For many weeks now the stock market has had on and off excitements over brewing giant S&N. There seems to be a general tide of opinion that S&N would make a juicy target for a takeover followed by capital generating breakup. Both Diageo (Guinness in other words) and American/South African brewers SABMiller have been linked with this idea and now Denmark's Carlsberg is being put in the frame having just gone into a restructuring process that will release a lot of investable capital. S&N shares have risen 20% over the weeks so their shareholders will be mightily disappointed if it all comes to nought.
Further afield, the century old dispute between America's biggest brewer Anheuser-Busch and the very much smaller Czech Budvar company over the use of the name Budweiser has taken some strange twists. Industry analysts were astonished when the two breweries, who for generations had been at each others' throats, recently agreed to market the Czech beer in the US under the strangely neutral Czechvar name. Both said that the agreement did nothing to settle the trademark dispute. Now, however, a new factor has emerged in the Czech Republic.
The centre-right government in Prague are keen to press ahead with privatisations and Budvar, still state-owned, is one company in their sights. But it is agreed that the US deals lowers the market value of Budvar if it is turned into a joint stock company and whilst no European brewer would be likely to be interested in buying into Budvar without the dispute being settled, A-H would have an easy route to swallowing them and solving the issue by simply consigning them to oblivion. Kafka would have appreciated it...
---
There is a threat to our pint that is lurking in the rigid mentality of officialdom and the depths of the regulations they love so dearly. This threat is to our pint glass directly. It appears that a number of police forces are agitating for blanket regulations to make plastic glasses mandatory throughout the pub trade. This has attracted very little public exposure as yet and there is a substantial fear that it could creep in without either informed debate or public support of any sort. The licensed trade's paper, the Morning Advertiser, is heading up a campaign to alert both licensees and the public to such a Draconian prospect.
The newspaper has launched an online petition to 10 Downing Street to raise its concerns. CAMRA has joined with them and we urge all readers to add to the protests. The petition can be found at: http://petitions.pm.gov.uk/plasticglass/
CAMRA's researcher Iain Lowe said: 'CAMRA feels that it is totally unnecessary to ban the use of glassware in all pubs and to replace it with plastic containers. The answer is for pubs to be properly controlled, for empty glasses to be collected and to ensure that no one who is drunk is served.
'There may be occasions — outside events for example — when the use of plastic may be advisable but these should be the exception, not the rule. CAMRA also feels that the practice of serving bottled beers without a glass is something to be discouraged.
'Serving beer in a plastic glass cheapens the product and does little to enhance the drinking experience — would you serve a quality claret in a paper cup?'
Sign up now to try to save just another piece of our heritage that could be stolen from under our very noses; pass the petition link on to your friends.
---
Elsewhere in this issue there are advertisements and an article referencing our next Southampton Beer Festival in the Guildhall. If all goes as well as other years we will see 3000 of you there — coincidentally one for every copy of this Hop Press printed.
The organisation of these events, although we have over the years tuned our team to a pretty efficient level, still involves a great deal of work. Thirty or more people put in a total of very much more than 2000 man (person rather) hours of totally voluntary work. Despite the many years we have been in being, many who are not CAMRA members do not appreciate that no one helping at the festival gets any payment and, furthermore, that all of the beers are bought from the breweries under normal commercial terms. Mad perhaps, but we do it because we enjoy it (well, most of the time) but just like banging your head on the wall, it is nice when it stops! Roll on Sunday, June 10th.
Rob Whatley
Waterside
There's been some big changes on the Waterside recently. Whitbread have invested a six figure sum on the Heath Hotel in Dibden Purlieu in order to create a '21st century socialising haven.' Ringwood Best, 6X and Spitfire were on offer when we visited the former Brewers' Fayre establishment. A somewhat larger sum, reputedly around £1m, has been paid by Punch Taverns for the Grade II listed Falcon Hotel in the centre of Fawley. Owners, Anne and Lee Hall had run the pub for five years before deciding to sell the 650 barrel a year outlet. The new licensees are Roger and Helen Bray, who were previously in the licensed trade in the West Country. Also moving to pastures new is Ann Stables, licensee of the Swan Inn, Totton, who is retiring from the trade and moving to France. The lease, which runs until 2011, was available for £85,000.
New Forest
We noted in the last edition of Hop Press that Fullers had purchased the Oak Inn at Bank. They have now made an application to extend the kitchen. They also seem to want to make the very most they can of the existing space as the application also requested, 'Use of cellar for staff accommodation.' In the north at Canada Common the Rockingham Arms, which in the past had been subject to some unsuccessful planning negotiations aimed at conversion to housing, was scheduled for auction early in the year. It has been bought (privately, prior to the auction) by Karen Slowen, owner of the New Forest Inn at Emery Down and former licensee of the Oak Inn referred to above. It is to be expected that food will feature highly alongside a good beer range, when it reopens in the summer. Another pub with a good reputation for its food trade, the Fleur de Lys at Pilley, has recently reopened after refurbishment. Taylor's Landlord was on offer on the opening night. In Brockenhurst, land adjacent to the Rose and Crown will be used to construct seven dwellings after planning permission was granted following a lengthy battle. The Rose and Crown was an Eldridge Pope house before the recent sale of their remaining pub estate to Marstons. A long standing planning row at land adjacent to another former Eldridge Pope pub, the Carpenters Arms in Bransgore, has moved on to the next episode. A revised plan by our old friends Inntown proposes the building of two houses and two flats on land that was formally part of the pub car park. The pub is now owned by Fullers. A director of Inntown, Bob Turville, has accused the local residents' association of 'inciting' people to write in to object to the scheme. Secretary of the association, June Roberts, took the Catherine Tate approach to this accusation when she replied, 'They can say what they like, we're not bothered. We always said we would fight them, whatever they did.' A less controversial application in Bransgore was made by Mitchells and Butlers (the successors to the great Bass empire), who applied for a single storey extension and some external work to fences and paths at the Crown .
Lymington
Another Mitchells and Butlers outlet, the Ship Inn on The Quay in Lymington, reopened at the end of last year as a 'Bistro Pub.' Slightly inland, permission has been granted for a conservatory at the Fisherman's Rest, which is now part of the Fuller's rapidly increasing estate in Hampshire. Continuing west to Everton, the Crown Inn closed its doors in January after reportedly going into insolvency. It was still closed in April.
Back in the centre of town, the King's Arms in St Thomas Street reopened on March 23rd. It offers bed and breakfast accommodation and has more emphasis on the food trade. To the east of the centre, Peter Smith is the new landlord of the Waggon and Horses next to the Isle of Wight ferry terminal. He faces competition from up the hill in Walhampton, where Towles became the Walhampton Arms last year and is now being run by Paul and Julie Brooker.
Southampton
Another change of name has taken place in Southampton, where the Shirley Hotel reopened as The Manor in December after a much needed £250,000 refurbishment. Jan Yates is the landlady at the pub that now includes a dance floor and DJ's console. Also changing its name is the former Harvey's bar in Carlton Place, which more recently traded as Mi Casa before it closed. Its reopening is set for the end of April under the somewhat obscure title of 90º at Carltons and is under the same ownership as La Margheritas on Town Quay. The 'London-style' bar will have a 100-cover restaurant on the ground floor and a cocktail bar on the first floor.
A pub that has kept the same name for 100 years, the London Hotel in Oxford Street, celebrated the centenary of its construction in February. A pub not open for some time, Bar Coda, in Canal Walk, which was previously know as The Strand and before that was very wellknown in some quarters when it was the Lord Roberts, is unlikely ever to reopen as an application has been made to redevelop the site by demolishing the pub and erecting 36 flats in a new building that in parts will reach five storeys.
Bishop's Waltham
Another possible conversion of a pub to accommodation may take place in Bishop's Waltham, where an application was made to convert the White Swan together with the old fire station in Bank Street into six flats and a three bedroom house. The application also included plans for a cafe/bistro to be included on the site.
Romsey
A major landmark in Romsey, the historic White Horse Hotel, has been saved from the possibility of being converted into flats but at the expense of losing the current pub style bar area. For a few months last year the bar served a good range of real ales but the hotel went into liquidation late in the year. The good news is that the area that was the restaurant is going to become the hotel bar.
Moving to the north west, we noted in the last pub news that the Mill Arms at Dunbridge was under new ownership. It has since emerged that the new owners are the owners of Langleys Bistro in Bedford Place, Southampton, not an immediately obvious synergetic combination.
Eastleigh
The Cricketers Arm s in Chestnut Avenue had a major makeover late last year at a cost of more than £ 1 / 3 m. The work involved a substantial extension to the building. North of the town, at Otterbourne, the Old Forge is reopening as another 'Bistro Pub' with exactly the same advertising as the previously mentioned Ship in Lymington (the Old Forge is also a Mitchells and Butlers house).
Twyford
A little to the north-east, there is at last some potential good news emerging from Twyford. Work started in January on the site of the Bugle Inn, which was closed in August 2004. A spokesman for Inntown said at the time that they hoped to reopen the Bugle and start building four houses on the car park that stands in front of the pub in the next few months. As part of the planning permission the council put a condition on the development that the pub had to reopen before any houses could be occupied. We will watch with interest.
Winchester
Yet another pub that was purchased and closed by Inntown, the Prince of Wales in Hyde Street, Winchester, was the subject of a new planning application in January. However, the application, in the name of Mr A. Mills, to convert the property to four flats was later withdrawn, it still remains boarded up and decaying, a sad sight (or perhaps site). There is better news further along Hyde Street where long standing licensee Val Dove is making the most of the sale of the Hyde Tavern to Admiral Taverns. It was one of 155 Greene King houses that were sold to the pub group for £56m. The Suffolk brewers disposed of the pubs because they were concerned about their viability in the light of the smoking ban. However, Admiral Taverns have an enlightened policy on beer supply and with the greater range of beers available following the loss of the Greene King tie, the Hyde is attracting more customers to sample the ales at this long standing Good Beer Guide entry.
A nearby pub that is still part of the Greene King stable has had a change of name and image in an attempt to increase trade. The Foresters in North Walls, on the corner of Parchment Street has become eponymous with its location and taken the name of The North Walls. A £73,000 revamp was overseen by new licensees Penny Appel-Billsberry, who was previously at the Bell at St Cross and Richard Tolfree, who moved from the Half Moon and Spread Eagle at Micheldever. The Bell itself is now being run by Clive Mansell and Hannah Walter.
Another refurbishment, this time £45,000 worth, took place at the Ship in Wales Street, another one time Eldridge Pope house. New landlord [name removed*] and his partner [name removed*] took over the pub in October and aim to attract the local trade during the day but in the evening there are theme nights including live bands. Just down the road a further £40,000 was spent on the Blonde Beer Cafe , still probably remembered by many readers as the former Courage pub, the Cricketers. It reopened on 2nd February after being closed for more than two months and now has more seating and additional lighting in the beer garden.
* Names removed at the request of one of the named. The original information is dated June 2007 and may now be out of date.
We finish with two further examples of the fall out of the withdrawal from brewing of Eldridge Pope and the recent purchase of the remaining pubs by Marstons, (the group that until recently was called Wolverhampton and Dudley Breweries and had themselves taken over the Marston company). Firstly, plans to transform the Guildhall Tavern into an outlet for the Japanese noodle restaurant chain Wagamama were stymied by the Marstons take-over. The chain still hopes to open an outlet somewhere in the city.
A second planning application originated well before the take-over. Eldridge Pope had previously agreed with developers Colten to sell the Stanmore Hotel and replace it with a 65 bedroom nursing home. More than 110 objections have been submitted to city planners and 745 signatures have been gathered on a petition to save the pub. Adrian Otten, managing director of Colten Care Limited, claimed that a nursing home would be more in keeping with the area than a public house. This attitude that pubs should not be sited near homes is unfortunately all to prevalent nowadays and it makes it more difficult to replace pubs that have closed in areas where the resident population is falling with new outlets in areas where the population is expanding. It also seems to run completely counter to all modern thoughts on social policy and community building. We think that the last new pub to be built in our branch area as part of a housing development was the Two Brothers in West End in 1989, with the Cleveland Bay at Chandler's Ford opening the previous year.
Take it to the Top
- Sign CAMRA's Full Pints Petition to the PM Hop Press index
Pub customers were robbed of £481 million in 2006. Beer drinkers are being mugged to the tune of £1.3m a day! How and why are these crimes against beer drinkers happening? The answer — short measure. Recent CAMRA surveys of local authorities' trading standards departments have revealed that 26% of all pints are served over 5% short. The worst example found was only 87% of a pint.
CAMRA is calling on the Government to stop this legalised robbery. 76% of pub goers want the Government to stick to its promise, made in 1997, to ensure that drinkers get a full pint. Since Labour made that ten year old promise, beer drinkers have lost an estimated £4.5 billion.
CAMRA's chief executive Mike Benner said 'It is a disgrace that up to a quarter of all pints served in the UK are less than 95% liquid when customers are paying for a full pint. The inaction of the Labour government in allowing this unfair practice to continue has cost beer drinkers billions of pounds.'
CAMRA has launched a national petition calling on Government to define a pint of beer as a pint of beer and to require licensees to serve a full pint every time. Sign up by clicking on the web site: www.takeittothetop.co.uk. It is not just real ale drinkers that get regularly mugged at their local, lager, keg and stout drinkers also suffer. Pub managers are often under pressure from their bosses to get more from a container than it officially holds. Many training manuals advise licensees to serve 95% pints.
The current code of practice issued by The British Beer and Pub Association recommends that its members serve a 95% pint to customers and then advise that if they ask for a top up, this should be '...given with good grace.' But when was the last time you shopped for a kilo of potatoes or a dozen eggs and had to ask the shop keeper to give you more to reach the asked (and charged) for amount?
So let's end this disgrace. Click on: www.takeittothetop.co.uk now and add your weight to this campaign.
Mention this web address to beer drinking friends, in fact to anyone who believes in fair dealing, beer drinkers or not.
Competition Crossword Hop Press index
QUETZALCOATL (printable pdf version here 194KB download)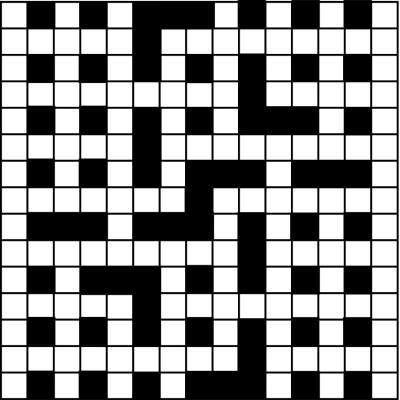 Alphabetical Jigsaw - solve the clues and insert in the grid where they will fit.
Not all the clues are conventional cryptic/definition style.
A Silver finish, one used for discussion (6)

B TV hero cut northern child (5)

C Woolly scions get pampering (9)

D Suffering addiction, penniless but still sounding natural (8)

E Antique Jew's inner nature loses direction (6)

F Revolutionary, but semantically a dictator is too! (7,7)

G Remounting Manet work produces imposing edifice (7,8)

H Singular shivery apprehension [only plural in Chambers ] (5-5)

I Force entry in going — classic! (6)

J John initially oils the joint (8)

K Posy preserver, a vase full of vasodilator! (5)

L Stretches miles and miles (7)

M Equatorial planetary probe from the Black Country? (9)

N A Durbaner's birthright? (5,5)

O A new 'phone rate brought into operation (9)

P Western air travellers terminated at Cincinnati in 1914 (9,7)

Q Precise piezoelectric chronology (6,5,4)

R Make cats generally slay 'out of the box' (9)

S Just spaces for five regulars (6)

T Rewrite lexicon entry (5)

U Pendent palatine part (5)

V Reshape tank? No, change taxation system (3,6)

W Littoral dweller shrivel the old (4)

X Expose in depth study (4)

Y Why take a job? I long to know! (5)

Z Vitally principled believer (5)
Prizes to the first two correct entries drawn. Closing date: 1st August 2007.
Send to:
The Editor Hop Press 1 Surbiton Road Eastleigh, Hants. SO50 4HY
---
December's Solution & Winners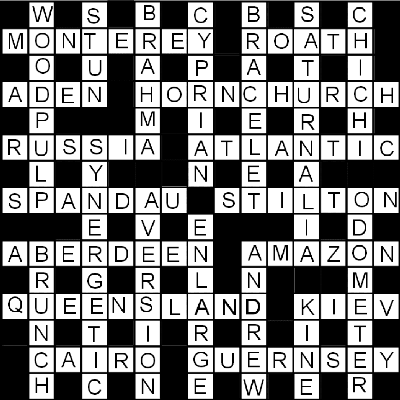 Possibly I overdid this one a little bit, there were only about half the usual number of entries and three of these had errors.
All were provoked by 3 down [Brahma] being replaced with 'Archer' which nearly fits the clue but then leaves nothing to fit 12 across [Russia] — even so, two entrants came up with the same word, 'Butser.'
Winners: Kate Cheeseman, Southampton; Nigel Cook, Southampton
Other correct solutions were from: K W Crawford; Trevor Crowther; Bob Howes; Tim Parkinson; Nigel Parsons; J True; John Yalden
Hypocritical, Sarcastic Brewers? Hop Press index
Following the take over of Gales by Fullers, as a result of the Gale's shareholders deciding to make some quick cash and sell the company, the brewery at Horndean is now on the market as a development site. With the absurd property price boom in Southern Hampshire it will certainly return what will be described as a healthy profit. Although beers such as HSB are still being sold in the former Gales outlets, and now also in many of the Fuller's pubs, the beers are now brewed at Chiswick, and have been for the past year or so.
We were therefore surprised to read recently that Fullers has become a Corporate Partner of Hampshire Fare. This is a group formed specifically to promotes the use of locally sourced, Hampshire products. See them at www.hampshirefare.co.uk
Managing Director of Fuller's Inns, Simon Emeny, said, at the launch of the partnership: 'Fuller's is committed to local food provenance and is passionate about offering good food and service in our pubs. Our beliefs fit well with the role of Hampshire Fair in promoting all that is great about Hampshire's produce.'
The picture that accompanied this story in the Daily Echo was taken in a former Gale's pub, the Wykeham Arms, Winchester. The bank of handpumps display pump clips for HSB, together with those other well known Hampshire beers, Chiswick Bitter and London Pride. The glasses raised in celebration are carefully positioned to display their London Pride logo.
Lies, Damned Lies and Statistics Hop Press index
Pat O'Neill
At CAMRA's annual conference, in late April, there was a presentation on the state of Britain's brewing industry and pub estate, Some of the statistics revealed extremely alarming trends and the drastic transformation of the industry since the start of the new millennium.
From our parochial viewpoint perhaps the most dismal figures reflect the continued, and continuing, decline in the proportion of the drinks market taken by cask conditioned beer — real ale. In the ten years from 1995 to 2005 the real ale sector declined by a huge 61% and now represents only 7% of the total market for alcohol. To be fair, the decreasing slope of the curve does suggest that the decline will bottom out somewhere above 5% this year or next. That then will be CAMRA's millennial challenge, to parlay the enthusiasm for our traditional national drink back up to a respectable level.
Within the bald statistic of the 61% decline there are some nuggets of good news and many pointers to developments within the industry that we have been commenting on for years. The 7% market share does not reflect the nation's pubs. Real ale, by its very nature, does not feature in booming supermarket offsales and the off-sale fraction of the market is still increasing with no sign of a halt. Keg and 'smooth' ales are falling faster than real ale and the prophesied dominance of premium lagers over standard strengths has been halted, seemingly by the introduction of super-cooling (perhaps because it masks the taste?...). Other spectacular losers, unlikely to be lamented, are the alcopops, their sales are dropping as fast as the fancy ciders that are replacing them rise. But the real runaway success over the past decade is wine, there are even some serious industry commentators predicting that in a further decade wine could overtake beer as our most popular drink.
Apart from the changing mix of products in the drinks market there has also been a huge revolution in the industry's infrastructure. In 1989 over three quarters of all pubs were wholly owned by the so-called 'big six' brewery companies (Allied Breweries, Bass Charrington, Courage, Scottish and Newcastle, Watney and Whitbread) as classic vertically integrated businesses. Many of the remaining quarter were also similarly tied to smaller local brewers. Today, only one pub in seven is owned by a brewery at all; the top eight pub owning companies currently are:
Punch Taverns, 9200
Enterprise Inns, 7800
Greene King, 2500
Marstons (Wolverhampton and Dudley until this year), 2300
M and B (a relic of Bass), 1800
Admiral Inns, 1800
County Estate, 1200
S and N (now the 'proper name' for Scottish and Newcastle), 1100
Nevertheless 85% of the total beer production is still in the hands of the giant global firms, although they now account for little of the real ale element, only 19% at the present and this looks to be falling fast, possibly towards zero.
As the global players withdraw from real ale production – they only consider brands that can be internationally advertised and marketed worthwhile – this would provide a wonderful opportunity for both the 'new' major brewers, the Greene Kings, Wells-Youngs etc. and the really new growth of micro breweries.
It would provide such an opportunity, if they had an open access to the market, for despite the globals not now owning any substantial part of the pub stock, they still tie much of it up in giant discount bulk purchase agreements, freezing out smaller players. Despite this handicap, the micros are enjoying a boom. SIBA (the Small, Independent Brewers Association) has seen a 70% growth from 2001 to 2006
The phenomenon of the spectacularly successful emergence of hundreds of specialised real ale micro breweries is a direct consequence of CAMRA's existence — it would never have happened without the Campaign. Yet, to get a proper perspective, the entire micro brewery sector does not account for 1% of the whole alcohol market.
Another consequence of the changes in the market mix is a subject that exercises CAMRA most deeply — brewery closures and mergers. The 61% fall in real ale consumption has inevitably left much over-capacity amongst the traditional, regional breweries. With this realisation, the loss of Gales, King and Barnes, Brakspear et al can be seen as unavoidable, a form of survival strategy and not simply a facet of unbridled capitalism.
So what of the next decade? It seems clear that if the real ale market stabilises and only stays at some single digit percentage its availability will concentrate down into specialised pubs we cannot for ever expect to find hand-pumps on every bar. It has lower margins, takes more work and must have a good throughput to remain palatable, all of which means that real ale pubs could become a top quality sub-set amongst the generality of licensed houses.
Pipe Dreams or Smoke Signals Hop Press index
Rob Whatley
The forthcoming smoking ban that will be introduced in pubs in England from 1 July has prompted a great deal of activity in a number of areas. As reported in previous editions of Hop Press a few local pubs have already introduced no smoking policies over the past two or three years. More recently a further number of local pubs have introduced the ban early perhaps in an attempt to attract a new band of non-smoking pub goers in advance of the universal ban. These include the Chestnut Horse at Easton, the Bishop on the Bridge in Winchester and the Happy Cheese at Ashurst. The latter found that trade increased following their ban that was ironically introduced on bonfire night last year.
The change at the Bishop on the Bridge was introduced after a minor refurbishment. Elsewhere in the city the Green Man and Old Vine were already non-smoking venues. When the measure becomes compulsory after 1 July smokers at the Bishop on the Bridge will still be able to puff away in the patio area which now has new heaters (why has there been no outcry from green groups about this obscene energy waste concomitant with the new law?) and large umbrellas. The pub manager Ewan Black claims that together with 'classy garden furniture' and the attractive setting it makes it, '...the perfect place for smokers and non-smokers.' Non-smokers sitting next to a table of smokers might not agree.
The licensees of one Southampton pub, the Old Farmhouse in Mount Pleasant Road, chose a different approach to try to maintain their trade levels after the ban is introduced. Jo and Barrie Short contacted the city's NHS quitters team just after Christmas. As a result, regular, free stop smoking sessions were held at the pub. The team, who can be contacted on 023 8051 5221, are keen to get other pubs on board with the scheme. The number for the Winchester area is 0845 602 4663 and for the New Forest and Eastleigh areas 0845 634 4484.
Readers will have noticed that some representatives of the licensed trade have been predicting a calamitous future for pubs after 1 July. In order to give a different perspective, CAMRA conducted a national survey earlier this year. The survey found that some 6.2m people who visit pubs regularly are likely to visit pubs more often following the introduction of the ban. Only 3% of respondents said that they would not visit pubs at all as a result of the ban. An estimated 840,000 people in England and Wales who previously never went to a pub will visit following the ban.
The survey also asked respondents about their preferred drink and whether they smoke. The results were as follows:
Lager drinkers – 43% smoke
Alcopop drinkers – 42% smoke
Spirit drinkers – 37% smoke
Keg bitter drinkers – 35% smoke
Real ale drinkers – 25% smoke
Soft drink drinkers – 24% smoke
Wine drinkers – 20% smoke
The implications are that pubs with a good real ale trade will be least affected after 1 July. Also, as the proportion of people aged 16 and over in the general population who smoke is about 25% does this mean that only real ale drinkers are normal?
East Side Story Hop Press index
David Etheridge
The City of Southampton is split in two by the river Itchen, being then reunited by five bridges. When we last published an edition of the Hampshire Pub Guide, in 1994, (why we have not published a revised issue since is too long a story to go into here) Southampton had 207 pubs, but only 41 of these were in the eastern part of the City. The western side contains the City Centre, the largest shopping areas, both hospitals and most of the employment opportunities. The east is mostly residential and lost its biggest employer, the Vosper Thornycroft ship yard, a couple of years ago. Whilst the western side of the City has lost pubs, these have been replaced with many new openings in the City Centre, Shirley and Portswood (some, it is true, hard to describe as 'pubs').
How though has the City's east side fared in those last thirteen years? Of the 41 pubs in 1994, one, the Cliff in Portsmouth Road, was closed at time of the guide's survey and nine did not serve any real ale which left 31 real ale outlets. Of the eleven Southampton pubs in the national Good Beer Guide , none were in the eastern side of the City. During April 2007 I visited all the pubs, or the locations they once occupied, to check on the current situation.
Since 1994 we have lost eight pubs:
The Cliff , Portsmouth Road, remained closed and has converted to residential.
Drummond Hotel , Bridge Road, converted to retail, an electrical store.
Elephant and Castle , Bursledon Road, demolished for housing.
London Arms , Victoria Road, converted to retail and residential.
Seaweed Inn , Weston Lane, demolished for housing.
Spring , Spring Road, demolished for housing.
Swallows , Hinkler Road, demolished to make a car park.
Target , Butts Road, demolished for housing.
There has been a single gain:
Two Brothers , Townhill Way a new build on the Chartwell Green development.
There have been three name changes:
The Bitterne Brewery , West End Road is now The Big Cheese .
The New Bridge Inn , Portsmouth Road is now just the Bridge Inn .
The Robin Hood , South East Road became Macawbers but is now the Earl of Locksley .
This gives a current total of just 34 pubs of which two more have also closed, the Merry Oak in Deacon Road (rumoured to be the site for a Supermarket) and The Sun Hotel in Weston Lane (rumoured to be due for demolition, to be replaced with housing). Of the remaining 32 pubs 14 now have no real ale leaving just 18 cask beer pubs in place of the 31 in 1994, a 42% decrease. The good news is that of the twelve Southampton pubs in this year's Good Beer Guide, one is in the east side of the City. This is the Humble Plumb in Commercial Street, which is a Wadworth House and serves three Wadworth beers and several guest beers; the 6X is straight from wooden casks behind the bar.
Unlike most pubs in the south of England many of these pubs have defied modern pressures and resisted change in the thirteen years. In fact ten of the remaining pubs still have more than one bar, including one, the Grove in Swift Road which has three. Only two pubs have had major rebuilds, the Big Cheese in West End Road and the Bridge Inn in Portsmouth Road. Two pubs have had heavy redecoration, The Earl of Locksley in South East Road and, recently, the Two Brothers in Townhill Way. The rest of the pub stock is mainly tidy and have only had normal redecoration.
Rather surprisingly, the beer choice available east of the river in 1994 was more than today, despite the huge rise in the number of micro breweries since then. (numbers in brackets are the number of outlets for this beer – see above).
The Beers 1994, 27 varieties
Bass Draught Bass (3)
Courage Best Bitter (3)
Courage Directors (5)
Courage John Smiths Bitter (6)
Courage Webster's Yorkshire (3)
Eldridge Pope Dorchester Bitter (2)
Eldridge Pope Thomas Hardy Ale (1)
Eldridge Pope Royal Oak (2)
Gales Best Bitter (1)
Gales HSB (1)
Marstons Bitter (1)
Marstons Pedigree (1)
Morland Old Speckled Hen (2)
Ruddles Best Bitter (2)
Ruddles County (1)
Tetley Bitter (1)
Wadworth Henrys IPA (1)
Wadworth 6X (8)
Whitbread Boddingtons Mild (1)
Whitbread Boddingtons Bitter (2)
Whitbread Castle Eden Ale (1)
Whitbread Flowers Original (7)
Whitbread Strongs Bitter (2)
Guest Beers (4)
In 1994 we still had one pub selling mild, Boddingtons Mild at the Merry Oak in Deacon Road, the beer has now gone and the pub is closed! Eldridge Pope and Whitbread have withdrawn from brewing, Ruddles and Morlands have been taken over by Greene King who also absorbed the original Marstons houses (bizarrely, the Marstons outlets now in the City result from Marstons returning to the south by taking on the rump of the Eldridge Pope estate). Fullers have appeared by their take over of Gales, their first acquisition in a century, and giant S&N have taken in once all powerful Courage. Our local Ringwood brewery is a success story of innovation and the recent Wells/Youngs growth results from the earlier Youngs policy of expanding trade outside of the London area.
The Beers 2007, 19 varieties
Bass Draught Bass (1)
Fullers London Pride (4)
Fullers Gales HSB (1)
Greene King IPA (5)
Greene King Old Speckled Hen (1)
Greene King Abbot Ale (2)
Marstons Banks's Bitter (1)
Marstons Pedigree (2)
Ringwood Best Bitter (3)
S&N Courage Best (3)
S&N Directors (3)
Wadworth Henry's IPA (2)
Wadworth 6X (2)
Wadworth Old Timer (1)
Wells & Youngs Youngs Bitter (1)
Wells & Youngs Bombardier (1)
Wychwood Hobgoblin (1)
Guest Beers (2)
In 1994 four pubs had a guest beer policy, now only two pubs regularly have guest beers. These are the Hop Inn in Woodmill Lane with three guest beers normally including two from Hampshire micros and the Humble Plumb in Commercial Street with up to six guest ales from regionals and micros from all over the UK.
As part of the onerous research for this article I have tried beer in all the pubs selling real ale. All these beers were either good or excellent, so the reduced number of outlets seems to have led to a welcome assurance of better quality.
Below is the final definitive list:
Real Ale in Eastern Southampton,
April 2007
Big Cheese , West End Road Greene King IPA & Abbot Ale.
Bitterne , Thornhill Park Road Greene King IPA.
Bitterne Park Hotel , Cobden Ave S&N Courage Best & Fullers Gales HSB.
Bridge Inn , Portsmouth Road Marstons Banks's Bitter & Pedigree.
Castle Inn , Trent Road Wells & Youngs Bombardier & Wychwood Hobgoblin.
Earl of Locksley , South East Road Ringwood Best Bitter.
Fox and Hounds , Pound Street Fullers London Pride.
Grove Tavern , Swift Road Fullers London Pride.
Hop Inn , Woodmill Lane Greene King IPA and guest beers.
Humble Plumb , Commercial Street Wadworth Henry's IPA, 6X, Old Timer & guest beers.
Miller's Pond , Middle Road Wadworth Henry's IPA & 6X.
Obelisk , Obelisk Road Ringwood Best Bitter, Draught Bass & Fullers London Pride.
Red Lion , Bitterne Road S&N Courage Best & Directors.
Station , Bullar Road Greene King IPA, Abbot Ale & Old Speckled Hen.
Swan , Portsmouth Road Greene King IPA, Marstons Pedigree & S&N Courage Directors.
Two Brothers , Townhill Way Wells & Youngs Youngs Bitter & Ringwood Best Bitter.
White Swan , Mansbridge S&N Courage Best & Directors.
Winning Post , Merridale Road Fullers London Pride
What does the future hold? With the smoking ban becoming law in July, most pubs have not yet made any changes for smokers to go outside; also there is still a great demand for land for housing development. With these pressures and difficult trading conditions for pubs I expect we will loose more pubs over the next thirteen years. The only good news is the proposed development of the Vosper Thornycroft site which should include some new bars and hopefully trade for pubs in the area.
My message to real ale drinkers in Eastern Southampton, please use your local pubs or you will lose them.
The Guildhall Beckons Hop Press index
Pat O'Neill
It is that time of year again, our annual crescendo building up to the big one, the Southampton Beer Festival at the Guildhall in the Civic Centre. This year will be the eleventh consecutive event and promises to be the best yet.
As usual, the festival will be run over three days, opening on Thursday evening, June 7th, then with two sessions on the Friday, June 8th and two on the Saturday, June 9th. Beer quantities will be about the same as last year, about 1600 gallons in 90 or so separate brews. As always, the beer selection does not repeat any beers that we had last year (other than our local breweries that we support throughout the year) and if possible none that we had the year before that.
There is no geographical, style or 'political' theme but we endeavour to be as eclectic as we can. I will not divulge any specific choices here, we like to keep the programme of beers a surprise until we open, but there should be something to tempt even the most jaded palate. There are several cask conditioned lagers, tentatively becoming part of the British beer scene, a number of beers with varying percentages of wheat malt, some clear and some cloudy in the continental style, some honey beers, some red beers and a good number of dark beers, from the lower gravity milds to the more serious porters and stouts – my personal view is that dark beers go perfectly well with summer conditions. These, of course are backed up with a huge range of bitters, best bitters and golden ales. To speed service we never have tills on the bars. Beers are brought with tokens which are purchased, in £5 sheets, on entry (or during the festival). Surplus tokens are refundable on leaving or may be donated to the festival charity.
Of course, there will also be a wide range of unusual, perhaps even very unusual, foreign bottled beers and some bottle-conditioned ('real ale in a bottle') British ones and there will be more draught ciders and perries (pear 'ciders') this year, about twenty different varieties, mostly from small farm producers. Throughout every session there will be hot and cold food available and there will be a 'family room' off of the main hall.
The opening, preview session, on Thursday will be a 'quiet' one as will the free entry lunchtime session on Friday but then we have on Friday evening the Mary Jane Band (folk/rock), on Saturday afternoon the Riverside Jazz Band (traditional) and for Saturday night Big Red (blues/soul).
Tickets can be purchased in a number of ways (we strongly advise advance purchase, in previous years there have been a number of times when numbers meant we had to curtail sales at the door).
There are four 'walk-in' outlets:
The Guildhall Box Office (only outlet for credit card payment) 023 8063 2601
Bitter Virtue Off Licence, Cambridge Road 023 8055 4881
South Western Arms, Adelaide Road 023 8032 4542
Waterloo, Waterloo Road 023 8022 0022
a postal outlet:
Beer Fest Tickets, 11 Newlands Avenue Southampton SO15 5EP (include SAE) and both tickets and information can be obtained electronically from: tickets@shantscamra.org.uk
Much more information, including times and ticket prices, is on our website at: https://www.shantscamra.org.uk/sbf/2007/
---
Hop Press Issue number 62. June 2007
Editor: Pat O'Neill
1 Surbiton Road
Eastleigh
Hants.
SO50 4HY
023 8064 2246
hop-press@shantscamra.org.uk
© CAMRA Ltd. 2007