Hop Press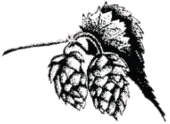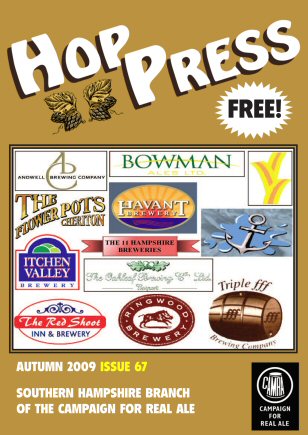 Issue 67 – Autumn 2009
Go to Previous Hop Press Browse for another Hop Press
Go to Next Hop Press
Contents
August this year was a wonderful milestone for CAMRA, our membership passed the incredible 100,000 mark. With the figure still rising, now, in October, at just over 105,000, that is an increase of over 10% during 2009 alone and since the millennium it is more than a doubling.
Although we can justifiably take a small, metaphorical pat on the back, we can't let the achievement distract from jobs still to be done.
As an example, even as this is being written, anti-alcohol campaigners in both main political parties are engaged in a wild arms-race of proposals for ever more extreme measures to combat and stigmatise pub-goers as being the source of the 'binge drinking culture.' If they get their way the ninety-nine plus percent of British beer drinkers who use our pubs with total peace and decorum look likely to be faced with draconian tax hikes on their beer, a return to repressive licensing hours and being generally socially demonised. It is down to us to patiently and analytically demonstrate the logical, equitable and economic fallacies in the doomsayers' arguments.
There are hints of a political mood arising that suggests a return of the pledge-signing, prohibitionist, temperance movements of a century ago. With an election approaching we urge all readers (aka electors) to scrutinise party manifestoes and to question candidates for signs of their illiberal intentions. CAMRA has launched an on-line petition on the 10 Downing Street website urging the PM to reject, in particular, the BMA's recently publicised wild views. It will be open until December, please sign up. To sign the petition just go to:
http://petitions.number10.gov.uk/support-the-pub/
That little aside was brought on by mention of our recent recruiting successes, a more tangible result of the Campaign's size is that it is now recognised by the Office of Fair Trading as a major consumer movement with 'super complaint' powers - the essence of which is that any such 'super complaint' we submit has to be answered within ninety days.
At the end of July we exercised these powers and submitted a request that the OFT fast-track consideration of anti-competitive practices in the UK pub market. Our submission pointed out that the high rents and high 'tied' beer prices are driving many good landlords out of business, leading to the catastrophic rate of pub closures
Mike Benner, CAMRA's Chief Executive, said: "Exploitation of 'beer tie' agreements and the unfair method of setting pub rents are harming consumers and society as a whole. It is enshrined in EU law that consumers must get a fair share of the benefits arising from exclusive purchasing deals such as the 'beer tie', but this is often not the case. We hope that the OFT will act to deliver a fair share for Britain's 14 million regular pub goers. Reform of the 'beer tie' along with a framework of support from Government is urgently required to save the pub from extinction."
CAMRA is not seeking a total abolition of the 'beer tie' that is exercised by the big pub companies but its moderation into a fairer system. CAMRA is calling for the reintroduction of a 'guest beer right,' an end to restrictive covenants and a fair regime for setting rents and pricing the tied beer supplies. The OFT is to reply by the end of October.
To see or to download a PDF of our submission go to: www.camra.org.uk/supercomplaint
Part of the super-complaint process involves all parties undertaking to discus the issues in parallel with the OFT's deliberations. This has already resulted in a major success for the Campaign with the announcement last month by both Punch Taverns and Enterprise Inns that they would no longer be imposing restrictive covenants on sold/closed pubs preventing their future use as pubs. They will also consider applications to annul covenants already in force.
However, many other issues have not yet been accepted by the pubcos and on October 14th a new over-arching grouping was set up, the Independent Pub Confederation (IPC) formed of brewing groups such as SIBA and the BII, landlord groups such as the 'Fair Pint Campaign,' Unite the union, the Federation of Small Business and CAMRA.
This new body will provide a unified voice for the licensee and his/her customers in talking to Government and the giant pubcos. We look forward to working with this new grouping on all issues on which we agree, but of course where CAMRA's campaigning priorities cannot be pursued through the Confederation, we will continue to pursue these independently. Of the new IPC, Mike Benner said: "The prospects for industry self regulation to re-balance the relationship between pub owning companies and their tenants now appear slim and it is likely that intervention by the Government and Competition Authorities will be the only route to deliver a fair deal for consumers in the UK pub market."
---
Last month saw the publication of the 2010 edition of the Good Beer Guide, the 37th annual edition of this essential publication for anyone with an interest in quality real ale. Elsewhere in this Hop Press are details of the new edition and how to get your copy, this item is just to emphasise some of the new elements that are being added to the GBG's repertoire.
As well as the traditional printed guide book the information is also available as a downloadable sat-nav POI file for Garmin, Navman and TomTom systems (other system application files are in preparation) for as little as £5. To purchase the application and data visit: www.camra.org.uk/gbgpoi
Now, this year, the GBG has also gone mobile. In a unique service for mobile 'phones that have internet access and support Java applications, CAMRA offers a service that brings information directly to your 'phone. The Mobile Good Beer Guide provides detailed information on local GBG pubs, breweries and beers wherever you're going in the UK. Simple to use, it offers these features:
Detailed information and descriptions of pubs.
Unique tasting notes for regular beers.
Interactive maps.
Search from a postcode, place name or auto locate using GPS for 'near me.'
Available on a wide range of mobile phones.
The service comes at £10 per year, for more information and a three day free trial, visit: m.camra.org.uk from your mobile or www.camra.org.uk/gbgmobile
---
---
Blind Drunk At Large Hop Press index
Peter Simpson
Long standing CAMRA member Nicholas (Nick) Martin from Milford-on-Sea has become frustrated with the price of beer in Hampshire. Being blind, Nick is on limited income and recent price increases to over £3.00 a pint have restricted his pleasure of real ale consumption to mainly lunchtimes in his local, Milford's regular GBG entry, The Red Lion.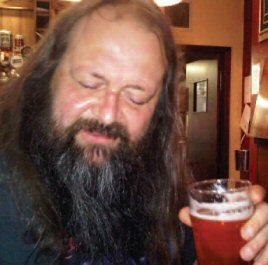 Having not been on holiday for over five years he took it upon himself to find a county where beer was affordable. With mobility problems he is totally dependent upon public transport, taxis and goodwill so with assistance from a friend, Pammie, he trawled through CAMRA's Good Beer Guide for pubs with suitable accommodation and accessibility and began his quest for affordable ale
Priced out of Warwick, limited in Kidderminster by Severn Valley Railway timetable restrictions and with the station in Market Bosworth visited only by freight trains he settled upon The Swan in the Rushes at Loughborough.
Using the National Express Coach Network with a change and long wait at Victoria Coach Station and assisted by another friend, Ewen, he arrived at Loughborough just over 10 hours after leaving home. The return coach fare of £25.45 and keenly priced accommodation was well within budget and after four days he had become familiar with the steep, winding, wooden staircase to his room. He was quickly added to the list of Loughborough celebrities that included three local blind lady travellers known affectionately to the station staff as the 'three blind mice.' To his obvious amusement, he inevitably became known as the 'blind drunk.' The Loughborough station staff and, mainly Asian, taxi driver fraternity took him under their wing and far exceeded their duty of care to give him the holiday of a lifetime.
Venturing out, around the East Midlands, Nick sampled many Good Beer Guide pubs. Visiting, firstly, the Lincolnshire Poacher and VAT and Fiddle in Nottingham he was then amused to find that the twenty ale Flowerpot in Derby was run by the Headless Brewery Company with funny prices of £2.54, £2.74 and £2.94 per pint - all ensuring fairness to those drinking only half pints. Headless Brewery is so named as their beers are served without heads rather than being any brainchild of Henry VIII. The excellent Brunswick Tavern near the station was also visited - an essential stop for anyone visiting Derby.
The Cherry Tree in Little Bowden near Market Harborough was next, then a full day in Loughborough. The Albion and Paget Arms together with the Swan in the Rushes were favoured this day. Trips then followed to Leicester for the Criterion and Shakespeare's Head on then to Oakham for the Grainstore. All the Grainstore beers are brewed on site and the experienced barman was proud to have been in the trade for 19 years. Changing at Leicester for Oakham he was assisted by a 68 year old West Indian railway employee who had been featured in the local newspapers and radio having been re-employed for his dedication and customer service skills.
Think of Melton Mowbray and think of traditional pork pies. There are two accredited Mowbray Pie producers in the town and after the taxi meter was stopped his driver walked him to one specialist shop where after queuing he was allowed to caress a suitably wrapped, hand-raised pie and feel the weight to gauge the quantity he could carry back as souvenirs. Tasting a large chunk to ensure the presence of the essential gelatine ingredient he settled on four 1lb pies which were safely brought back to his temporary home for storage. Visits were made to the Anne of Cleves and Harboro' Hotel.
Surprised one weekend evening by rumbling above his head in the Swan in the Rushes it was established that a skittle alley in the function room was catering for a Childbirth Trust event and 21st birthday party - a true community pub. He was accompanied on his last day by Pete Simpson to the renowned Victoria Hotel at Beeston to enjoy two mature cheddar and onion rolls, some West Midlands pork scratchings and pints of Okells Dark, Holdens XB and Oldershaws Byards Leap for lunch. A short taxi ride to the Malt Shovel provided both Nottingham Rock Mild and Bitter from a choice of five beers before the taxi, train and further taxi journey back to the Swan in the Rushes
Suitably refreshed and with his mission accomplished with beers in the region generally priced around £2.35 to £2.50 a pint he returned home on a final 10 hour plus coach journey to Milford on Sea.
What a fine effort! For those who cannot be bothered to even walk down to their local a shining example of what pleasure pubs and ale can bring. The CAMRA Good Beer Guide opens so many opportunities and varieties of pub all over the country and is deservedly recognised as the essential travelling companion. The 2010 edition has just been published, in bookshops now.
---
---
Rob Whatley
Every year CAMRA branches conduct a survey of the pubs that have opened and closed in their area during the previous year. In addition to counting the pubs that have been permanently lost a note is also made of the number of pubs that are closed at the time with their future unknown. At the end of 2008 there were a worrying number of pubs in this position. The good news is that, as we shall see over the next few pages, many now reopened.
Waterside
The news from the Waterside is especially good, with the Langley Tavern now open again, having been closed since April 2008. It is now a free house, and is owned and run by Chris Hall, his brother Lee, and other members of the family. Lee, former licensee of the Falcon Hotel, Fawley has, with Chris, overseen a complete revamp of the Tavern. This was necessary, as not only was the pub very dated inside, but also, while the pub was not trading, someone purloined the entire kitchen! It sells three real ales, which Lee says will be changed on a regular basis. Future plans include remodelling the large garden, and extending the dining area.
The Falcon Hotel also has new licensees. Tim & Karen Hutton, a local couple from the village, now have the reins. They have three real ales on offer and also provide food for hungry drinkers.
Nearby, the Jolly Sailor, Ashlett Creek has also reopened. The lease has been bought by local man Jason Plank and the pub is being run by Sara Grieve. Two real ales are available along with a varied food menu. Food is very much to the fore at the Pilgrim in Marchwood. The Fuller's house reopened in late spring following a £1¼m refit. The adjacent Pilgrim's Progress restaurant has been converted to house 14 bedrooms for guests.
New Forest
Moving inland, the Crown Stirrup, Lyndhurst is also trading again after being closed for a number of months earlier in the year. There is less good news from Sway, where the Forest Heath is still very much closed and looking neglected.
We owe an apology to manager Rosie Horne and her staff at the Three Bells in Hordle, which we mistakenly referred to as the Silver Bells in the last Pub News. The pub is in Silver Street and customers should be able to locate it more easily after the pub won, on appeal, permission to erect new signage. Nearby at Downton, the Royal Oak reopened during the summer, after refurbishment, as a 'Chop and Ale House.' The pub is part of the Alcatraz group which also includes the Hobler at Battramsley, the Old Beams at Ibsley and the Sir John Barleycorn at Cadnam.
There is more good news close to the county border where the East Close Hotel at Hinton St Michael is also now trading again after a lengthy closure. There is a separate Conqueror gastro pub as part of the facilities on offer. Ringwood beers are on sale with Best, Fortyniner and Boondoggle on the pumps when we visited.
Fair Oak
Another previously closed pub, now trading again, is the Fox at Fair Oak; it lost its former 'Hounds' in the reopening! The pub is run by Des Boucher.
Eastleigh
In the last edition of Hop Press we celebrated the opening on the Wagon Works in Eastleigh. While the increased availability of real ales in the town was much praised we noted, unhappily, that the pub signs did not feature a train associated with the works. We are please to report that within weeks the signs were replaced and now feature an Eastleigh-built Lord Nelson class engine. When it opened, the permitted hours were somewhat more restricted than those of many other Wetherspoon houses. Now an application to extend the permitted hours has been submitted, following a successful period of peaceful trading. The licensing committee and police would have had concerns over any new licence in Eastleigh following much bad behaviour in the past from those visiting premises with late licenses, which led to the closure of some venues. We also note that the former nightspot Martines, which had been closed since 2002, when it was briefly relaunched as Route 66, is again being refurbished to reopen as the Flava Night Club.
Mijas, in Leigh Road, the one-time Lucky Jim's, then the Star Bar looks set for another change - it is sporting a prominent 'for sale' sign emblazoned 'price reduced' and is widely rumoured to be about to call time for a long period.
Hedge End
After much good news in terms of pubs reopening we have to report the bad news that the Fountain at Hedge End has been demolished. It is to be replaced by seven flats and seven houses. Much more dramatic happenings have been at the Shamblehurst Barn, this relatively new Greene King pub has been issued with a 21-day closure order by the Eastleigh licensing committee after persistent complaints of under-age drinking, drug taking and violence. An appeal period is currently running,and if unsuccessful the pub will close for much of November. The ability to issue almost instant closure orders is one of the new powers introduced with the 2003 Licensing Act.
Swanmore & Warnford
While we see many changes in the pub trade, one pub in our area, the Hunters Inn at Swanmore recently celebrated 40 years under the Westmacott Inns badge. Long serving manager Tony Picariello has been at the pub for 28 years. A pub that at one time was also part of the Westmacott Inns group, the George and Falcon at Warnford changed hands during the summer. Owners Marstons were offering the first three months of the lease period for free following a refurbishment that cost £400,000. The new lease holder is Steve Mahers, who also runs the Coach and Horses in Sutton Scotney.
Littleton
South of Sutton Scotney, an application has been made to expand the accommodation at the Running Horse at Littleton by adding six additional rooms, which would take the total to 15. The new rooms would be housed in a single storey extension.
Winchester
The name change virus is still rampant in Winchester. In August the Mix Bar in Jewry Street became Plain and Fancy. It is being run by Andy Heller, who managed the venue in its previous guise until February. Andy is being joined in the cocktail bar venture by girlfriend Tori Cahill. Also renamed is the Blonde Beer Café (once the simple Cricketers), which reopened in September as the Mikiki Lounge. It is being run by Karl Collymore. It was purchased by Karl, Richard Gilbert and Kalvin Collymore, who also owns Bar 3one in the city and the White House in Southampton. Looking in before opening it did not appear to have any cask beers.
We mentioned in a previous Pub News that the one time Foresters which is located on the corner of North Walls and Parchment Street seemed to have run out of re-badging options having become the North Walls and then Parchments Cellar and Stove. So what was left but to change the name again to the Corner House Bar!
There are still some pubs in Winchester that are proud to proclaim their past. Earlier this year the Old Vine celebrated 50 years since the first pint was poured after it was taken over by Courage. It had previously been an off licence. Two Winchester publicans, Clive Mansell and Hannah Walter, seem to be on a crusade to ensure the continuing existence of the traditional pub in the city. They were already running the Bell in St Cross and the Fulflood Arms and in the summer they added the Queen Inn, in Kingsgate Street, to their stable. They are helped in running the pubs by Clive's son Andy.
Nearby in Stanmore the New Queens Head shut in May and was boarded up but has now just reopened. Ironically, when permission was being sought to close the Stanmore Hotel and convert it into a nursing home, one of the arguments used in favour was that residents could use the nearby New Queens Head instead, this unfortunate group spent the Summer with no local pub to go to. The city has had other closures, of Greene King pubs. The Green Man in Southgate Street closed abruptly a month or so ago, with what is said to be a roof leakage problem, but as yet there is no sign of any works. And in Stockbridge Road the Roebuck has also closed unexpectedly. Although prospective licensees are said to have visited both houses there are no indications of reopening.
Compton
Another pub to care home conversion got the final go ahead just after we went to press with the last Hop Press. A Government inspector overturned Winchester planners' previous refusal to build a £7m development on the site of the Captain Barnard in Compton. Building is now underway.
Hursley
The King's Head has recently been bought (together with a number of other parts of the village) by the owner of the Hursley estates. A successful application for extensive internal alterations has been made. and the pub is currently closed as the work proceeds. Reopening is due in November when it will have a restaurant, a lounge bar and something that is described as a 'wet bar,' what this involves we are intrigued to see!
Romsey
Continuing along the A31 to Romsey, we are pleased to report that the Tudor Rose is still trading after a slight hiatus earlier in the year. In the spring a sign appeared in the window of the closed pub stating, "Go away all of you, we don't sell beer and we hate you." Prior to the closure much of the memorabilia that was housed in the pub had been auctioned off. Fortunately, new landlord Peter Langran, with the help of regulars, was able track down many of the items, which again adorn the walls of the reopened pub. The Duke's Head at Greatbridge reopened earlier in the year under the ownership of Karen Slowen, who is also the landlady of the Rockingham Arms at Canada Common (although the future of this pub is under threat from the problems of the economic situation).
Braishfield
A couple from Braishfield bought more than a few pub mementos when they got married in June; they bought the freehold of the pub they were running. The Dog and Crook is now a free house after Alan Arthur and Miriam Bevan purchased the freehold from Punch Taverns.
Broughton
In the summer the Greyhound at Broughton reopened with a small name change to the Grey Hound. While the food is of an Italian inclination, Marston's real ales are on offer. The owners are Andrea and Ian Bentall, who also run the Mill Arms nearby at Dunbridge.
Southampton
Another reopening occurred during the summer when the Grapes in Oxford Street began trading again following an extensive refurbishment. There is also better news for another of the city's historic buildings. The Dolphin Hotel in the High Street was purchased by Avandia Investments, a specialist hotel company. Much investment is expected in the hotel, which had been closed for a number of months. Nearby, Walkabout has been sold by Regent Inns to Cavandish Bars Group. The Australian theme has now disappeared and it has been renamed Wahoo.
Despite much good news on pubs reopening there continue to be casualties. An application has been made to build a four storey block of 15 flats on the site of the long closed Bridge Tavern in Coxford. And in Sholing an application has been submitted to open a convenience store on the site of the Winning Post.
---
---
Hampshire Brewing - All Change Hop Press index
There are currently just eleven real ale breweries in the county of Hampshire. None of these date from before 1978 and although perhaps not all would volunteer the opinion, a powerful case can be advanced that every one is in business only as a direct result of CAMRA's existence and success.
Although small-scale brewing, chiefly within individual pubs, was the norm in pre- and early-Victorian times, industrialisation of brewing advanced rapidly in the nineteenth and twentieth centuries and this involved ever more amalgamations onto larger and larger sites. Hampshire was not excluded from this trend and in several towns brewing became the dominant industry.
Chief was probably Alton where the town water was very similar to that of Burton upon Trent and this lead to two national brewers, Watney and Courage, establishing big plants. However both were closed by 1970 although a part of the Courage site was acquired by Bass (which now, seemingly, we have to call MolsonCoors) where it still brews some keg lagers, although with a much reduced workforce. On the other side of the county, Romsey also owed its main employment to beer making at the famous Strong's brewery, which supplied a thousand pubs throughout Wessex in the area of the 'Strong Country.' They were also taken over by a national brewer, Whitbread, in the late 1960s along with Portsmouth's big brewery, Brickwoods, but both had stopped brewing by the early 1980s and were demolished soon afterwards.
Southampton and Winchester also lost their major breweries earlier in the twentieth century by takeover followed by closure. By 1983 only one old-established brewery was left in Hampshire; the family-owned Gales at Horndean. Then, in 2005, the first chapter of Hampshire's brewing history ended abruptly when this last brewery and its 111 tied houses fell to an agreed, but unexpected, buy-out by the London based brewers Fuller, Smith and Turner and whilst the Gales name remains, that is all, the beers are now brewed at Chiswick and the Horndean brewery site is being 'redeveloped.'
It was all this industry turmoil of the sixties and seventies, repeated throughout Britain, which in essence gave birth to CAMRA and thus, in its turn, the public interest in real ale as a unique national product to be treasured. The singling out of real ale - cask-conditioned beer that culminates its life cycle in the pub cellar - as something worth preserving and proselytising for gave a great opportunity for entrepreneurs.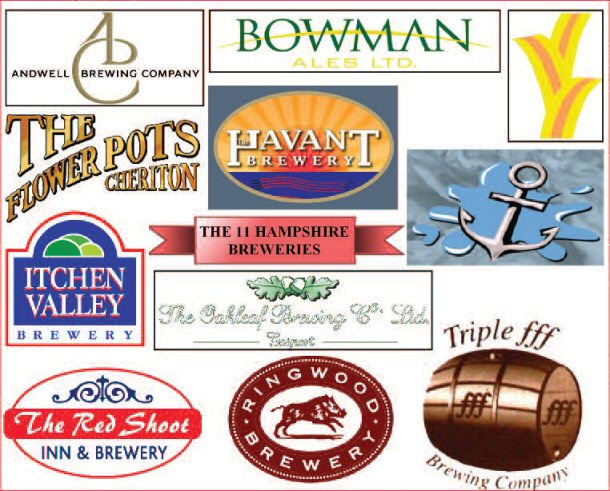 Cask-conditioned beers can be made on a smaller scale and with less equipment than keg ('brewery-conditioned') beers and this has given rise to the hugely successful growth of micro-breweries. Nationally, over 700 small brewers are now in operation, none of them more than thirty years old. Although some have grown spectacularly and can certainly not be considered as 'micros' any more and although also, unfortunately, whilst some have opened but failed to complete the course, Hampshire now has its entire real ale brewing represented by, and residing in, these new ventures; eleven of them in all. They are:
Andwell
Bowman
Crondall
Flowerpots
Havant
Irving
Itchen Valley
Oakleaf
Red Shoot
Ringwood
Triple fff.
---
---
Competition Crossword Hop Press index
QUETZALCOATL (printable pdf version here 375KB download)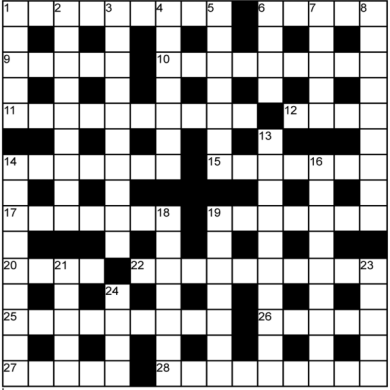 Across
1. Poor shelter for Labour Parliament (9)
6. Oddly super fast swimmer (5)
9. Dramatist cribs entire par t! (5)
10. Filled afresh, novelty graced her! (9)
11. Simple rebuke to fictional medic (10)
12. Leave it! Firstly stop that egg throwing (4)
14. The PM's point died - he's toasted! (7)
15. Give way to diced cucumbers, unhesitatingly (7)
17. Freshly train as a craftsperson (7)
19. Part of chair back takes a large number (7)
20. Galactic traveller's depression (4)
22. Popped up again - harvested a fruit's centre (10)
25. A food riot in Nutcracker? (9)
26. Publicity, publicity, publicity - a secret society's motto? (5)
27. European weed seed, flowerless mutation (5)
28. Trap hurls out cocktails (3,6)

Down
1, 6, 24. Carrier cracks its train wheel (5,4,4)
2. Eaten away in 'rudest' manner (6,3)
3. See 7 down
4. Improved trap due to be reset (7)
5. Old cars accompanying guar ds (7)
6. See 1 down
7, 3. Given in justice to majority's bias (5,10)
8. Place bet - detail lists all ins and outs (4,5)
13. A citadel can fall to one bum note (10)
14. Second class arrivals at upper class porker'scastle (9)
16. Put your hand to the bottom to provoke a nude's grin! (9)
18. In want of some massage say (7)
19. Make no pains, it's frothy stuff! (7)
21. Gunpowder, a bit inert perhaps? (5)
23. They're gone forever, despite repeated action (5)
24. See 1 down
Prizes to the first two correct entries drawn. Closing date: 31st December 2009.
Send to:
The Editor, Hop Press, 1 Surbiton Road, Eastleigh, Hants. SO50 4HY
---
Issue 66 (Spring/Summer 2009) Solution & Winners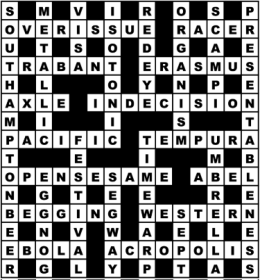 This one didn't seem too taxing and I thought this was confirmed when fourteen entries came in, mostly from the usual suspects. However closer examination revealed a solver's disaster with only four of them correct! Nine of the ten wrong entries were torpedoed by 21 down (SEGWAY) where SIGNAL had been entered. I am still mystified as to how you all made this from the clue ("Mover, said to make a smooth transit"); is it because the US two-wheeler has not yet made it into Chambers and the pronunciation of segue was not appreciated?
Or do you all use the same Google crossword solver…
Winners: Mike Barratt, Winchester; Harvey Saunders, King's Somborne
The other two correct solutions were from: David Chessman and Robert Elliott.
---
---
Walking and Drinking (9) Hop Press index
Ray Massey
Twyford has always struck me as a nice place to live. It benefits from being near the Itchen (Navigation and River), and there is a good range of attractive domestic architecture in the village. It used to suffer from very heavy traffic before the M3/M27 was built. Things are better now, but the main road still gets busy in the rush hours. What's all this got to do with real ale you ask? Simply this: both of the Twyford pubs (the Bugle and the Phoenix ) appear in the 2010 issue of The Good Beer Guide (available now). So to celebrate their entries, let's take a walk around Twyford with the intention of visiting them.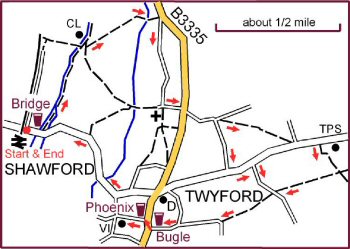 The walk starts at the nearest railway station - Shawford (about ¾ mile west of Twyford) - and then skirts the village to the north, before approaching from the east. Although not a long walk, there are ample opportunities for shortening the walk and heading straight for the village, should that be required.
From either platform go down to the Shawford - Twyford road and turn right, downhill. Just beyond the railway bridge is The Bridge, (Chef and Brewer, open all day, food all day, beers on when visited: Courage Best, Hogs Back TEA and Ringwood Fortyniner, 'phone: 01962 713171) a large well-run pub, with a garden by the side of the Itchen Navigation. This scene - the bridge and the Bridge - will be familiar to TV pundits and fans of Victor Meldrew. It was here that the poor fellow was run over after spending a miserable evening at a reunion where hardly anyone turned up.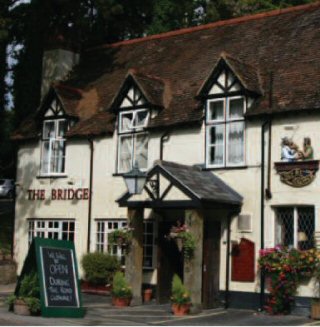 Continue downhill to the road bridge over the Navigation, and turn left, upstream, along a new and much improved footpath by the water. Until recently this path was in danger of disappearing into the water, due to erosion of the bank. But thanks to substantial lottery funding for Itchen Navigation improvements, the towpath has been rebuilt. Associated works on the road bridge have closed the road to vehicles until December, but a temporary footbridge has been provided for pedestrians, which you will use at the end of the walk.
The excellent stream-side path provides interesting views of the back gardens of the houses on both sides of the stream, as well as the delight of walking beside a flowing stream. After about ¼ mile the path joins the water meadows just before the remains of Compton Lock (CL on map). Here sturdy wooden staging protecting the edge of the lock makes a good place to rest a while. In hot weather the fast flowing waters in the lock could tempt the more adventurous for a quick one-way swim.
Turn right here through a kissing gate, past a notice board about the water meadows, and over an overgrown feeder stream. (Turn right again and you can get to Twyford more directly via Twyford Church.) Continue half left along a planked section of path. Immediately ahead are pedestrian and vehicular metal gates, and further ahead is rising downland (Twyford Down). After another gate and stile, join a shady gravel track. Go past a sluice and old mill buildings on the right by the River Itchen, then up a short rise almost to the main road (B3335).
Here turn right along Church Lane, a peaceful byway leading past White Lodge and Twyford Lodge. After a yew-tree shaded section and a bend right and left you reach a T-junction opposite the parish church. (Straight on past the church will get you into Twyford directly.) Turn left, uphill, to the main road again.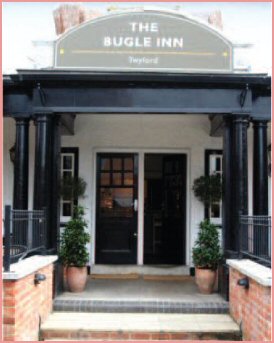 Cross the main road, slightly right, into the quiet, curving Bourne Lane. When the lane turns sharp right and downhill continue ahead into Bourne Fields. Immediately, fork right by the footpath sign: along a narrow path between gardens. Soon Twyford Pumping Station (TPS on map) appears in the distance, this is your next target. Pass along the bottom edge of a field, kink right and left through a thick sloe hedge, and continue diagonally across a field to Hazeley Road (Twyford to Morestead road). Turn half left along this road, still heading for the pumping station.
Just before the pumping station you need to turn right into the preceding field and make your way around its edge to avoid the substantial works laying a new pipe up the track that I would have liked you to use. This diversion is signed. After 150 yards, a small footpath crosses your route; turn right along it, past a lonely white post in this very large field, still gently climbing. Exit the field at a stile, cross a small lane, and continue ahead down a gravelled track past a hydrant 4H3 marker.
The track gradually improves into a tarmacked lane, and soon joins another lane on a bend. Effectively continue straight ahead. After small allotments on the left and Roman Road on the right, the lane bends gently left and right and you reach the pleasant outskirts of Twyford. Soon you will see the main road ahead, but before that you will suddenly find yourself right outside the Bugle. (free house, open all day, high-quality food all day except Sunday evening, Flowerpots and Bowman beers - a rare chance to compare two of the most successful local breweries directly, 'phone 01962 714888).
On leaving the Bugle, go down to the main road and turn right, there straight ahead is the Phoenix. (Greene King pub, details on their website: www.thephoenixinn.co.uk, open lunch and evenings in the week, all day Friday to Sunday, themed food days, a rare chance to try the XX Mild - though it may be keg in the summer, 'phone 01962 713322).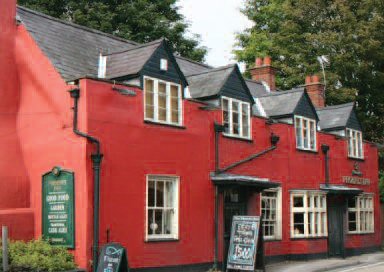 On leaving the Phoenix go down the small lane (Queen Street) by the side of the car park. This is another lane full of pleasant small houses. The lane bends right opposite a house that was clearly once a pub - the Volunteer Inn (VI on the map). Friends tell me it was an active pub in the '60s.
A slight aside: Twyford actually had four pubs. The fourth, the Dolphin, also marked on the map (D) was at the village centre, although this walk's route does not take you past it. Although closed for a decade, a large painted wall sign still directs hopeful drinkers into Hazeley Road towards the Dolphin. One can only guess how many fruitless excursions have started up this road....
Back, to conclude the walk. Continue along Queen Street to the T-junction with a larger road. Here turn left into Shawford Road, which shortly crosses the River Itchen. Continue along this pleasant rural road to the bridge over the Itchen Navigation, with the Bridge and the railway bridge again visible ahead. So ends your walk.

Maps: The OS 1:25,000 are the best maps for walkers. The relevant map for this walk is Explorer 132 (Winchester, New Alresford and East Meon).
Seasons: This is a walk for all seasons, though the paths before and after the pumping station may get muddy in the winter. These fields can easily be avoided (see the sketch map, this alternative is obvious and needs no description).
Times: The full circular walk is about 3½ miles, so allow a leisurely 2 hours.
Transport: Shawford station is served by the hourly semi-fast Southampton - Waterloo service (Southwestern Trains timetable 19). There are extra trains in the rush hours, and some Portsmouth - Waterloo trains (timetable 23) stop there. Twyford is also served by the E1, 63 and 69 buses.
Photographs: Thanks to Bryn Massey.
---
---
The Cask Report 2009-10 Hop Press index
On October 8th a major investigation of the place and the potentiality of cask ale in the British on-trade was published. It paints a glowing picture of the success of real ale, the only beer style to have grown in relation to all others during this recession year. To download and/or view a PDF of the report go to: www.caskreport.com/downloads.php
This is required reading for all licensees and anyone interested in our pubs' economic future.
---
---
CAMRA, Then and Now Hop Press index
Recently, for a beer festival programme, a short article on the early origins of the Campaign for Real Ale - CAMRA - was requested. It might be of interest to Hop Press readers, so we repeat it here:
In March of 1971, four friends gathered for a few beers in Chester on the eve of a holiday in Ireland, they were Mike Hardman, Graham Lees, Bill Mellor, all journalists (perhaps, as we see later, a most significant fact…), and Jim Makin a brewery office worker. All were in their early twenties and after a pub crawl around the ancient city a general consensus was revealed among them - the beers they'd been buying were neither enjoyable nor worthy of the name. A day or so later, on the obligatory tour of Dublin's Guinness brewery, these feelings resurfaced and they fell to musing over forming a movement - a campaign - for the 'restoration of ale.' Lees thought 'revitalisation of ale' a more laughworthy wording and Hardman condensed it to the CAMRA acronym. The Campaign for the Revitalisation of Ale was born.
That revitalisation was considered more humorous is key, none of them thought of the venture as anything other than a bit of fun. It was not until almost a year later in 1972, and they were again in Chester, that they recalled the previous holiday whimsy and decided to actually start a real consumer organisation. Several dozen friends were sold membership cards for the then novel postdecimalisation price of 5p and a meeting was held at which a rudimentary constitution was drawn up and a number of people were elected as 'executives.' Here is where the significance of the journalism came in, by dint of their backgrounds the founders were able to get complimentary articles in the press [I myself joined in mid-1973, for the somewhat larger annual fee of 50p, after reading an article - along the lines of the oddness and eccentricity of the English - in the Sunday Times]. The result was explosive growth.
At the first proper AGM in 1973 in London, with membership passing the thousand mark, the humour was reduced by the adoption of the easier to handle title of The Campaign for Real Ale (creating, in passing, a new OED entry) and by the end of 1973 there were an almost unbelievable 5,000 members.
A year later we were 10,000 strong, local branches were being formed throughout the country (now more than 200), the first Good Beer Guide was published and our first beer festival (in Cambridge) was held. Two more years, 1976 and now at 30,000 members, we had run our first national festival (a fantastic, chaotic success at the old Covent Garden market), we had started our political role by campaigning for a private member's bill to improve pub hours (not this time successfully) and, most importantly, CAMRA had been reorganised as the 'Company Limited by Guarantee' that it is today.
The brewers had also started to respond, in the latter half of the seventies a number started to reintroduce cask ales into their houses, the infamous Watney's Red was discontinued (mid-1979), and the first of the new, independent small breweries such as Hampshire's Ringwood started. Unwisely, there was a wide-spread feeling within the Campaign of 'job done' so that by the early eighties membership started to decline, reaching just 15,000 at its lowest. Ironically, the brewers themselves then re-invigorated the campaign by embarking on a dramatic series of takeovers and subsequent brewery closures - the industry was pillaged in the 1980s. The loss of local town breweries and their tied houses was so alarming that volunteers rushed back to CAMRA's colours! On the march again, membership was back to the 30,000 level by the start of the nineties and it was clear that we were in for the long haul.
Almost two more decades have gone by since then, decades in general of progress interspersed with scattered disappointments but essentially of an ever broadening scope of activity. Now, in 2009, CAMRA is a mature force. In August we achieved a major milestone when the membership passed the 100,000 mark. CAMRA now has over 105,000 like minded campaigners, is consulted by Government and EU bureaucrats on all matters of alcohol policy and is one of the biggest and most successful consumer movements any country has ever seen.
In passing we might note that in last year's honours list, Mike Hardman received the MBE for 'services to the cause of real ale.'
From a single-minded passion to prevent the extinction of cask beer we have evolved to embrace many, frequently much harder, tasks - liberalising pub hours (a success although currently being threatened again by reactionary groups), preventing the ever-expanding globalisation of brewing (a clear failure), preserving that great, unique institution, the British pub (very much in the balance) and raising the status of beer to be a subject worthy of discussion (great success, as testified by the popularity of our beer festivals, guide books and so on). Earlier this year the Office of Fair Trading recognised CAMRA's significance by granting us the status of being a 'super complainer' - although it sounds like being an ultimate whinger it implies the value they give to our views. This edition's Editorial gives more detail on this development.
Illustrating this broadening sphere of activity, we might take just one other recent new initiative that CAMRA is championing, one that encourages drinkers to 'drink green.' This is our LocAle accreditation scheme.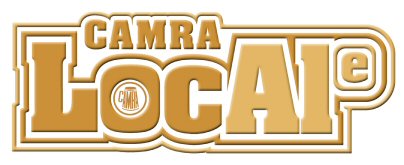 Recently, with the rise in public concern over the ecological damage that western life styles cause, brewing has come under the spotlight. It does not come out of the analysis very well. Within the brewery the processes use huge amounts of water, huge amounts of energy and produce considerable amounts of troublesome waste. As if that were not enough, getting the beer to the drinker has become more and more costly in transport miles - with production of national brands being concentrated at single sites, in some cases not even in this country, and with distributors trunking other beers the length of the country to appear as 'guest ales,' beer's carbon footprint is pretty heavy and, perhaps more importantly, increasing.
With the CAMRA inspired rise of hundreds of small breweries, the Nottingham branch conceived the LocAle scheme which encourages pubs to stock, and importantly to publicise, one or more beers that are locally brewed. A win-win situation results, the transport economies obviously but also there is the boost for the local economy and an intangible but real enhancement to a local area's perceived identity.
The scheme was an instant success in Nottingham with more than eighty pubs involved within a few months and so it has now been launched nationally. Branches throughout the country are joining in; establishing their own geography-dependent guidelines, some setting a mileage radius, others in smaller counties taking 'within the county' as their rule.
Three of CAMRA's four branches in Hampshire have already established their criteria for LocAle accreditation, Northern Hampshire branch and Portsmouth and East Hampshire branch have adopted a 30 mile radius from a pub whilst in the Southern Hampshire branch we are using a slightly more conservative 25 mile radius.
To join the pubs in our LocAle group, a house has to be nominated by a CAMRA member who will have sought the landlord's agreement. Although only just getting underway, we are currently listing these pubs, with their local brewers:
Bugle, Twyford (Bowman, Flowerpots)
Dolphin, St Denys (Bowman, Triple fff, Ringwood)
Giddy Bridge, Southampton (Ringwood)
Guide Dog, Southampton (Bowman, Flowerpots)
Humble Plumb, Bitterne (Red Shoot)
Hyde Tavern, Winchester (many)
Royal Oak, Fritham (Bowman, Keystone, Hopback, Ringwood)
Turfcutters Arms, East Boldre (Ringwood)
Wheatsheaf, Braishfield (Flowerpots, Ringwood)
Wheatsheaf, Shedfield (Flowerpots, Oakleaf)
Wheel, Pennington (Ringwood) also:
Bitter Virtue off-licence, Southampton (Bowman, Irving)
For more information about LocAle in our branch, please go to the webpage: www.shantscamra.org.uk/locale
---
Hop Press Issue number 67. Autumn 2009
Editor: Pat O'Neill
1 Surbiton Road
Eastleigh
Hants.
SO50 4HY
023 8064 2246
hop-press@shantscamra.org.uk
© CAMRA Ltd. 2009