Hop Press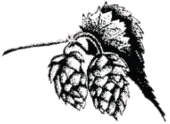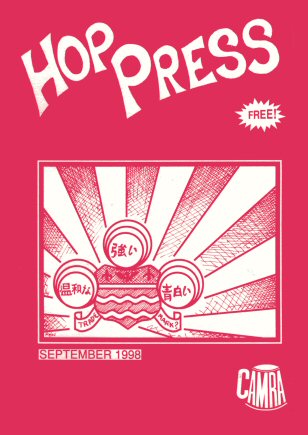 Issue 46 – September 1998
A rough OCR of the original leaving out adverts & some sections such as the Crossword
Go to Previous Hop Press Browse for another Hop Press
Go to Next Hop Press
Contents

EDITORIAL Hop Press index
What in heaven's name is happening to our pubs and breweries? News today that Marston's are negotiating the sale of their entire, tenanted estate seems like the final brush-stroke in a picture of total change.
Marstons are in talks with Japanese bankers Nomura to transfer their 640 tenancies, many of them here in Hampshire, into a separate company, set up by the bank but financed by bonds sold on the securities market. Nomura is already the country's biggest pub landlord, owning a tenth of all Britain's pubs through its purchases of the Inntrepreneur estate and of Spring Inns. The Marstons deal will bring the number of pubs that they control up towards 4000. Yet they have no restraints under the toothless "Beer Orders" because they do not have an actual brewery.
The Japanese bank has pioneered this form of ownership, "securitisation," as opposed to the more normal raising of ordinary share capital. Securitisation involves selling tradeable bonds with an income guaranteed from the profit stream of the enterprise involved. It is becoming extremely fashionable in pub circles: Punch Taverns, the 1400 ex-Bass tenancies, and the Wellington Pub Company, another 800 ex-Inntrepreneur pubs, have both issued this form of security.
This may all seem like a topic reserved for the business pages of the broadsheets but it has ramifications that affect all pub users. It is yet another straw caught up in the gale of wind that is blowing away the traditional pub that Britons have loved for hundreds of years. Marstons, once a staunchly traditional brewery of the "old school" is now run by Nick Letchet who only joined the company a year ago, coming from Bass. This new broom seems intent on really sweeping clean. After divesting the company of all of its traditional pubs, Mr Letchet wants to bring Bass-style strategy into Marstons and to develop the remaining 300 or so managed houses into branded chains. For a brewery that has, for generations, been famous for its cask ales and fine, solid pubs such a policy seems utterly incomprehensible.
Mr Letchet says he wants at least £ lOOM to invest in more of his pet "Pitcher and Piano" café-bar outlets which he sees as the future for Marstons. Marston's shares have fallen from the region of 320p at the start of the year to 200p this month (there was a 20p rally on the announcement of the pub sale), a fall well in excess of the general market decline but somewhat coincident with Mr Letchet's stewardship. So it may be that the investing institutions do not have too much faith in his judgement.
The turmoil and troubles at Marstons are generating a host of quite outlandish rumours. In recent weeks we have been "reliably" assured that much of the Pedigree is being contract brewed nearby by Bass because of capacity limitations at Marstons and, alternatively, that Bass is contemplating dropping cask ale production at Burton altogether and relying upon Marstons to supply their estate! Along with these unlikely happenings Marstons certainly are launching into some silly experiments in cask beer dispense. We have already described in a previous edition the Pedigree hand-pump, designed to look like a keg dispenser, so as not to alarm larger drinkers who might have an inclination to try a cask ale. Now we understand they are trialling a handpump that has a gadget in the pipe from the cask to inject nitrogen into the beer to produce some sort of "smooth/real ale" bastardised hybrid.
The news of the Nomura deal broke in the morning papers on Friday, September 11th., that evening I visited a couple of Marston's tenants for comments or reactions. The most significant factor was that the news had only come through the press - Marstons had not had the common courtesy even to inform them that their businesses were being sold from beneath their feet. Such cavalier treatment of the company's lifeblood, the tenants, would have been unthinkable under previous managements.
If it were just Marstons going down this slippery slope to Hell in a handcart it might be possible to right it off as a single piece of aberrant management but it is a style throughout the industry. Only a couple of weeks ago the well-respected, Bristol micro-brewer of real ales, Smiles, issued their annual report. They too have taken on a new chief executive, cast off from one of the major brewers. His heroic address to the shareholders preached the necessity of streaming their houses into themed types, especially with themes that could support premium prices. As a shareholder in both Marstons and Smiles I can only say to both boards that this was not the way I wanted my capital employed.
The treachery behind the proposed sale and closure of the Morrells Brewery in the heart of Oxford demonstrates another form of management contempt for their ultimate financiers, you, the pub customers. Morrells have the misfortune, shared with many other old family brewers, of occupying a city-centre site, in their case since 1782. They have been brewing fine beers there since then. The company was partly a family business with two members of the Eld family on the board but early this year other board members engineered a coup to remove Charles Eld and then in July they managed to get rid of Margie Eld. It was clear that they were after a quick and profitable (to some) asset-stripping operation.
Having taken predictable advice from the City, they conclude that: "selling the business is in the best interests of the greatest number of people concerned." They appear to have not only forgotten about their workforce but also about their loyal customers who have stood by Morrells through thick and thin. The ousted Eld family have put together a plan to buy-out the business and continue brewing on the site but the present board have dismissed this out of hand since they have decided that they no longer have any interest in brewing, only in a get-rich-quick development of this central Oxford asset. So "selling the business" only applies if it is selling it for anything other than brewing beer.
From past experience of trying to fight such vandals the odds are that the brutal power of money will prevail and that our national heritage will be diminished just another little notch, but fight we must. A David just occasionally lands a lucky stone.
THE QUAY TO GOOD ALE Hop Press index
Many breweries, in time, set up visitor centres but the Quay Brewery in Weymouth was built in 1996 within an existing visitor centre. However, as the name of this visitor centre is Brewers' Quay you will guess that it is not the first brewery on the site. Indeed, the Quay Brewery was built in the gap between two former brewery buildings, both on the south side of Hope Square. One was formerly John Groves' Hope Brewery and the other belonged to J. A. Devenish, of these more later.
In 1996 Giles Smeath had recently sold a legal business and was looking around Brewers' Quay with the idea of opening tea rooms in the shopping village. As he was walking around the building the manager pointed to a large area of "dead" space that they were looking to fill. Later the manager mentioned that they would like to see a small brewery on the site, but they could not afford to start one themselves. After a little thought Giles abandoned the tea room plan and decided to open a brewery in the atrium between the two ex-breweries.
Quay brewery is a five barrel plant (that is each brew has a volume of five barrels, 180 gallons). Presently there is a quartet of five barrel fermenters, though two new 10 barrel fermenters should be installed during September. The brewery makes an impressive addition to the "Timewalk" holiday-makers' attraction that takes visitors through the
However, the size and position of the brewery mean that brewing is not exactly straightforward. The glass roof gives the brewery an airy feel but makes temperature control a real challenge. The racking area, where beer is put into casks or bottles, has had to be placed a hundred yards from the fermenting and conditioning tanks - an enormously long pipe run.
The use of compressed hop pellets rather than loose whole hops, largely due to the brewery's storage space restrictions, is the only aspect of the brewing process that would not have been familiar to the former generations of brewers who worked in Hope Square. No adjuncts are used, although the water is "Burtonised" to make it similar to that used in Britain's brewing capital. Devenish Brewery did have their own spring but that supply became tainted so water now comes from the mains supply.
Despite its size, the brewery produces many different beers and there is an impressive variety of styles and tastes in the range. One reason for the successful creation of distinctive styles is that three different yeast strains are used at the brewery. Fresh yeast has to be used with each brew as the old brewery buildings are still so full of wild yeast spores which drift in the air and make successful propagation of single cell cultures virtually impossible.
Brewing was first recorded on the site in 1252. From the 1820's there were the two rival breweries in adjacent buildings, John Groves and Devenish. They competed for about 120 years before Devenish eventually took over Groves in 1960. Many locals considered that Groves' beers were greatly superior to those of Devenish, but in the usual perverse way of take-over politics, all of the Groves brands were soon eliminated.
Brewing ceased in Weymouth in 1986 as Devenish concentrated on their other brewery at Redruth in Cornwall. Two current Quay beers, Weymouth Harbour Master (3.6% abv) and Groves Oatmeal Stout (4.7% abv) are based on old Groves' recipes. The Groves brewing books still survive and these told Quay's brewer, John Nicholson, the name of the hop supplier for each brew but not the variety of hops. John contacted the suppliers who, from their own records, discovered the variety of hops that had been supplied to Groves. Although the recipes were recorded, the exact method used to brew was not, so educated guesses have had to be made.
Another beer, Weymouth J D 1742 (4.2% abv) is based on an old Devenish recipe and has proved very popular with former Devenish drinkers. Bombshell Bitter (4.5% abv) was brewed to mark the day, August 11th 1940, when a bomb fell on the Hope Square breweries (presumably as part of a Third Reich plan to lower the public's morale). Old Rott (5% abv) was named after the (now sadly deceased) brewery mascot, 011ie the rottweiller.
The brewery has won a number of prizes since it started. Silent Knight (5.9% abv) is a dark wheat beer which last year won first prize in the Society of Independent Brewers Wheat Beer Challenge. Hampshire drinkers also appreciated the beer as it was voted the favourite tipple of customers at the 1997 Eastleigh Beer Festival. A new wheat beer, Summer Knight (3.8% abv), continued the success by beating off 34 other beers to claim top prize at this year's Wheat Beer Challenge.
Many of the beers now being brewed started off as experimental brews that were so successful that they continue to be demanded by the brewery's customers. The Quay brewery supplies a number of pubs in the area around Brewers' Quay, many of which are former Devenish or Groves pubs that are now run by Greenall Whitley, as is the visitor centre. Greenalls inherited the estate from the ill-fated Inn Leisure empire which swallowed up Devenish in a reverse takeover in the late eighties and then sold the pubs on in 1993. Giles Smeath is trying to get the beers distributed more widely throughout the Greenall Whitley estate. In addition to the regular beers, a number of seasonal beers are also brewed. Three beers, Stout, Old Ron and Silent Knight, are available in bottle-conditioned form.
When many long-established breweries closed in the 1960's and 1970's the future looked bleak for drinkers who wanted an alternative to the bland brews produced by the national brewers. However, since then, brewing has been revived in many traditional brewing towns, such as Romsey and Weymouth. This new wave of breweries are committed to producing a variety of beers with real flavours, designed to meet the requirements of discerning drinkers. As their prize winning record shows, Weymouth's Quay Brewery is up there with the very best of this new breed.
FORTISSISSIMO! Hop Press index
Until recently, if you walked into a pub and found Moondance, Dazed and Confused and Comfortably Numb it would have been because the landlord had put on some background music featuring tracks by Van Morrison, Led Zeppelin and Pink Floyd. In recent months, however, these names have been appearing on handpumps, serving beers from the curiously named Triple fff Brewery, from Four Marks, near Alton.
When Graham Trott and Frank Norris first saw the small industrial unit at the Old Magpie Works in Station Approach it was full of rubbish and looked far from promising. However, its location close to the A31 was good, so they decided to go ahead. After a lot of hard work they built a neat five barrel length brewery, with all the vessels made from stainless steel. There are currently two fermenting vessels but a third is on order to meet the expanding demand. Frank and Graham received a lot of help from former Champion Beer of Britain brewer, Rob Jones while they were setting up the brewery.
Brewing started in October last year and the beers were popular from the start. Neither Frank nor Graham has had any formal training in brewing but they were experienced home brewers. All three regular beers are distinguished by a rich fruitiness, in contrast to the preponderance of light hoppy beers that are produced by many of the new micro breweries. A wide variety of hops are used in the three beers and the malt comes ready crushed from Warminster maltings.
Brewing currently takes place twice a week (with only two fermenting vessels at present, this is "brewing to capacity" as a brew must spend about a week fermenting before being run off into conditioning tanks). About ten local pubs currently serve one or more of the beers on a full time basis and a further fifty pubs take the beers fairly regularly as "guest" ales. Deliveries are made within a 25 mile radius of the brewery and trade is increasing gradually. The new third fermenting vessel and the construction of a second cold store should enable sales to grow still further. The Triple fff brewery is wary of dealing with wholesalers because of the delays that often occur before getting empty casks returned. The cost of casks can be the single largest expenditure when setting up a brewery. A new firkin (nine gallons) costs more than the beer it holds and for every cask that the brewery sells they need to own seven or eight! Triple fff's casks came from the defunct New Ale Brewery at Andover.
Testament to the quality of the beers brewed by Triple fff is the fact that they have already won three prizes before they are a year old. At this June's Southampton Beer Festival the 4.2% abv Moondance was voted the most popular beer at the Festival by the customers. The same thing happened at this year's big Farnham Beer Festival and to cap this, Moondance was runner-up in CAMRA's county-wide Best Beer in Hampshire poll, held amongst the four branches that cover the county.
THE ROVER'S RETURN Hop Press index
I served my drinking apprenticeship in the early fifties in and around Bishops' Waltham. Brought up on Strong's Bitter - perhaps a bit bland by modem tastes but very nice none the less. Our alternatives were mainly Marstons which we liked and Brickwoods which we tended to avoid if possible!
I am almost ashamed to look back and admit that in later years we drank a lot of lager, often because we knew what condition it would be in, something that one could not say about cask ales in the sixties and seventies. The keg bitters on the other hand I could never abide.
Now after having been living and working abroad for fifteen years, I have been casting a virtually new eye over the pub scene.
The upsurge in real ales since I left is remarkable and it is a joy to taste so many different brews, mostly although definitely not all, from small brewers and mostly better kept than I remember from former days.
However, I deplore the way pubs themselves have changed. Of course I cannot blame a landlord, faced with hideous rent, turning his pub into a restaurant and I realise that a "character" can no longer run a village inn as a private club for his friends but it is the landlords and landladies themselves that are vanishing and this must be bad for the trade in the long run
Too many times when going into a pub these days I find it being looked after by a couple of sulky looking part-timers who either give no greeting at all or just about manage a "yes please" in a voice that makes it obvious that there is no real interest in serving me at all.
A little mild detective work tells me that many of these pubs still have landlords but they no longer seem to regard it as part of their job to have any sort of social interchange with their customers. Why they think that sitting upstairs in front of the TV, entrusting the heart of their business to some blank faced individual who only talks to one or two of his friends at the bar, I cannot understand.
Although the rise of the new "High Street Pubs" also concerns me, there may be some saving graces. An unexpected conversation with an area manager from one of the chains produced the information that they trained their staff in smiling and in customer eye contact and, when not too busy, to actually engage in conversation. This may seem likely to produce a result that is rather false but from personal experience of a few visits this did not seem to me to be the case. As there are often unusual beers at reasonable prices, I find it difficult to be very critical.
Thankfully though, I came back to find that some traditional pubs with good beer and proper landlords have survived. And I am happy to have almost no chance of a lottery win since I do not yet need a chauffeur to drive me the length of the land to find a pint of good beer.
CASK MARQUE FADING? Hop Press index
The last edition of Hop Press had an article outlining the "Cask Marque" scheme being introduced by a group of independent brewers. To recap, the idea is to have a group of professional beer testers who would visit pubs, unannounced, sample the cask ales and if they considered them up to a good standard, award a plaque - the Cask Marque insignia - which would be the public's guarantee of good ale inside.
The breweries behind the initial idea were Adnams, Greene King, Marstons and Morlands. A number of other independents and pub chains have also shown interest.
The announced plan was to start in the Spring with up to a thousand applications expected (pubs are required to be proactive, to ask and to pay, to be considered for the award). This initial phase was due to be complete by now but seems not to have taken off. We know of only one pub in our whole branch area which has been tested (and passed), Marston's Welcome Inn at Bishopstoke. Even here, although inspected many weeks ago, no plaque has yet arrived.
Our previous article raised a lot of questions about the viability and direction of the scheme. This brought a letter from Paul Nunney, the scheme's Director, "answering" but in many ways confirming, our doubts. Some of the questions are reprinted below with Paul's responses.
• What sort of promotion will the scheme get? To get wide acceptance in a reasonable time will require massive mass media publicity, can it be afforded? "We will commence a consumer campaign in September once the pilot scheme is completed."
• What criteria are the testers going to use? If they are predominantly ex-brewery personnel will they insist on an acceptable beer having a fashionable, creamy, tight head from a swan-neck dispenser? "Assessors look at temperature, appearance, taste and aroma."
• As well as just tasting a couple of pints will there be any effort to assess the licensee's skill and commitment? "We believe that licensee skills and commitment will reflect in quality of the beers."
• Will the cellar and its practices be looked at? If a test pint tastes fine but there is a filtering back funnel on the shelf in the cellar, what will be the result of that inspection? "We only rest the beer in the glass that is given to the customer."
• How much pressure will there be in a borderline case from the knowledge that awarding a plaque brings in £140? "We are encouraging the outlet supplier to be a sponsor and to pay half the fees and should the account fail, the supplier is likely to have the resources to both train and upgrade his equipment."
The halting start, the bland responses to legitimate doubts and crucially the intimate financial and organisational ties to the industry persuade us, sadly, that the scheme deserves the thumbs down. It is almost inevitable that it will become just a tool of brewery marketing departments.
EDITOR'S POSTBAG Hop Press index
The last edition's Pub News made reference to the arrival in Southampton's London Road of Bruinns Bier Keller, our writer's opinions prompted a response from the owners:
Sir,
Thank you for the opportunity to put our side of the coin after your reviewer's rather scathing remarks in the last Hop Press. He said there was "...nothing German..." about our Kellar [sic] Bar in London Road. I can only assume he went in with his eyes shut, walked past the German made fixtures and on arrival at our bar failed to notice the three large German made ceramic pumps with "Warsteiner" on them. This might have provided him with a clue to the name of our most popular draught pint, which is brewed and imported from Germany. Incidentally, I would have thought that whilst not a "real ale" in the British sense, any CAMRA member reviewing a pub with a brew made under the German regulations would be pleased to give it a mention. We also stock an extensive range of German bottled beers and schnapps and if he had taken the trouble to look he would have seen that we have a live German oompah band every Saturday night, with free admission.
He goes on to mention that he paid "...three golden sovereigns a pint..." a reader might gain the impression that this is the cost of one of our popular draught beers, not at all, the only things on our tariff at £3 are large bottles of Schneider Weisse or Erdinger Hefe, we have many less costly bottled beers and draughts. Our draught Warsteiner sells at £2.20 a pint which, considering the quality of the product and our central location, is not bad. In fact most of the week we offer a free glass of schnapps with every pint and run a jug club which can bring the price down to £1.65 a pint.
I noted that your newsletter also gives a mention of venues which offer live music, though your reviewer again fails to mention that we have live bands at the Kellar at least three nights a week, often four, all admission free!
Check us out and judge for yourselves.
Sincerely,
James Eckford
Director, Bruinns of Hampshire Ltd.

Just to be totally pedantic, we should record that our actual words in the Spring edition were "...nothing very German.....and "...three brass sovereigns for a single bottle..." Mr. Eckford's letter came in the early summer but this is our first opportunity to print it, so whether the prices and brews quoted are still the same we cannot say.
The last edition also had an article about the "Cask Marque" scheme for awarding to pubs with good cask ale, nationally recognised external plaques. This produced a letter from Mr Nunney, Director of scheme, addressing our misgivings. His points are discussed in the article on the previous page.
Prizes! Prizes! Hop Press index
Hampshire brewers won three bronze medals in the Champion Beer of Britain competition at CAMRA's annual Great British Beer Festival, held at Olympia in August. Newcomer Itchen Valley won third prize in the ordinary bitter category with Godfathers. One of the two beers that beat it was the overall winner, Bluebird Bitter, brewed in the Lake District by the Coniston Brewery.
Bronze for a bottle-conditioned beer went to Pride of Romsey. This Hampshire Brewery beer made its debut in cask form at last year's Eastleigh Festival, where it was also a prize winner and it has also won a bronze at the Brewing Industry International Awards. It is on sale at the Romsey Waitrose.
The final bronze was won by Cheriton's Diggers Gold, in the strong bitter category. The brewery's Best Bitter also reached the finals, the second successive year that two Cheriton beers have been finalists. Cheriton Brewery also did well in the Hampshire Beer of the Year Competition, the finals of which were held at Southampton Beer Festival in June. Pots Ale was the overall winner, with Diggers Gold third. Second place was taken by Triple fff Brewery's Moondance.
Two other snippets of local beer news: Making its away debut at Southampton Beer Festival was New Forest Gold from the small brewery at the Red Shoot, Linwood, near Ringwood. Planning permission has now been granted for the beer to be distributed more widely, so look out for it in other local Wadworth pubs. Another new beer from a local brewer is GB, from Gales. The 40/c, hoppy beer replaces Best Bitter and IPA.
PUB NEWS Hop Press index
Yet again we start this edition of Pub News with the latest openings and planning applications in Southampton. The new Wetherspoon's pub, the Giddy Bridge, has opened in London Road, in the former Wynton's furniture store. The managers are Jo and Trevor Huckie. Outside decor is very similar to the Old Gaol House in Winchester but inside it is considerably more garish. Plastic glasses are used when Saints play at home.
On the other side of the road, an application to convert the former T&GWU offices into a pub or restaurant has' been resubmitted. Nearby, in Canton Crescent, Bass have applied to convert Avondale House, a listed Regency building, into a club called Screamers. Building work has already begun.
Further towards the centre of town, work has started on the Yates Wine Lodge, which is planned to open in early December in the former Miss Selfridge shop; Already open is the Chicago Rock Café in Vincent's Walk, behind Marks and Spencer. It is one of 27 nation-wide and is owned by our friends Luminan Leisure who misled customers over the "Chelsea Brewery" at Barringtons in Winchester - now, happily, no more, see later. The music to be played will cover the years 1957 to 1986 and after 7pm entry will be restricted to those aged over 20. Will next year the music be from 1958 to 1987 and by 2038 will only pensioners be admitted?
Continuing south, Jongleurs Comedy Club will host its first show in October. The café-bar section of the premises, in the former Burtons store opposite the Bargate, is called Bar Risa and is already open. The Southampton Jongleurs is the eighth in the chain. Further down the High Street we may soon be awash with new bars. An application has been made to convert the former TSB, next to the Standing Order, into the Walkabout Inn (wall to wall Fosters presumably...). A little further down, opposite the Ferryman and Firkin, we may soon see Montaines Wine Bar next to Café Rouge and a couple of doors away will be Bar Med. There are yet more proposals for bars further south but there are no details available as yet. An old pub in the same area, the Royal Standard in Western Esplanade, was shut for some time but has just reopened in time for the Boat Show. Plans were submitted earlier this year for a first floor restaurant.
Another Southampton pub that is very much shut at present is the Old Thatched House in Shirley. The thatch, along with much of the rest of the pub, was destroyed by fire in May. Restoration work is under way. In the city centre the Oxford in St Mary's Road is for sale, yours for £85,000. The future of Bootleggers in Northam is also doubtful, following an application to re-develop the site as flats. Another city pub sold recently, was the Ampthill in Shirley. It has now been demolished to make way for housing. This meant that the last (we believe) visible evidence of Scrace's Brewery, the engraved windows of the Ampthill, has disappeared. Extensive efforts were made by local CAMRA members to keep the windows locally, including contacting the city council, but to no avail. Scrace's Brewery was located at 29 High Street and was founded in 1829. It was taken over by Strongs in 1927. This loss of Scrace's windows follows the loss of the Coopers Brewery windows from the Cricketers in Carlton Place. If any reader knows of any remaining windows or other signs from these two local breweries, please contact the editor. Perhaps the Ampthill should have followed the example of the Ship Inn, Redbridge and expanded the facilities it offered customers. The Ship acted as a polling station during the city council elections in May. Given the poor turn out however, we doubt that there was much of a boost to trade.
We reported in a previous Pub News that the Gateway, close to the Dell, was to change its name. It now goes under the sign of the Golden Lion, the name reportedly referring (pretty obliquely) to the golden wedding anniversary of the Queen and Prince Philip! The pub has been extensively refurbished. Undergoing gradual refurbishment is the Talking Heads in Portswood, where it is business as usual during the work. In Bevois Valley, the Dorchester is about to reopen after a very blue and yellow make-over!
It looks like the Masons Arms in Wessex Lane is finally to be put out of its misery. After years of short lived reopenings, plans have now been submitted to build houses and flats on the site. Nearby, the Fleming Arms is one of a number of Beafeaters sold by Whitbread to a new company, Crowded House, for a total of 06m. The new owners say it will, "...tailor its pubs to the needs of the local market while retaining the merits [sic] of the pub restaurant ... The sites will be developed along the lines of concepts which differ from the traditional Beefeater format." However, the pub is now closed for restoration work after a recent fire.
The Halfway Inn in the centre of Chandler's Ford has been refurbished and now includes a sports bar and hosts live music. Real ale is still available, unlike the example of some other pubs that have undergone this treatment
The imposing, mock-timbered Leigh, on Leigh Road in Eastleigh, has also been internally refurbished and has a new manager, Rob Paliotta. At the town end of Leigh Road, Scottish Courage's Good Companions, also architecturally interesting as a rare example of early 1950's style, has been refurbished. A new entrance (with disabled access ramp) has been added but unhappily the multiple bars have all been united into one. An interesting feature of the games end, which boasts two pool tables, are padded "bum-rests" on the walls to lean on whilst awaiting your shot The main distinguishing feature is the use everywhere, inside and out, of a long dead brewery name (Sandersons of Newcastle, the site of which is now part of the university) to disguise the true ownership. They have even gone to the length of including reproduction bottles amongst the mandatory shelves of nick-nacks. Just a few yards up the road, around the corner in the High Street, the Lltten Tree has applied for extended opening hours - until midnight from Mondays to Saturdays.
The Clock in Fair Oak is now owned by Greene King (not Ushers as we reported in the last Pub News), who have applied for permission to build a rear extension. A car driver recently tried a more impromptu redesign of the pub by trying to convert the front bar into a drive-in. Greene King are also seeking to build a two storey extension to the Shamblehurst Barn in Hedge End. Another historic building may also be changed if Hall and Woodhouse get permission to extend the Jolly Sailor in Bursiedon.
Two pubs in the north of our area are under threat of closure. The Three Horseshoes at Bighton may be sold by Gales, possibly not as a pub, after the current licensees leave at the end of September. The parish council are set to oppose any change of use. The other pub under threat is the Alresford Ale and Cider House. Local retailers are unhappy with the proposal to convert the pub into three dwellings. As two shops in East Street have recently been lost to residential use the future of businesses in this area looks bleak, despite the proximity to Broad Street. On a brighter note, the Plough at Sparsholt must be happy with trade as they have applied for permission to add an additional 28 parking spaces.
In Winchester one new pub has opened, an old one closed whilst another has a new name and owners. The Slug and Lettuce, part of a chain that all sport the same name, has finally opened in The Square, about six months later than planned. It is believed that the basement and cellar of this grade II listed building were once part of William the Conqueror's royal mint. The conversion from shops has taken 18 months and much money (a functioning mint might have been useful) but the results are disappointing. There is a Spartan feel to the pub that might be improved with a few more pictures on the walls. On our visit the beers were just Courage Best and Directors. The renamed pub is the Old Monk, most recently known as Barringtons. It is now owned by the Old Monk Company, which runs 18 pubs, mostly in the City of London. The company, owned by Gerry Martin brother of Wetherspoon's founder Tim, aims to have 50 pubs within three years and wants to major on regional and micro brewery ales. The pub has been refurbished, expunging traces of the infamous "Chelsea Brewery." Ale selection has improved, with local products alongside those from further afield. The gloomier Winchester news is around the corner in Chesil Street where the Kings Arms has closed its doors.
Something is afoot at the Dolphin Inn in Hursley but what depends on which rumour one believes, it is either to be closed, put up for sale or expanded by converting outbuildings into a restaurant. Down the road in Romsey, plans to extend the Old Horse and Jockey have been rejected on appeal.
The final decision on the application to convert the old barn in Gore Road, New Milton into a pub/restaurant has been made. Permission has been granted, with some councillors seeing the scheme as the best way of preserving the 19th century listed building, despite the fact that parts of the scheme will extend into the green belt. Plans to extent the Blue Pig bar on Lymington High Street have been rejected because planners considered that the resultant increase in on-street parking would disrupt the traffic flow. However, also in the High Street, the former White Lyon has reopened as Café Uno. The Red Lion at Boldre has been altered to make room for more customers, although this has meant there is now one bar where once there were two. Additional room for overnight guests may be on the way in Brockenhurst if plans to convert a stable at the Rose and Crown into guest rooms come to fruition.
There is a new name at an old venue in Beaulieu. The Wine Press bar at the Montagu Arms has been renamed Monty's. The name was arrived at after around 400 locals were asked their opinion on a selection of ten names, including "The George," the pub's name in the 17th century.
We mentioned in the last edition of Pub News that the Grange at Netley had become the Mill House, a bar and family restaurant. Now another establishment bearing the same name has opened in the former Evergreen Hotel in Lyndhurst. Presumably local residents are not expecting many customers to visit because when previous plans to convert the hotel into a 40 bed mental health clinic were proposed, a possible increase in traffic was given as one of the local objectors' main concerns. Staying in Lyndhurst, the Fox and Hounds has undergone a £200,000 refurbishment with an Alice in Wonderland theme. Not quite as bizarre as it sounds, the real life Alice, Alice Lidell, lived in the village and is buried in the churchyard just up the hill from the pub.
Permission has been granted for ground floor extensions and internal alterations, including new toilets, at the Inn on the Furlong, Ringwood Brewery's home town tied house. The proposed changes should not alter the character of the pub. Permission has also been granted for some internal alterations and additions at the Red Lion in the Market Place. Finally in Ringwood, as predicted in the last Pub News, an application has been submitted to build 18 dwellings on the site of the Nags Head Hotel. Just north of Ringwood, the Old Beams at Ibsley has been sold to the rapidly expanding Old English Pub Company. the company specialises in "olde worlde" pub/restaurant businesses, so the Old Beams will fit in well. Further north, the Fighting Cocks at Godshill has undergone an extensive refurbishment and has new licensees, Tony and Ann McDonald.
We conclude this edition of Pub News with three stories of long serving pint-pullers. A party was held recently at the Bakers' Arms, Winchester, for landlord Mike Sinker and his wife Lynne, who are celebrating 25 years at the pub. The couple also lease the March Hare in Harestock and have run the Hiltonbury Farmhouse in Chandler's Ford since it opened in 1986. We wish Mike and Lynne, who have been very active in the local Licensed Victuallers' Association, continued success in the trade.
Twenty-five years is an impressive record but pales totally beside the half century of service behind the bars of Eastleigh's pubs given by Annie Collins. At eighty-five years old, Annie has recently retired from the Leigh Hotel in Eastleigh, having previously worked at the Good Companions, the long lamented Crown (currently Charlie Parker's after a clutch of other names) and the Grantham Arms. A party was held at the Leigh to mark what we hope will be a long and well deserved retirement. Congratulations.
Finally we bid a sad farewell to a family who have been running a New Forest pub for 90 years. Andrew and Eileen Taylor and their three children left the Royal Oak, at Fritham, in July to move to a farm on the edge of Exmoor. The pub is now being run by Neil and Pauline McCulloch, who have lived nearby and been customers there since 1993. Few changes are envisaged, although as with many pubs, the food menu has been greatly enhanced - ham and cheese rolls are now available.
EFFY'S ROUND, a personal view Hop Press index
At this year's Great British Beer Festival, in London's Olympia, the Champion Beer of Britain for 1998 was declared to be Coniston Brewery's Bluebird Bitter.
The beer is named Bluebird of course after the boat in which Donald Campbell died on Coniston Water in 1967 trying to beat his own speed record. What is remarkable about the choice of this beer is not the name, not the stunning hop aroma, not the clean palate nor the dry citrus fruit finish - it is the strength, 3.6% abv, a quaffing beer. Equally, earlier in the year, the gold medal of the Brewing Industry International Awards was given to Hook Norton's 3.4% Best Bitter.
Both these low gravity beers deservedly won awards because they are brewed as beers in their own right, using good ingredients. They are not watered down batches from higher gravity forebears - a common practice.
So often, especially in free houses, all the beers on the bar are above 4%, or even 4.5%. And it is no help when many customers think real ale has to be something that blitzes brain cells.
On a very wet day in spring, in deepest Dorset, I was with a small group on a 130 mile cycling event. Arriving in Beaminster we decided to get out of the downpour and to get some food at the Greyhound, a Palmers (of Bridport) house. At the bar there were just the two handpumps, one for the IPA but the other for Bndport Bitter, at 3.2% a genuine "boys bitter." Standing at the bar, dripping, no doubt to the amusement of locals, I ordered a pint and it was sheer nectar. Tasty, with lots of hop character, just right to replace the liquid lost in vigourous cycling, even in the monsoon. Suitably refreshed we headed off, still in a torrential downpour, for Axminster. I usually do not drink on cycling events but this excellent low alcohol real ale produced no noticeable effects on cycling performance and was one of the highlights of the day!
"Boy's bitters" were once commonplace as of course were the many muds, some with strengths of only 3% or even less, today they are rare. Even in the tied houses of those breweries that still make a low gravity cask ale the stronger brews are often the only beers on offer. Notable recent losses in our area have been Gale's delicate Light Mild, Eldridge Pope's Dorchester Bitter and Wadworth's Devizes Bitter, together with all of the lower strength dark milds that were once available. But all is not yet entirely lost, get out for a few pints of the surviving brews, before they are axed for "lack of a market."
Worth looking for are Brakspear's Bitter (3.4%), Hop Back's GFB (3.5%), in some Marston pubs the Banks's Mild (3.5%), Hall and Woodhouse's Badger IPA (3.6%), Archer's Village (3.6%), Ballard's Trotton (3.6%) and of course the prize-winning Hook Norton Best Bitter.
That two major awards, made after blind tastings, have gone to comparatively low gravity "cooking beers" proves that it is taste that matters, not brute strength. Try some, you could be surprised.
Hop Press issue number 46 – September 1998
Editor: Pat O'Neill
1 Surbiton Road
Eastleigh
Hants.
SO50 4HY
01703 642246
hop-press@shantscamra.org.uk
© CAMRA Ltd. 1998