Hop Press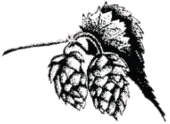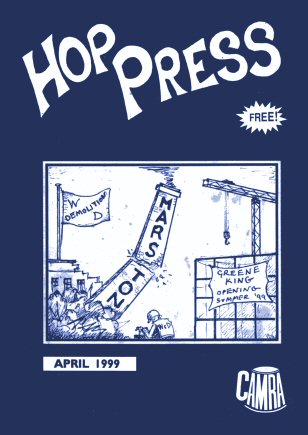 Issue 47 – April 1999
A rough OCR of the original leaving out adverts & some sections such as the Crossword
Go to Previous Hop Press Browse for another Hop Press
Go to Next Hop Press
Contents

EDITORIAL Hop Press index
So now it is all over (bar the shouting and perhaps a little weeping), Marstons are no more. Here in Southern Hampshire we shall see some big changes in the pub scene.
Our last editorial was devoted to the senseless plan, hatched by Marston's new wunderkind chief executive Nick Letchet, to sell off the majority of the brewery's pubs to a Japanese bank in return for capital to develop themed wine-bars. In early December the Marston's shareholders threw out this crazy idea by a 6 to 4 margin but the plan had by then set in train other developments that will (probably, we hope) see Mr Letchet signing on at his local Job Centre.
The plan for Marstons to "securitise" their pubs via a deal with the Nomura Bank prompted the Midlands and Hartlepool based Wolverhampton and Dudley Brewery Group to make a direct takeover bid for Marstons on a cash and share basis. This valued the company at 278p per share, for shares that were then trading at about 220p. When the Marston's shareholders threw out the Nomura deal at their EGM on December 9th, the writing was on the wall for Letchet and he had to respond with a rather desperate manoeuvre.
The response adopted was an unusual one (for this country) which the Americans call the "Pack-Man Defence" - after the computer game where the victim rounds on his attackers and gobbles them up - he made a counter bid to take over the attacking Wolverhampton and Dudley. To finance this David v Goliath deal Marstons entered into some very radical agreements with Bass (Letchet's previous employers). The plan was essentially to destroy Wolverhampton and Dudley by closing all of their breweries and contracting Bass to brew their beers at Bass's giant Cape Hill plant in Birmingham. Furthermore the Marston brewery at Burton would also brew the cask ales currently brewed by Bass at their main Burton brewery. In effect the combined company would have become a subsidiary in all but name of Bass. This would have given Bass a stranglehold monopoly throughout the Midlands and much of Wales and the North-West.
"Wolves" response to this play was the conventional "increased final offer," this time valuing Marstons at 306p per share. To help fund this offer, Wolverhampton and Dudley entered into an agreement with Greene King to sell 100 tenanted and 70 managed pubs and the associated free trade accounts "in the South of England" for £80 million.
On February 4th Wolverhampton and Dudley announced that their bid had been successful with a 73.5 per cent acceptance.
We now await the results on the ground here in Southern Hampshire and they will be quite extensive. It is clear from the terms of the agreement with Greene King that all of the Hampshire pubs will transfer to Greene King. As the offer document states "It is expected that the disposal will take place shortly after the proposed acquisition of Marstons is completed," which we understand will be in a couple of months, we can expect that the transfer will be well under way by mid-year. There is no mention in any of the published documents of any agreement to continue to supply these pubs with Marston beers but a Wolverhampton and Dudley spokesman has said that this is actively being discussed with Greene King with a view to the transferred pubs being able to offer a range of Marstons, Banks and Greene King beers. Even so, to be on the safe side, it may be best to develop quickly a palate for Abbott rather than Pedigree!
Although, of course, CAMRA would have preferred to see Marstons remain as an independent regional brewer, this was never going to be a possibility once Mr Letchet had got the reins in his hands. It will be sad to see the name Marstons disappear from Hampshire pubs after over seventy years but at least the deal preserves all three breweries, and the pubs are not in the grip of Bass.
One of the particular features of the Wolverhampton and Dudley operation is their "full pint pledge" using either metered, electric pumps or handpumps and over-size glasses. Their spokesman pledged that this would be progressively introduced throughout the Marstons estate (although of course it would not apply to our local pubs transferred to Greene King, unless we can persuade Greene King of the wisdom of this customer-friendly policy).
Wolverhampton and Dudley were less forthcoming on the prospects for the future of all of the Marstons beers. In particular the Burton Best Bitter, a session beer at 3.8 per cent alcohol by volume, is a direct competitor to the equal percentage Banks's Bitter and, in our special situation, with the 3.6 per cent Greene King WA. This editorial may be the first epitaph for Marston's "ordinary." Head Brewer's Choice probably has a brighter future, it is likely to be integrated into the Taphouse range of seasonal beers already brewed at the Banks Brewery. On the other side of the coin, Cameron's Strongarm may be threatened by Pedigree.
What will all of this have cost and who will pay? The glossy, best quality paper, tracts that have been landing on shareholders' doormats and add up to nearly four pounds weight suggest a high price... Best estimates are that the combined company has expended well over £30 million, maybe approaching £40 million pounds on this bruising battle! Wolverhampton and Dudley say that they will have spent some £16.5 million on legal and financial advisers, Marston's costs are likely to be more as they include a multi-million pay-off to Nomura for failing to carry through the original "securitisation" deal. There will also be several millions to go to the Marston's board, none of whom are likely to be invited to stay on. As to who pays, needless to say, in the end, it has to be the customers. Of course, the anticipated 250 workforce reduction (out of 1500) will feel the effects rather more quickly and drastically.
Perhaps the most telling situation in all of this story is that of a local Marston's tenant with a lease that comes up for renewal in March, that I spoke to today. His livelihood and his home are at stake but no one has told him anything of the story to date, all he has learned is from the press. No answers are forthcoming to calls to the local Marston's representatives.
ROMSEY REVITALISED Hop Press index
In 1997, commercial brewing returned to Romsey for the first time since 1981, when Whitbread terminated hundreds of years of production at the former Strongs Brewery. The company that instigated this revival, Hampshire Brewery, was not a newcomer to brewing, having been founded, in Andover, in 1992 by current MD Steve Winduss and Simon Paine.
The move to Romsey was prompted by a number of factors. Compared with five years ago there are fewer pubs in which the licensee has any choice over the beers he is able to sell to his customers. This is due in large part to the big national brewers selling off their tied estates to a totally new force in the industry, the pub chains. These are not covered by the regulations that allow tenants to sell a guest beer of their choice. The independent brewers have also played their part - there has recently been a spate of regional breweries buying up free houses.
Steve believes that in the future the multitude of new small breweries will divide into two groups: the true micro breweries, including pub breweries, which will supply just a few outlets each and much larger breweries such as Ringwood and Hop Back that will sell their beers across the country and have contracts with wholesalers, pub chains, off licenses and supermarkets. Steve decided that he wanted to be one of the latter and so had to move to larger premises.
Road accessibility also had a hearing on the choice of site, as did the perceived "centre of gravity" of the trading pattern. These factors pointed towards Romsey as an ideal site; that Romsey had a long history of brewing was an added bonus.
The main trading area centres on the M3/A3 1 axis and is bordered by the M4, Poole and the M25, although the occasional longer haul is made if a big order is received. The company did look at moving onto the old Strongs site but the cost was prohibitive. The new brewery is on the Romsey Industrial Estate, off Greatbridge Road, just to the north of the station.
Head brewer Dan Thomasson, who worked previously for Whitbread in Portsmouth and Faversharn before spending ten years with Eldridge Pope at Dorchester, spent six months designing and overseeing the installation of the brewing equipment. The plant has a 25 barrel brew length and the 13,000 square feet premises allows plenty of room for further expansion.
The first beer brewed by the Hampshire Brewery was King Alfred's Bitter. The 3.8% abv (alcohol by volume) brew was at first a very bitter beer but the hop level was reduced as many drinkers could not handle the extreme bitterness. The beer still accounts for 30% of sales. Further beers with names reflecting a medieval regal theme were subsequently introduced. Ironside is a fruity Best Bitter of 4.2% abv whilst the now almost compulsory golden beer, Lionheart, is a smooth Best Bitter due to be increased in strength to 4.5% abv. Pendragon is a full bodied, fruity, Premium Bitter with an abv of 4.8% and the strong 1066 weighs in at 6% abv.
All of this extensive range had been pioneered at Andover. The newcomer to the regular range is Pride of Romsey. This beer was brewed to celebrate the move to the new brewery and made its debut at the 1997 Eastleigh Beer Festival, where it was easily voted the most popular brew by the customers. The rich maltiness of the beer is well balanced by the strong hop taste that is achieved by the addition of hops at four different stages of the brewing process. The late addition of Cascade hops gives the beer its citrus, hoppy aroma. These characteristics have won the beer a bronze medal at the Brewing Industry International Awards and a further bronze for the bottled version in CAMRA's Champion Beer of Britain competition. The bottle version also won a first prize, for the label, which was designed by New Forest designer Penny Golledge. Pride of Romsey has been a runaway success and now accounts for around a third of the brewery's output. The bottled version is now available in some Wetherspoons outlets, Asda supermarkets and at Waitrose in Romsey.
While the Hampshire Brewery will be concentrating mainly on these six beers during 1999 they will also be producing a new brew every two weeks. These specialist brews will use different varieties of hops and blends of malt and will sometimes contain other flavouring ingredients. The recent experiment with the addition of honey from Andover to produce Bees' Knees pronounced the most popular beer at the 1998 Eastleigh Beer Festival. Will they make it three in a row at this year's event? If one of the first of these occasional brews is anything to go by the answer is almost certainly yes. For the beginning of February they produced a 4.5% abv porter, Penny Black, a deliciously dry ale full of roast malt.
There will be no special advertising push for these new brews but they should be eagerly snapped up by pubs throughout the country that are always looking for unique new beers to offer their customers. Some of the 20 plus new brews could be offered in bottled form, from the brewery's own bottling plant, if they prove to be successful.
Another area which the brewery has moved into is in reciprocal dealing with other small brewers throughout the country. At any one time the brewery will be stocking beers from two or three other small brewers. Brought directly from the breweries and with tight control of the storage times, these beers can be guaranteed to be in as good a condition as the beers brewed in Romsey.
In addition to their own new brews and these imported beers, the Hampshire Brewery is always on the look out to brew special beers on contract for other breweries, wholesalers or pub groups. Although Norman's Conquest is no longer brewed for the Cottage Brewery, other contracts are in the pipeline.
The big new premises have enabled Hampshire Brewery to develop on a number of fronts, including a brewery shop which is open to the general public from 9 to 5, Monday to Friday. Once again the people of Romsey can take pride in beers produced in their town.
Hampshire Brewery may be contacted on 01794 830000.
OPEN ALL HOURS? Hop Press index
CAMRA's years of campaigning for sensible licensing laws have not been in vain. In May last year, George Howarth, the Government Minister responsible for liquor licensing announced that there would be a "ground-up review" of our archaic licensing laws. Things have moved on since then and CAMRA is hoping for a new Licensing Act by 2001, but we need your help.
The Government review is great news for pub-goers throughout Britain and for the many thousands of foreign visitors who are baffled by the restrictions on our opening hours. CAMRA campaigned very successfully in the late 1980's for pubs to be allowed to open all day in the week and again in the 1990's for all day Sunday opening. Despite widespread predictions of drunken chaos in our streets there has been no significant effect on alcohol consumption, abuse or indeed any of the social problems attached to them.
Rather, this more relaxed approach to permitted hours has led to a more responsible attitude to day time drinking. People are no longer forced to "get a last one in" before the 2.30 bell tolls and in many pubs they can sit back and take their time.
But the biggest problems remain. Every evening at about 11.20 pm our town centres turn into no-go areas. It is an exaggeration, but it is true to say that increased "circuit drinking" around theme pubs, targeted at younger drinkers, has worked against the raison d'être of licensing controls. Hoards of tipsy teenagers do pour onto the streets all at the same time. Feelings are high, public services, other amenities and taxi firms are stretched to their limits. The result is tension and often public disorder.
It is for this reason that CAMRA believes that pubs should be able to open when they please. That is not as controversial as it sounds. There have to be suitable, nationally set systems in place to prevent public nuisance. it does not mean that all pubs will be open twenty-four hours a day. What it would mean is that pubs could gear their opening hours to suit their customers and their businesses. Some pubs would close at 11 pm, some at 11.30 or midnight and some beyond. Some might close earlier than at present. This would reduce disorder and other problems as people would be able to take their time with their final drinks and travel home at differing times.
Opening hours, of course, are only one aspect of licensing. But it is an important aspect to the pub user. It is therefore of great importance that you make your views known. Write to your MP and to the Home Office to support our call for this radical review.
Remember the positive lessons of extending pubs' daytime hours, there is nothing to fear by change. Relaxed closing times, with proper conditions against nuisance, will benefit everyone.
SHAREHOLDER'S LAMENT Hop Press index
Marstons have been a significant presence in Hampshire for seventy-five years –I am astonished to realise that I have been drinking in their pubs for more than half of this time! Throughout this period Marstons provided a reliable, unpretentious service to the beer drinkers of this county. So how can it be that an ex-Bass reject, Nick Letchet, can destroy such a brewery, with hundreds of years of history behind it, in little over a single year?
There has to be something wrong with the way we run a capitalist society when the mad whims of an individual can result in something so manifestly against the public good. Of course, that "something" is institutional investment. Giant financial firms, for example Phillips and Drew who owned sixteen per cent of Marstons, manipulate their blocks of investment with no regard for the public benefit, customers' wishes, workers' rights or any ethical principles whatsoever. This is not how the Limited Liability Company was supposed to work.
In previous centuries individuals would band together and invest in shares of a venture in which they had a common interest. Of course they hoped to make their fortune, or at least a living, but by the operation of the venture not by trading it as a commodity. When I bought shares in Marstons, nearly thirty years ago, it was because I liked their pubs and beer, and I am sure many other small investors felt the same way. But we effective ly had no voice when more than half of the company was owned by just six investment houses. Loyalty to the business for its products or the style of its pubs does not provide any shareholder votes. It is unlikely that the fund managers of the handful of institutions that decided Marstons' fate have ever entered one of their pubs.
Ironically, in 1971 when I bought shares, nearly a third of Marstons was then owned by just one company - Whitbread! However, this was an investment for somewhat different reasons - to get influence and to deter takeover predation. Even so, most of us thought at the time, that it was a good thing when the Government's "Beer Orders" forced Whitbread to divest itself of its holdings in other breweries. But had this so-called "Whitbread umbrella" remained then would Marstons, still exist today?
Coincidentally, it is ten years ago this month that the Monopolies Commission produced its Report into the Supply of Beer which resulted in the "Beer Orders." The advantage of hindsight lets us see now that they have been more or less a disaster.
Just to take a few examples. On the big (then six) national brewers: "The big brewers dominate the market, using their tied estates and their control of the so-called free trade to exploit the customer." Ten years on? Now we have just four nationals and the domination is even greater although it is more hidden in a web of agreements with pub groups and with the development of wholly owned pub chains under pseudo-independent names.
"Regional variations in beer prices are not justified. Lager is grossly overpriced, costing the same as beer to produce but sold for l0p a pint more." Well, not much progress there I think! The differentials are still there as are the lame excuses for them. There are cracks in the edifice - the Wetherspoons' pricing policies and the recent growth, in London in particular, of special offer prices for example. But these moves, however welcome, owe more to the decade-long decline in pub trade rather than any Government initiative.
"Tenants don't have enough security." They still don't. Perhaps we should ask the Marstons' tenants if they feel that their security and conditions have improved in the ten years since the MMC report. Or the many Inntrepreneur leaseholders who have been joined in legal battles with their landlord for most of this time.
Perhaps the star of the "Beer Orders" was the Guest Beer Law. This specifically singled out cask-conditioned beer as being so good that it gave big brewers' tenants the absolute right to sell one of their own choice. After tenacious opposition from the brewers the law achieved, for a couple of years, a measure of success only to have the ground taken from under it by the national brewers either making the houses managed or selling them off into non-brewing pub chains. In 1999 the Guest Beer Law is virtually a dead letter.
The "Beer Orders" have certainly changed the look of the British pub and brewing scene but in ways that were totally unforseen by the authors. Ten years ago we were presented with a naive, fairy-tale picture of a future full of lovely rose-clad country pubs, free houses, brimming with real ales from independent brewers. No one, ourselves included, foresaw the rise and rise of the "pubco." There are now hundreds of these chains, ranging from some with only a handful of pubs to a few with more than a thousand each. Pub chains now own about a third of all pubs, more than the four national brewers put together. Yet, still, eight out of ten of the pints you drink come from these four national brewers. The independent brewers are now deprived of a market not because of the dominance of physical tied houses but by the discount terms that the chains can extract from the nationals.
All of this was brought about by a couple of words in the "Beer Orders." By defining the Act as pertaining to companies that were "breweries" all other sorts of pub ownership were outside of the regulations. Of course it took the big brewers and the Brewers' Society (now significantly "The Brewers and Licensed Retailers Association") about five milliseconds to see the way out of any problems.
Which brings me back to Marstons. Although we cannot say that the immanent transfer of their local pubs to Greene King is a direct result of the "Beer Orders," it is a result of what they engendered - what is called in modern brewery executive-speak "market churn." This volatility in ownership of the nation's pub stock is reaching crisis proportions, even amongst the new chains there are divisions and amalgamations almost daily. Our pubs are unique on a world scale yet they are being dealt in like so many tins of beans. Would we sell Winchester Cathedral to the highest bidder or would we be outraged? Perhaps we would, which is why as a nation we have no care for our pub heritage.
EDITOR'S POSTBAG Hop Press index
The last edition's Pub News made reference to the loss of the fine Scrase's windows at the demolished Ampthill in Freemantle, Shirley. This prompted several responses:

Sir,
I write in response to the item in Pub News concerning the loss of Scrace's windows at the Ampthill, Shirley. However, there remains a set of Scrase's windows at the long-dosed Alma Inn, 18 Almatade Road, Bitterne, which is now a privately owned house. You can see the inscriptions on the windows quite clearly and the house is most obviously a former pub. Apparently it closed in August 1970 - there is a photograph of the Alma in Tony Gallagher's book, Southampton Inns and Taverns.
Sincerely,
Charlie Ketley
Shirley, Southampton.

On the same subject I also had a telephone call from someone whose name I have unfortunately mislaid but he assured me that there are still Coopers' windows extant at the Pear Tree in Boorley Green.
The September edition carried an article based on a letter from Paul Nunny, the Director of the Cask Marque beer quality award scheme. His letter had been prompted by our original article outlining the Cask Marque scheme in the April edition. This second article, somewhat critical of the scheme's progress, has had this reply:

Sir,
I read with interest your article on Cask Marque in the September edition of Hop Press. Whilst I understand your concerns on beer being served too cold, your article sends a thumbs down on the whole Cask Marque Scheme.
CAMRA should in broad terms be supporting initiatives - such as Cask Marque - that endeavour to improve the quality of cask ale. "Knocking" any new idea is easy. Supporting and influencing is a much more effective way to contribute to the well being of cask ale.
I will pass on your comments to the Cask Marque Board, and I hope together we can improve quality so that every time the customer orders cask ale, he receives a consistent, perfect pint.
Sincerely,
Paul Nunny
Director, Cask Marque.

You will see in Pub News that we believe we have our second Cask Marque pub in the Freemantle at Shirley. However, this pub does not appear in Cask Marque's first national list of some 300 plus pubs, issued at the new year. On the other hand the Bridge at St Denys and the Ship at Owslebury do, although we have yet to see any plaques appear! Along with the first, the Welcome at Bishopstoke, you will notice that all of these pubs are from Marston's estate.
Hops? What Hops! Hop Press index
Every year the Brewers and Licensed Retailers Association issue a leaflet with the national statistics of brewing and beer consumption. This year's issue continues the well-known themes of the past decade: declining market share for cask conditioned beer and increasing percentage of home consumption for example.
Perhaps the most significant single statistic is the dramatic reduction in the amount of hops used in your pint over the last ten years. In 1987 every pint required 0.68gm of hops. In five years, by 1992, this had fallen a little to 0.62gm. by 1996 the drop was accelerating at 0.53gm but in just the one year to 1997 it had fallen by nearly twenty per cent to a miserable 0.43gm. There are probably few beer drinkers who have not noticed the increasing blandness of many beers, especially from the big producers.
On a slightly more cheerful note, 1997 saw the first, slight, increase in beer production for many years. Total production of all beer types rose from 35.5 million barrels in 1996 to 36.1 million in 1997. This comes to about 180 pints per head - did you get your share?
Moreover, 1997 still did not see the much heralded overtaking of draught ales, muds and stouts by draught lagers. The figures for the two years 1996/7 were:
1996 Bitter/Stout/Mild 53.4% Lagers 46.4% 1997 Bitter/Stout/Mild 51.1% Lagers 48.9%
Can British beer styles hold off the lagers until the millennium? Looks doubtful.
PUB NEWS Hop Press index
We start this edition with good news. The Three Horseshoes at Bighton is still open and apparently trading well. The pub is still owned by Gales and is now being run by David and Carol Everson, who previously ran a pub on the Isle of Wight. Former licensee Norma Haywood and her daughter Linda have moved into a rented house in Itchen Abbas. Unfortunately, this good news is somewhat offset by the granting of permission to convert the Alresford Ale and Cider House (formerly the Peaceful Home) into three dwellings, despite much local opposition. The nearby Bell Hotel is still open but has new owners after the Phoenix Inns pub's lease was put up for sale at an asking price of £95,000. The new owners are Nicholas and Elizabeth Jones, who had previously run the Eclipse at Egham, Surrey for the last six years.
Under new ownership, at Easton, is the Chestnut Horse. The grade II listed building was put up for sale at £395,000 and was purchased by Mike Ormond, from Burnley and John Holland. Mr Holland previously owned the Queen's Head at Dummer and the Purefoy Arms in Preston Candover. An application has now been submitted for a single storey extension for a new beer cellar at the rear. The lease of the other pub in the village, the Cricketers, is also up for sole. A couple of miles away at Itchen Abbas the Trout Inn's new landlord is Steve Dangerfield.
In Winchester, extensions are planned at the St James Tavern on Romsey Road. An application has been submitted to expand the bar area into part of the next door house.
Some alterations that appear to have been made without planning permission occurred at the presently closed King's Arms, in Winchester. The changes were made by the previous tenant, Steve Brock, who has now left the pub. Owners Ushers are now looking to undo the alterations and make some, authorised, changes of their own. No such problems at the Stanmore Hotel, which has undergone a £130,000 refit which included an extension to the function room and improved facilities for the disabled. A previous licensee of the Stanmore Hotel, Irene Allen, is now in charge of the Green Man in Southgate Street. This refurbished pub is something of an experiment on Marston's part as it is now selling a wide range of "guest" beers including several from the Hampshire Brewery. It is interesting that the menu describes fish and chips as "Grilled Cod with Hand-cut chips and pea puree..."
A few doors away the Exchange is up for sale. Long standing licensee Steve Sankey, formerly of the Rising Sun, blames "unfair" competition from the new powerful pub chains whose huge discount deals with the brewers allow them to offer cheap beers to pull in the punters. The Wykeham Arms also has a new look, but only from the outside. A new, large pub sign has been installed, depicting the coat of arms of William of Wykeham, founder of nearby Winchester College.
A less traditional pub sign can be seen outside another city pub, the Ship in Wales Street. The sign used to depict a sailing ship but this has been replaced by a cartoon style spaceship, the outside of the pub has been painted indigo blue and the inside refurbished. Landlord Gary Hawkes said that he had been thinking of changing the name of the pub but instead decided on this change of image. The history of other pubs that have made such changes suggest that within a few years it will revert to having a more traditional sign and decor and there will be a quote from a brewery spokesman saying that "they want to return the pub to being a traditional local." There has been a recent example of this in Lymington. The former Monet's Brasserie and Café Bar first became the Pied Piper and then about 18 months ago transformed itself into the Funky Frog. It is now called the Thomas Tripp and has moved somewhat up-market and is more olde woride. Ringwood 49er and True Glory were available when we visited. Another name change has happened in Ringwood, where the grade H listed Red Lion has somewhat belatedly joined the fake Oirish club as Fin McCouls. Perhaps the Avon Causeway was the dummy run for his Giant's Causeway... An unlisted, but absolutely classic, Forest pub that is undergoing alterations is the Royal Oak at Fritham. Changes are being made to the back bar and the toilet facilities are being improved. Amended plans have been re-submitted to build a multi-purpose hail next to the pub. South of the A31, the Trusty Servant at Minstead is closed for refurbishment and should be open again by March.
Part of the alterations that took place when the former Evergreens Hotel in Lyndhurst was converted to the Mill House last year have fallen foul of local planners. It is claimed by the council that the lighting is brash and out of keeping with the surroundings. Retrospective planning permission was turned down but the owners are to appeal. Another retrospective planning refusal in Lyndhurst occurred at the Waterloo Arms, where the play fort and play house in the garden have not met with approval. The pub can take some comfort in the fact that it was one of six runners up in the Pub Caterer of the Year competition.
Moving to the Waterside, permission has been granted to convert part of the Flying Boat Inn at Calshot to six additional hotel suites. The pub will also be getting extensions to the function room, kitchen and cellar. The Hogshead in the Forest (Forest Home) at Hardley may be undergoing changes if Whitbread can find an "entrepreneurial food-led licensee to take part in an exciting new development." A little further to the north, the Jolly Sailor at Ashlett Creek has been completely redecorated on the outside, while inside a log fire with canopy has been opened up. Nearby, the Red Deer at Houndsdown has had to be refurbished throughout following a flood in August! Another pub with a new look is the Centurion at Barton-on-Sea. It now has more space for customers with a raised seating area, a bigger bar and a games room. Licensees Mick and Sue Murphy considered that the changes are so substantial that they have changed the name of the pub to the New Centurion. The same thing has happened in Fair Oak where, after a £300,000 refurbishment, the Clock Inn has become the New Clock Inn.
Two other pubs in the Borough of Eastleigh may be converted to housing. The Eastleigh Hotel, closed and for sale for some months, will become ten one-bedroom fiats and six studio flats if Eastleigh Housing Association get their way. The decision on whether to replace the Yachtsman in Bursledon with 17 houses has still to be made. Meanwhile two nearby bars are changing hands. Sue and John Nutter have bought the Ketch Rigger at Hamble Point Marina, while the Gaff Rigger at Mercury Marina is up for sale at a price of £80,000. In the centre of H amble Whitbread have applied to make internal alterations to the Victory.
Moving further north, the Wheatsheaf at Shedfield has now dispensed with its handpumps and is serving all real ales straight from the cask. The wide range of beers on offer usually includes Pots Ale, Summer Lightning, Mansfield Bitter and Cotleigh Tawny, with two or three additional guest beers. We mentioned in a previous Pub News that the Jolly Farmer at Hinton Ampner is now the Hinton Arms. It is a free house and on a recent visit the beers on offer were Hog Best Bitter, Triple fff Dazed and Confused and Oakhill Best Bitter.
The Children's Certificate, introduced in 1995, did not make much impact - mainly because the magistrates misunderstood the intentions and applied many onerous rules. Over the years these rules have been lightened and we are pleased to report two more that have been awarded to very different pubs: the 1970's estate pub, the Saxon Inn at Calmore and an old country Inn, the Compasses at Damerham
Another free house, the Mill Arms at Dunbridge, has completed some big changes, with the addition of six en-suite bedrooms and an extended skittle alley. Another old pub that has undergone extensions and a refurbishment is the Dolphin at Hursley, where former stables have been converted into a dining room. Also refurbished has been Judges in Romsey, little more than a year after opening. It has changed from Judges Clubhouse Bar to Judges Bar and Brasserie and an extension now houses the restaurant area. The second in the proposed chain has been acquired in Chichester and a couple more may be purchased during 1999. Also in Romsey, the William IV has closed. We understand that this is only temporary but the reason is somewhat mysterious being connected with "management re-organisation."
Builders will soon be at work at the White Swan at Mansbridge. This old, one-time Watneys, riverside pub will close shortly for enlargement. We believe that the frontage will be altered and that a 40 bedroom hotel unit will be added; they also plan to put a footbridge over the river to open up a garden area on the other bank.
Also keeping the builders busy, after four months restoration work, has been the Clump Inn at Chilworth. The kitchens have been enlarged to help cope with the additional capacity for 40 more diners. A former barn has been incorporated into the main building. The work also led to refurbishment elsewhere as thieves stole a Victorian fire surround and a boiler in two separate raids during the refurbishment. Thieves have also made the most of the refurbishment of the Plough in Netley - £5,000 worth of equipment disappeared during the conversion to a "Steak and Ale Pub." Also sporting a new look is the Merry Oak, following £75,000 worth of investment by new owners, Ushers. The site of Bootleggers in Northam has been flattened to make way for flats.
Previous editions of Hop Press have made mention of the "Cask Marque" scheme for recognising pubs with consistent quality real ale. The scheme has got off to a very slow start and we have expressed some doubts but we are pleased to report that a second plaque has appeared, this one on the Freemantle Arms in Albany Road.
A new name has appeared in Terminus Terrace where Richard Elborough and Paul Shinar have renamed the former Parkers, ex-Captain's Corner, ex-Tut'n'Shive, the Court Jester. Entertainment at the pub will include cabaret acts on Wednesday evenings. The Station at Bitterne Park will reopen in April as a "Barras & Co. Ale House" which is just another name for a part of Scottish Courage. Anybody with £50,000 to spare could join Scottish Courage at the Fiddlers in Southampton High Street for "redevelopment into a contemporary venue." One such venue has already opened nearby, Bar Med at 135 High Street. You won't be surprised to hear that no real ale was on sale when we visited. Continuing the sea theme, the Bosun's Locker is no longer a pub, under its new management it is now a "Caribbean Theme Bar." Reverting to Scottish Courage, no one can say that they have not got a good grip on corporate expenditure faced with a possible £1 million group profit turndown this year the landlord of the Rat and Parrot has been told that he must slash the pub's 70p a day newspaper bill by 50 per cent...
There are handpumps at the newly opened Yates Wine Lodge in Above Bar, dispensing the boring combination of Worthington Bitter and Boddingtons Bitter. Haridpumps are also present at Avondale House in Carlton Crescent. One of the Bass "It's a Scream" chain, it had Bass and London Pride available on our visit. Opposite, planners have approved an application by Regent Inns (who operate Jongleurs by the Bargate and have applied to open a Walkabout Inn Australian theme bar - we kid you not - in the High Street) to convert the former Transport and General Workers Union building into a café bar. One proposed new bar that may not be going ahead is a new Wetherspoons outlet close to the police station in Shirley High Street. Apparently Wetherspoons withdrew the licence application before it reached court.
A curious little tale from a London correspondent. Gale's fine bottled barley wine. Prize Old Ale has occasionally, just at Christmas and then somewhat reluctantly, been available to a few licensees in draught form. This handful of landlords have had to fight and cajole the brewery every year to get even a single pin to put on the bar. How will they feel to hear that "Prize Old" has been on sale on handpump, with a professional brewery made pumpclip, at the famous White Horse free house in Parsons Green, West London? We think Gales need to explain their views on local loyalties.
No signs yet of any effects of the demise of Marston's and the impending transfer of their pubs to Greene King. Our next issue should have the details of one of the biggest changes to Hampshire pubs for years.
Finally Southampton may be getting a new brewery in years to come, but only from time to time. Cunard's proposed new 100,000 tonne super-liner, likely to be called the Queen Mary II, may have its own floating brewery producing Cunard Ale on board! How the technology of this will work is somewhat somewhat beyond us at this time.
QUALITY CONTROL (circa 1500) Hop Press index
This famous verse is by John Skelton, tutor to Henry VIII in the early 16th century. Sent in by Nigel Cook. Most of us have had beers seemingly made to this recipe, but without these results. (Rough translation overleaf.)
[This was a poem but in an Old English font.]
And this Comely Dame,
I understande, her Name
Is Elynour Rummynge,
At home in her wonnynge,
And as Men say,
She dwelt in Sothray,
In a certayne stede,
Bysyde Lederhede.
She is a tonnysh Gyb,
The deveil and she be sib.
But to make up my tale,
She breweth noppy Ale,
And maketh therof Poorte Sale,
To Travellars, to Tinkers,
To Sweters, to Swinkers,
And all good ale Drynkers,
That wyll nothynge spare,
But drynke tyll they stare,
And brynge themselfe bare,
With, Now away the Mare,
And let vs sley Care,
As wyse as an Hare.
...
But let vs turne playne,
Ther we lefte agayne.
For, as yll a patch as that,
The Hens run in the Mash fat,
For they go to roust
Streyght ouer the ale joust,
And donge whan it commes
In the Ale Tunnes;
Then Elynour taketh
The Mash Bol, and shaketh
The Hennes Donge away,
She skommeth it in a Tray,
Where as the yeest is
With her Maunge fistis;
And somtyme she blens
The Donge of her Hennes
And the Ale together ;
And sayeth, Gossyp, come hyther,
This ale shal be thycker.
And floure the more quicker;
For I may tel you,
I lerned it of a jewe,
Whann I began to brewe,
And I haue found it trew,
Drinke nowe whyle it is new,
And ye may it broke,
It shall make you loke
Yonger than ye be
Yeres two or thre;
For ye may prove it by me.
Behold, she sayd, and see,
How bryght Fair of Ale,
Ich am not cast away,
That can my husband saye,
Whan we kysse and playe,
In Luste and in Lykynge,
He calls me his Whytyng,
His Mullynge and his Kittine,
His Nobbes and his Connye,
His Sweting and hys Honny,
With Basse, my prety Bonny,
Thou arte worthe Good and Monny.
This make I, my folyre, Fanny,
Til that he dreme and dronnye:
For after all oure Sport,
Than wyll he rout and snort,
Than swetely together we ly,
As two Pygges in a Stye.
Rough rendering of John Skelton's work "Eleanor Rumming's brewing"
Skelton's works are some of the most quoted in the references of the Oxford English Dictionary. Of these, Eleanor Runming gets many dozens of citations. The portion sent in by Mr Cook is quoted in a history of Surrey, written by the famous biographer John Aubrey in the seventeenth century. It is only a small part of a very long poem.
There is this comely dame, Eleanor Rumming, at home in her dwelling, in Southray, a place near Leatherhead. She is a fat old crone, a kin to the Devil. But to continue my tale, she brews strong, heady ale for sale to the best bidder, to travellers, tinkers, workers, labourers and all good ale drinkers. Coming there they will drive away melancholy and care and end up as "wise as a hare."
Let us be plain about this ill-natured foolish old dame. Her hens run around the mash tun and roost straight over the ale pot so that their dung, when it comes, goes straight into the ale. Then Eleanor takes the bowl and shakes the hens' dung away, skimming it off in a tray where the yeast is with her mangy hands. Sometimes she blends the chicken dung and ale together, saying: "This ale will be thicker and brew quicker. I learnt this from a jew when I first started to brew. Drink it now while it is fresh and you may take it that it will make you look several years younger. I'm the proof, my bright and fair complexion. I'm not finished, as my husband will tell you, when we kiss and play in lust and desire. He calls me his whiting, his mulling, his kitten, his nobs, his coney, his sweeting and his honey. [all 16th century terms of endearment] He tells me "with kissing, my pretty girl, you're worth goods and money!" So I make myself fun until he dreams and drones Then after all our sport, though he routs and snorts, sweetly together we lie, like two pigs in a stye."
Hop Press issue number 47 – April 1999
Editor: Pat O'Neill
1 Surbiton Road
Eastleigh
Hants.
SO50 4HY
01703 642246
hop-press@shantscamra.org.uk
© CAMRA Ltd. 1999